College Women
Coaches change tune on NCAA women's format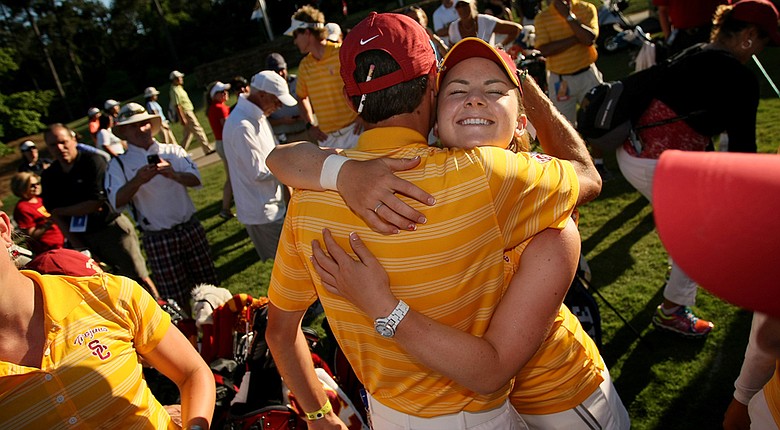 Saturday, February 15, 2014
When it was announced more than six years ago that the NCAA Division I men's golf championship would use match play as the format to determine a national champion, it was difficult to find coaches in the women's game who thought that would be a good change for the women's championship.
In fact, in a survey Golfweek conducted during the summer of 2012, coaches still were overwhelmingly opposed to implementing match play. Of the 203 coaches who responded (255 were contacted), 152 (or nearly 75 percent) did not want a format change. There was a surprising lack of chatter among women's coaches about a possible switch – or about what form that change might take.
When the announcement was made that the men's and women's championships were going to be played at the same venue in 2015 – The Concession Club in Bradenton, Fla. – women's coaches still made very little noise.
---
Photo Gallery
Best of the NCAA Women's National Championship
A selection of the best images from the 2013 NCAA Women's National Championship.
---
Women's coaches have had the advantage of sitting back and watching the men change formats. They got to see the tweaks and the criticism that came with that change. One could conclude the women simply wanted their game to be left alone, and continue to be a traditional 72-hole, stroke-play event.
That was not going to be an option when Golf Channel signed on to televise the championship, even if that wasn't stated in so many words.
Women's coaches reacted only after that picture had been painted, and then were left to decide the format that match play would take. The NCAA Women's Championship Committee announced earlier this week that the women will follow the same format that the men will debut this year.
In selecting a format, the committee presented two models – known as the 4-2 and the 3-3 – and asked the Division I coaching body to vote. There were 191 coaches who responded: 101 picked the 4-2 model and 87 selected the 3-3 model. Three coaches abstained.
The 4-2 model includes 72 holes of stroke play to determine an individual champion but only 54 holes of team play to select the top eight teams that advance to match play, to be played over the final two days of competition.
The 3-3 model is what the men used for the past three years: 54 holes of stroke play over three days to determine the individual champion as well as the eight teams advancing to match play. Three days of match play follow to determine the national champion.
Coaches seem to have embraced the change. It makes it easier that their sport will now be on television, but one can suspect they will have many of the same gripes the men have had over the past five championships.
The women also will have much of that match-play excitement.
Here's a selection of coaches' comments about the format change, starting in 2015:
• • •
Mic Potter, Alabama
"I have never been a proponent of using a match-play format to determine our national champion, but I feel the opportunity for exposure that Golf Channel is giving women's intercollegiate golf is too good to pass up. That being said, I am glad that the 4-2 format will be used in 2015. I will be more interested than ever to watch the men's championship this spring to get a true sense of what it will look like on television."
• • •
Randy Keck, Tulsa
"Whether in person or via television, people gathering to spectate golf and wear their school colors is a major win for collegiate golf. The added excitement of match play where two teams battle each other to move to the next round… That's why we all play."
• • •
Laurie Gibbs, Pepperdine
"I am glad they decided to keep the individual championship 72 holes. It will be a long week for the two teams in the match-play finals. I think the match-play format to decide the team champion will add a lot of excitement and give more teams an opportunity to win."
• • •
Kelley Hester, Furman
"My biggest objection is playing quarters and semis on same day. Big upsets will be buried in the quarters, and it's so hard to jump back out after a big, emotional victory, without time to enjoy it. I also think the extra individual day will be awkward, but I guess we will have to wait and see how it works for the men this year. Maybe NCAA individual champion will carry more weight. Maybe some USGA exemptions, etc..."
• • •
Carrie Forsyth, UCLA
"I have mixed feelings about the change in format. I believe that match play is exciting, and fun to play, as well as coach. However, I do not believe that it necessarily determines the best champion. In addition, I think that the odd day of individual stroke play should not be set up the way it is. The Golf Channel coverage is wonderful, and it will bring much-needed attention to the women's college game, which will be a benefit to all. It remains to be seen whether this change will create a better championship, and if our NCAA champion will actually be the best team in college golf. I am willing to refrain from judgment until we see it in action this spring on the men's side."
• • •
John Crooks, Campbell
"I was on the men's committee when we voted to change from the stroke-play format to the match-play format. The driving force then was the opportunity to have our sport on television. It took longer than we had hoped, but this spring the men's championship will be televised by the Golf Channel. The same reasons apply today for women's golf. The NCAA has a chance to make some money and gain exposure for the sport of women's golf. To do that, the format must change from medal play to match play. The public understands match play, so it will be easy for the average viewer to follow the play. By changing our format to accommodate television, our sport has the best opportunity to increase its popularity. As I did before, I wholeheartedly support the format change to match play."
• • •
Michele Drinkard, Ole Miss
"Change is always difficult to acclimate to, but I believe that we will strive to make it a great championship. With the help of the Golf Channel, we will be able to help grow the game and reach out to future potential student athletes and many others that love this great game as well. We will train our athletes a bit differently, kind of like how football prepares for overtime. We play stroke play to progress to the match-play (overtime) portion of the championship where your mindset changes and the rules change too. Overall our players will be mentally stronger and hopefully broaden their mindset to adapt to the different competitive emotions that go along with match play. On a personal note however, I do have to say that I prefer stroke play for our national championship like the major championships U.S. Open, British Open, Kraft Nabisco and our LPGA Championship. But as the championships change, we will adapt."
• • •
Jeanne Sutherland, SMU
"It will be exciting for the NCAA Championship to provide a new format for the players. It brings more teams into the fight for a title, and it could shape a lot of what we do in recruiting and preparation for postseason. As a coach at a program on the rise, I feel like it gives us a shot to get a title quicker than if we continued on our current path. It will be a lot of fun to see how the top teams compete and how it shapes the sport going forward."
• • •
Laura Ianello, Arizona
"I am very excited about the partnership between the NCAA and the Golf Channel. The more publicity that we can draw to our NCAA Championship, the better women's golf will become in the future. The new NCAA format will bring new challenges but also make for an exciting new venue. In the last 10 years the depth of women's collegiate golf has increased greatly. This new format opens up the opportunity for more teams to have a 'Cinderella story' championship."
• • •
Mary Lou Mulflur, Washington
"Excited about the prospect of live coverage on the Golf Channel; my only hope is that the new format does not dilute the Championships. Women's collegiate golf is stronger than ever, and I want to see our game continue to grow. There is still a lot to learn about the value of the match-play format in determining our national champion. As we have seen on the men's side, match play does not necessarily determine the best team. However, it has certainly created more opportunity for the upset! I am neither for or against match play; I just want the best format for determining our national champion. As far as I know, there are no other NCAA Championships where the format is different from the regular season. Seems a bit odd but again, if it brings attention to these talented student-athletes, then perhaps it will be worth it."
Golfweek.com readers: We value your input and welcome your comments, but please be respectful in this forum.
---
---
---
---
---
---
---
---
---
---
---
---
---
---
---
---
---
---
---
---
---