Reed def. DeLaet 1 up in WGC Match Play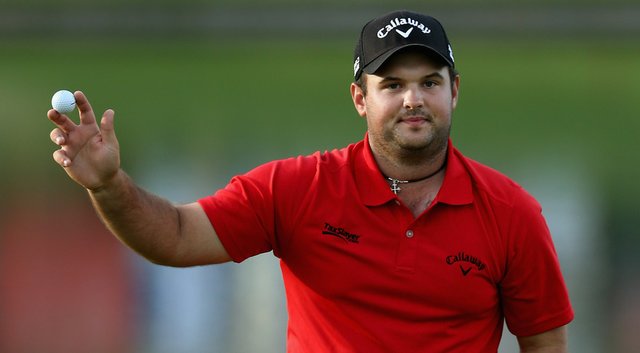 February 19, 2014 2:32 p.m.
Photo Gallery
PHOTOS: WGC-Accenture Match Play, Tuesday practice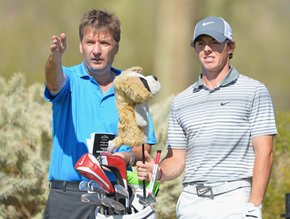 See the action -- and interactions -- of Tuesday practice for the PGA Tour's 2014 WGC-Accenture Match Play as well as some desert scenery at Dove Mountain in Marana, Ariz.
Graham DeLaet led his match against Patrick Reed for the first 11 holes, but it was Reed who came away with the 1-up victory.
We kept you posted on the highlights of the DeLaet vs. Reed match right here – and scroll down for our preview coverage.
• • •
Hole No. 18: Par 4, 480 yards
DeLaet misses a birdie putt by inches at the 18th and Reed makes his par putt to seal the match.
REED WINS, 1 UP
• • •
Hole No. 17: Par 4, 482 yards
With Reed in with par at the par-4 17th, DeLaet bogeys the 17th and Reed goes 1 up entering the 18th.
THRU 17 HOLES: Reed, 1 up
• • •
Hole No. 15: Par 4, 343 yards
DeLaet evens things back up with a hole-winning birdie at the par-4 15th.
THRU 15 HOLES: All square
• • •
Hole No. 14: Par 4, 449 yards
Reed takes his first lead of the match with birdie at the par-4 14th.
THRU 14 HOLES: Reed, 1 up
• • •
Hole No. 12: Par 3, 219 yards
After four straight halves, Reed wins the par-3 12th with par to even the match back up with DeLaet.
THRU 12 HOLES: All square
• • •
Hole No. 7: Par 4, 486 yards
DeLaet's first bogey of the day, at the par-4 seventh, gives the hole to Reed, who makes par and cuts the Canadian's lead in half.
THRU 7 HOLES: DeLaet, 1 up
• • •
Hole No. 5: Par 4, 536 yards
After three straight halves with par, DeLaet pars the lengthy par-4 fifth to extend his lead on Reed.
THRU 5 HOLES: DeLaet, 2 up
• • •
Hole No. 1: Par 4, 460 yards
Graham DeLaet birdies the opening hole to go 1 up early on Patrick Reed, who has won two PGA Tour events, including this year's Humana Challenge.
THRU 1 HOLE: DeLaet, 1 up
• • •
Graham DeLaet
OWGR Rank: 27
Golfweek/Sagarin Rank: 16
2014 PGA Tour results: MC, Shriners Hospitals for Children Open; T-7, CIMB Classic; T-6, WGC-HSBC Champions; T-2, Farmers Insurance Open; T-2, Waste Management Phoenix Open; T-70, Northern Trust Open
Match Play results (since 2009): None
Comments: Could this be DeLaet's coming-out party? He's still looking for a Tour win, and has knocked on the door plenty in 2014. You'll likely look pretty smart if you take the Canadian deep in this tournament.
• • •
Patrick Reed
OWGR Rank: 44
Golfweek/Sagarin Rank: 107
2014 PGA Tour results: MC, Frys.com Open; WD, Shriners Hospitals for Children Open; T-40 CIMB Classic; T-16, Hyundai Tournament of Champions; won, Humana Challenge; T-19, Waste Management Phoenix Open; T-13 AT&T Pebble Beach National Pro-Am
Match Play results (since 2009): None
Comments: Reed has won twice in his last 11 Tour starts, and he's pretty good at this Match Play thing, too – he helped Augusta State win two NCAA titles in 2010 and '11.
• • •
Match Play preview coverage
• Hole-by-hole preview of Dove Mountain, Match Play host course
The Golf Club at Dove Mountain is certainly fun to watch from home. And with match play, just about anything can happen, especially on this dramatic, rugged Jack Nicklaus-designed course in the foothills of the Tortolita Mountain Range just north of Tucson, Ariz. See photos and a strategic description of all 18 holes.
• Match Play cheat sheet: Player-by-player breakdowns
Henrik Stenson will enter this week's WGC-Accenture Match Play Championship as the top seed, a year after his won the FedEx Cup and Race to Dubai. Meanwhile, last year's champ Matt Kuchar is coming off his first missed cut in nearly 18 months as 61 of the top 67 players in the world will play at Dove Mountain. Here's a look at each player in the field.
• B. Watson carries confidence into WGC Match Play
Bubba Golf is back in vogue. Bomb it, find it, wedge it, putt it. That has worked so well lately that Bubba Watson finds himself high on the current Hot Golfer List, having won (Northern Trust Open on Sunday) and finished second (Waste Management Phoenix Open) in his last two PGA Tour starts. Hence, Watson comes to the WGC-Accenture Match Play Championship as a scary draw, if there is such a thing in the unpredictable culture of 18-hole match play.
• Expert picks: No clear favorite at WGC Match Play
The field is stacked and this is truly the "anything-can-happen" tournament of the year, as match play seems to even the playing field in golf. With Tiger Woods, Phil Mickelson and Adam Scott taking the WGC-Accenture Match Play off, a bit of intrigue might be lost, but the likes of Rory McIlroy, Justin Rose and Ian Poulter should provide some drama worth watching.
• R.McIlroy tops Match Play odds; D. Johnson, J. Day close
Rory McIlroy tops the list of odds to win this week's WGC-Accenture Match Play Championship, with Dustin Johnson and Jason Day not far behind. McIlroy is listed at 12/1 to win the tournament, with Johnson and Day at 15/1.
• I. Poulter's early start reminiscent of year it snowed
Ian Poulter will have a little bit of experience on his side Wednesday, with another early-morning tee time in the this World Golf Championship. Although afternoon temperatures are predicted to be in the 80s, the early-morning groups will probably start out in sub-50 weather, so if there is cold anywhere, Poulter's match against Rickie Fowler will have it. And it's an intriguing match right out of the gates, as Poulter clearly has a fondness for this championship.
Latest Related Headlines