College Women
Women's spring preview: American Athletic Conf.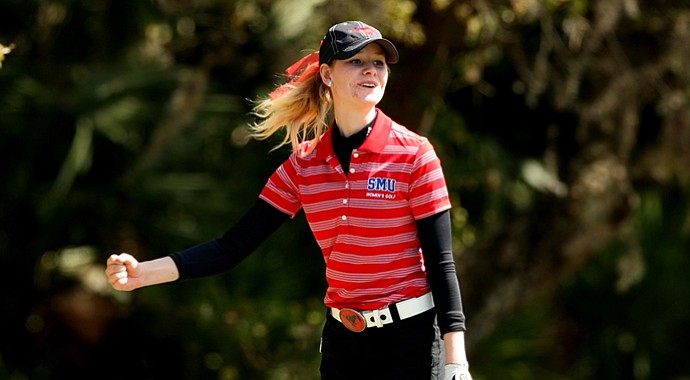 Sunday, January 5, 2014
During the month of January, Golfweek will preview the 2014 spring season for each conference. Check out all of the previews here.
Today, we look at the American Athletic Conference:
• • •
5 THINGS YOU NEED TO KNOW
• Top of the class: Central Florida
• Player to watch: Jenny Haglund, SMU: The sophomore from Sweden is ranked 47th in the Golfweek/Sagarin rankings and posted four finishes of T-13 or better during a tough fall schedule.
• Freshman to watch: Ashley Holder, UCF: Holder, who is No. 63 in the Golfweek/Sagarin rankings, played in all four fall events for Knights and didn't finish outside the top 20 in any of them.
• Conference championship: April 20-22, Hammock Beach R&GC (Ocean), Palm Coast, Fla.
• Past champions (since 2009): Notre Dame (2013), South Florida (2012), Notre Dame (2011), Louisville (2009-10)
• • •
CONFERENCE CAPSULES
(Golfweek/Sagarin rank in parentheses)
• Central Florida (23): The Knights used a nice mix of veterans and newcomers to record four top 5s in four fall tournaments, including three top-3 finishes. Freshman Ashley Holder notched a team-high two top 10s, including a runner-up finish at the Las Vegas Collegiate Showdown, and junior Fanny Cnops, a transfer from UNC-Greensboro, didn't finish worse than T-17 in four fall starts. Junior Robyn Doig, UCF's scoring leader a year ago, and senior Kaitlyn Price give the Knights some experience while junior Monifa Sealy showed she can contribute with a T-7 finish at the fall-opening "Mo" Morial. Trips to the Central District Invitational and LSU Golf Classic highlight a spring schedule that should leave the Knights more than prepared to bring home a conference title.
• Louisville (35): The Cardinals began the fall with two victories, at the IU Fall Kickoff and Cardinal Cup, but notched just one top 5 in their final four fall tournaments. At the Mercedes-Benz Intercollegiate in September, Louisville finished sixth, one spot behind conference foe Central Florida. Sophomore Laura Restrepo, Golfweek's 62nd-ranked player, won her first two tournaments before finishing with four total top 10s during the fall. She also led the squad with a 71.7 scoring average. Juniors Katie Petrino and Emily Haas each posted three top-20 finishes this fall, and lead the supporting cast behind Restrepo. If freshman Louise Oxner continues to improve, the Cardinals will have a decent shot at winning its first conference title since 2010.
• SMU (45): The Mustangs challenged themselves in the fall with one of the tougher schedules in the country. SMU notched its only top 5 at the Betsy Rawls, but also competed against some of the best teams in the country at the Alamo Invitational, Schooner Fall Classic and Golfweek Conference Challenge. Sophomore Jenny Haglund was the conference's top player during the fall according to Golfweek's rankings, not finishing worse than T-13 in any of her fall starts. Her 72.25 scoring average led the team by more than two strokes. Senior Maria Elena Villamil, sophomore Alexandra Rossi, and freshmen Lindsey McCurdy and Katie Page all figure to contribute this spring, although none really stood out during the fall – Villamil led that group at No. 192 in the Golfweek/Sagarin rankings.
• Cincinnati (112): The Bearcats finished the fall ranked 67 spots behind the conference's third-best team, SMU. A fourth-place showing at the IU Fall Kickoff was the team's best fall finish, and Cincinnati would add just one other top-5 finish in its final five events. Olivia Dose was a bright spot for the Bearcats in the fall, competing in all 17 rounds and leading the team in scoring average.
• South Florida (122): The Bulls struggled from the get-go in the fall, finishing 10th at the Cardinal Cup, before failing to finish better than eighth in its final three fall events. At 306th in the Golfweek/Sagarin rankings, freshman Nicole Autrique is ranked more than 300 spots better than her next closest teammate, and her 75.3 scoring average led the team by more than two shots.
• Memphis (148): Two top 5s in five fall starts was all the Tigers could collect. No player ranked inside Golfweek's top 600 after the fall, but Memphis does have some experience in juniors Ashley Kees and Ashleigh Whisenant, and senior Shelby Sain.
• Rutgers (197): The Scarlet Knights posted three top-8 finishes, but also finished in last place twice during the fall as it played the 189th toughest schedule in the country according to Golfweek. All of Rutgers' players ranked outside 1,000 at the conclusion of the fall.
• • •
LANCE'S TAKE
Lance Ringler predicts who will win the conference title
Really a three-team race and all three should be at-large bids into the postseason. SMU and Louisville should get better this spring and are certainly capable of winning the conference title, but UCF – with two of the best players in the conference – will be the favorite come April.
Golfweek.com readers: We value your input and welcome your comments, but please be respectful in this forum.
---
---
---
---
---
---
---
---
---
---
---
---
---
---
---
---
---
---
---
---
---