College Men
Men's spring preview: Big West Conference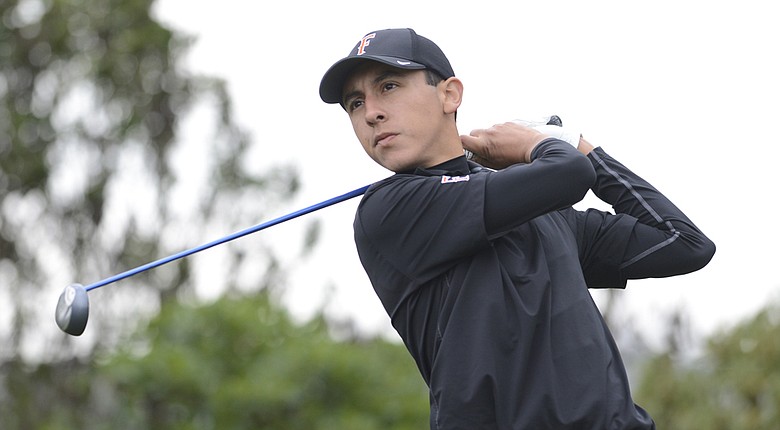 Friday, January 10, 2014
During the month of January, Golfweek will preview the 2014 spring season for each conference. Check out all of the previews here.
Today, we look at the Big West Conference:
• • •
5 THINGS YOU NEED TO KNOW
• Top of the class: UC Davis
• Player to watch: Mark Anguiano, Cal State-Fullerton. The senior is ranked 29th in the Golfweek/Sagarin rankings and is the leader of a veteran Titans squad.
• Freshman to watch: Kevin Lee, Long Beach State. Lee, ranked 183rd by Golfweek, is a key piece for a young 49ers team that starts three freshmen and a sophomore.
• Conference championship: April 27-29, Country Club at Soboba Springs, San Jacinto, Calif.
• Past champions (since 2009): Pacific/Cal State-Fullerton (2013), UC Davis (2011-12), UC Irvine (2010), UC Davis (2009)
• • •
CONFERENCE CAPSULES
(Golfweek/Sagarin rank in parentheses)
UC Davis (50): The Aggies played the 58th toughest schedule in the country in the fall, by far the toughest in the conference, and they came away with four top 10s, including a runner-up finish at the Alister MacKenzie Invitational and a third-place showing at the Pacific Invitational. Senior Matt Hansen led the team in scoring average (70.25) and top 5s (two), and finished the fall ranked 59th by Golfweek. Sophomore Ben Corfee also posted a sub-72 fall stroke average while senior Jonny Baxter, junior Mike Brockington and sophomore Luke Vivolo competed in all 12 of the Aggies' fall rounds. This is a team looking to get back to regionals after ending a two-year streak last spring.
Cal State-Fullerton (54): It was a nice fall for the Titans, who won twice, at the Bill Cullum Invitational and Warrior Princeville Invite, and finished T-3 or better in its other two fall events. Senior Mark Anguiano's 68.17 scoring average led the team while senior Corey Gard and junior Ryan Tetrault also logged 12 rounds and a scoring average below 71. Senior Josh Park gives this team another veteran presence and if freshman Kyle de Silva can continue to improve, the Titans could make some noise in the postseason.
Long Beach State (102): Just one top 5 in four fall events, but the results did progressively improve as the 49ers ended the fall with a fourth-place showing at the Pacific Invitational. Also promising is that Long Beach State used the same lineup all fall, a lineup that included three freshman and a sophomore. The sophomore, Daniel Chian, won the Bill Cullum Invitational individual title while Kevin Lee, one of the freshmen, was co-runner-up at the Pacific Invitational.
UC Irvine (112): The Anteaters won the Cabo del Sol Intercollegiate, but also were 11th at the St. Mary's Invitational and T-7 at the Bill Cullum Invitational. Senior Allan Jun and junior Pete Fernandez each finished the fall ranked inside the top 500 in the Golfweek/Sagarin rankings, and sophomore Jacob Schulze and senior Travis Russell saw action in all nine fall rounds, as well. As for the fifth spot in the lineup, that was a problem area.
UC Riverside (168): The Highlanders played a decently tough fall schedule (121st in the country) and came away with two top 10s, including a fall-best seventh-place showing at the Herb Wimberly Intercollegiate. Unfortunately, UC Riverside also was 16th at the St. Mary's Invitational and couldn't get much consistency outside of scoring leader David Gazzolo.
Cal State-Northridge (169): After starting the fall with a 17th-place finish at the St. Mary's Invitational, the Matadors finished sixth and 11th in its final two fall tournaments. The key to a spring turnaround is experience – seniors Kyle Sauer, Ryan Green and Oscar Sachs, and junior Dodge Ward competed in every tournament during the fall.
Cal Poly (175): The Mustangs finished runner-up at its host event, the four-team Firestone Grill Invitational, but didn't place better than sixth in its other three fall tournaments. Freshman Justin de los Santos was one of four Cal Poly players to log 11 rounds and post a sub-74 scoring average. The other three were all sophomores.
UC Santa Barbara (185): A fourth-place showing at the Bill Cullum Invitational was the highlight of the fall for the Gauchos, who were also seventh and 14th in its other two fall events. At the Bill Cullum, UC Santa Barbara finished ahead of four conference foes, and behind only Cal State-Fullerton, San Diego and Arizona State.
Hawaii (192): Hawaii finished last or second-to-last in three of its four fall tournaments. Its other finish was a ninth-place showing at the Bill Cullum Invitational.
• • •
LANCE'S TAKE
Lance Ringler weighs in on the conference title race
Cal State-Fullerton was one of the surprise teams in college golf this past fall and has joined UC Davis as a favorite in the Big West Conference. UC Davis has won three of the last five conference titles and that past will certainly give the Aggies an edge. Don't be surprised if Long Beach State or even UC Irvine garner some attention this spring. Winning the league's AQ may be those two schools only shot at getting into NCAA regional play.
Golfweek.com readers: We value your input and welcome your comments, but please be respectful in this forum.
---
---
---
---
---
---
---
---
---
---
---
---
---
---
---
---
---
---
---
---
---