Tee times: Women's British Open, final round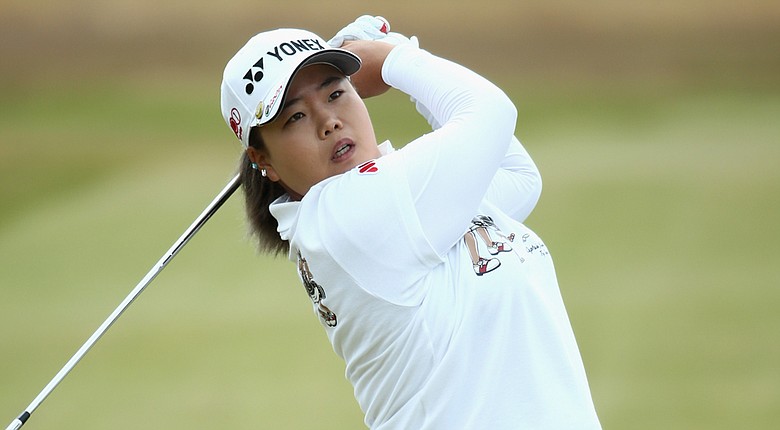 Saturday, July 12, 2014
Inbee Park will take a one-shot lead into the final round of the Ricoh Women's British Open as she searches for her first Women's British crown and fifth overall major title.
Park, at 4 under, will be paired with Suzann Pettersen Sunday at Royal Birkdale. The pair will tee off at 12:35 p.m. local time.
Pettersen is one of three players tied for second at 3 under. Sun-Ju Ahn, who was penalized two shots Saturday, and Shanshan Feng will tee off together at 12:25 p.m.
---
Photo Gallery
PHOTOS: 2014 Women's British Open, Saturday
Check out images from the third round of the 2014 Ricoh Women's British Open at Royal Birkdale Golf Club in Southport, England.
---
Here are the complete tee times and pairings for the final round of the Ricoh Women's British Open Sunday at Royal Birkdale in Southport, England (all times GMT):
6:50 a.m.: Becky Brewerton, Hannah Jun Medlock
7 a.m.: Hee Young Park, Ji Young Oh
7:10 a.m.: Lexi Thompson, Valentine Derrey
7:20 a.m.: Austin Ernst, Ilhee Lee
7:30 a.m.: Alena Sharp, Christina Kim
7:40 a.m.: Beth Allen, Vikki Laing
7:50 a.m.: Haru Nomura, Jee Young Lee
8 a.m.: Dori Carter, Alison Walshe
8:10 a.m.: Georgia Hall, Ayaka Watanabe
8:20 a.m.: Diana Luna, Xi Yu Lin
8:30 a.m.: Belen Mozo, Sarah Kemp
8:40 a.m.: Thidapa Suwannapura, Kristy McPherson
8:50 a.m.: Pornanong Phatlum, Mina Harigae
9 a.m.: Brittany Lang, Carlota Ciganda
9:10 a.m.: Nikki Campbell, Emma Talley
9:20 a.m.: Jeong Jang, Giulia Sergas
9:30 a.m.: Anna Nordqvist, Miki Saiki
9:45 a.m.: Erina Hara, Lee-Anne Pace
9:55 a.m.: Brittany Lincicome, Mika Miyazato
10:05 a.m.: Morgan Pressel, Laura Davies
10:15 a.m.: Ayako Uehara, Karine Icher
10:25 a.m.: Paula Creamer, Ariya Jutanugarn
10:35 a.m.: Azahara Munoz, Jenny Shin
10:45 a.m.: Sophie Giquel-Bettan, Chella Choi
10:55 a.m.: Jiyai Shin, Meena Lee
11:05 a.m.: Rikako Morita, Jessica Korda
11:15 a.m.: Ai Miyazato, Lydia Ko
11:25 a.m.: Gwladys Nocera, Angela Stanford
11:35 a.m.: Marina Alex, Mo Martin
11:45 a.m.: Beatriz Recari, So Yeon Ryu
11:55 a.m.: Amy Yang, Eun-Hee Ji
12:05 p.m.: Stacy Lewis, Charley Hull
12:15 p.m.: Julieta Granada, Amelia Lewis
12:25 p.m.: Sun-Ju Ahn, Shanshan Feng
12:35 p.m.: Suzann Pettersen, Inbee Park
---
---
---
---
---
---
---
---
---
---
---
---
---
---
---
---
---
---
---
---
---