Watson, 64, makes the cut at 2014 British Open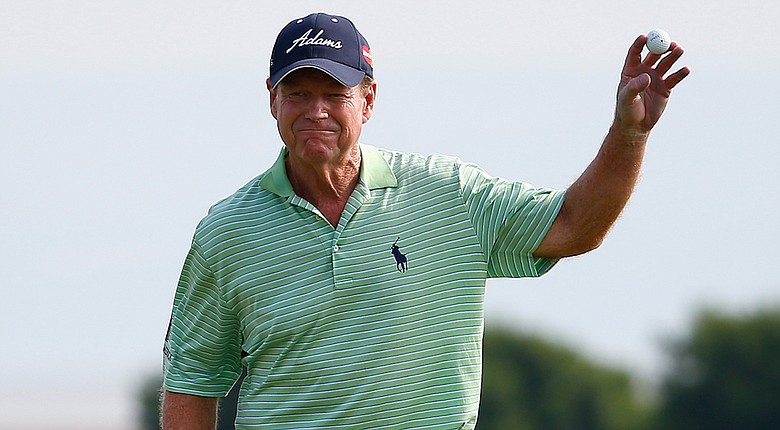 Friday, July 18, 2014
HOYLAKE, England – The Beatles sang about it; Tom Watson's living it.
Here at Royal Liverpool, just down the road from where the English rock band began its revolution, Watson made the cut in the Open Championship at age 64.
"Let's see what happens on the weekend," said Watson, "see if the old guy can maybe get it rolling a little bit."
Watson and the Open Championship go together like fish 'n chips. Sunburnt Brits rose to their feet on a crisp summer day at Hoylake as an old friend approached the 18th green. The five-time Open champion raised his putter and touched the brim of his cap in appreciation of the robust applause. He parred the closing par 5 to card a second 73 and make the cut on the number at 2 over, tying the likes of Tiger Woods, Jordan Spieth and Zach Johnson. He beat the other Watson in the field, Bubba, by two.
---
Photo Gallery
PHOTOS: 2014 British Open, Friday
See what's happening round the golf course in photos from the 2014 British Open at Royal Liverpool in Hoylake, England.
---
"I don't know where I'm going to be when I'm 64," said Darren Clarke, who played alongside Watson the first two rounds. "If I was playing golf like the quality of golf that Tom Watson is playing, then I'd be very, very pleased."
Watson broke his own Open record of being the oldest player to make the weekend since the championship instituted a cut in 1926. He last made the cut at age 62 at Lytham in 2012.
But the round that got him beaming came at this year's Toshiba Classic on the Champions Tour, when Watson shot 63 to break his age in the second round.
Two weeks ago he made the cut at the Greenbrier Classic, though he's still two years younger than Sam Snead's record of youngest to make the cut in a PGA Tour event.
"Senior citizens to the right?" Watson cracked as he walked into the interview area outside the scoring trailer. There are two podiums in the flash area and when Jim Furyk walked in after Watson, he declined to start his interview until Watson had finished.
"He's a legend," Furyk said. "I'll be talking to a blank floor."
Watson, who nearly won the 2009 Open at Turnberry, said he's not out here for a ceremonial walk. Links courses, unlike Augusta National, still give him a chance to shine. The premium here is on accuracy rather than distance, and Watson can revel in a well-honed ground game.
"Links golf is all about distance control," said Watson. "Can you get the ball the right distance? Can you play the chess game? Move your ball to get to this position to get to that position. It's not how far you drive the ball. It's certainly how straight you hit the ball."
Watson skulled his gap wedge over the green on the par-5 10th to move to 3 over and knew he was in trouble. He reckoned the cut to be at 2 over and got his game in gear, birdieing the par-4 14th and posting four solid pars down the stretch.
"It was a pleasure playing with a little bit of heat on me to make the cut and doing so well," said Watson. "I enjoyed that."
For years Watson has struggled with a bad back, and before he left for England had his third shot in the last three years to relieve pain.
Watson said his hip also flared up last week but the pain in both areas has subsided as the days wore on. On Friday, he kept up a brisk pace, often walking well ahead of the younger lads in his group.
At home in Kansas City, Watson has a trainer who keeps him guessing with new routines. But he's not tied to the gym. Watson works on his farm and says the six-mile walk he gets playing 18 holes is more than enough exercise for one day.
"There's no age when I'm out there," he said. "I'm doing the same thing as I did when I was 22 years old, although I can't hit the ball very hard anymore."
He also doesn't usually go the range and pound balls after a round, though he did on Thursday when he wasn't pleased. Watson spent a considerable amount of time with his driver and longer clubs, figuring it out on the last 10 swings.
At night, Watson puts his own game aside to study results of the men he might captain in September at the Ryder Cup. He'll have his yellow legal pad out, taking notes.
"The mental notes I forget," he said.
As for that Beatles tune, Watson needn't worry. The game will still need him, long past 64.
Golfweek.com readers: We value your input and welcome your comments, but please be respectful in this forum.
---
---
---
---
---
---
---
---
---
---
---
---
---
---
---
---
---
---
---
---
---