Junior PGA: Preview, first-round tee times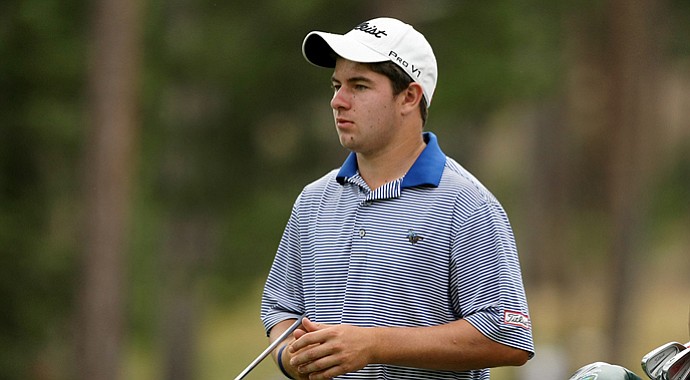 Tuesday, July 29, 2014
BRYAN, Texas – Chris Childers affectionately refers to the Junior PGA Championship as the "munchkin major."
"It's basically a spinoff of the PGA Championship," said Childers, championship director of the Junior PGA, which begins Tuesday at Miramont Country Club. "Both of them are run by the same department, the same people. It's the same operational-wise. All of the policies and procedures are the same."
So it's no wonder 156 of the top boys and girls junior golfers will compete this week as the Junior PGA, now in its 39th year, makes its first visit to Texas.
The 72-hole championship, presented by Under Armour and Genesis Networks, features a 54-hole cut to the low 30 boys and 30 girls, including ties. Past participants include Tiger Woods, Phil Mickelson, Jordan Spieth, Inbee Park, Lexi Thompson and Michelle Wie.
"Jordan Spieth, he still talks about the level of experience and professional treatment he got playing in this tournament," said Childers, who has been with the PGA of America for 18 years and also helps run the PGA Junior Series and the Junior Ryder Cup.
Among the players in the field this year (Golfweek/Sagarin ranking in parentheses):
• Cameron Young (2), Brad Dalke (5), Austin Connelly (8), Zachary Bauchou (10), Sam Burns (12), Wilson Furr (13), Chandler Phillips (15).
• Bethany Wu (2), Megan Khang (3), Kristen Gillman (4), Jillian Hollis (7), Mariel Galdiano (9) and Bailey Tardy (10).
Defending champions Tyler McDaniel and Amy Lee are also in the field.
Andrea Lee, Golfweek's top-ranked junior girl, and Davis Riley, last week's runner-up at the U.S. Junior Amateur, had to withdraw, otherwise the field would've been even tougher.
"These players get hungry (for this tournament)," Childers said, "because they know the best of the best are showing up to compete."
Miramont Country Club, a Robert Trent Jones Jr. design that opened in 2005, should provide a stern test. The par-71 layout that will play 7,010 yards for the boys division and 6,240 yards for the girls division.
"Some of the best Bermuda greens that I've ever putted on myself," Childers said.
Childers said the rough will be trimmed down a little, though, in order to prepare the U.S. players for this year's Junior Ryder Cup. The top two boys and top two girls finishers at the Junior PGA will make the U.S. team. The Junior Ryder Cup will be contested Sept. 22-23 at Blairgowrie Golf Club in Scotland.
• • •
Here are the opening-round tee times for the 2014 Junior PGA Championship at Miramont Country Club in Bryan, Texas (all times local):
Tuesday's first round
GIRLS
TEE NO. 1
7 a.m. Anna Hack, Murray, Ky.; Haylee Chugg, Ogden, Utah, Jean Tyrrell, Leawood, Kan.
7:10 a.m. Courtney Dow, Frisco, Texas; Hannah O'Sullivan, Paradise Valley, Ariz.; Lauren Stephenson, Lexington, S.C.
7:20 a.m. Elizabeth Wang, San Marino, Calif.; Shania Berger, Socorro, N.M.; Kathleen Gallagher, Greenwood, Miss.
7:30 a.m. Mariel Galdiano, Pearl City, Hawaii; Samantha Wagner, Windermere, Fla.; Jillian Hollis, Rocky River, Ohio
7:40 a.m. Abbey Carlson, Lake Mary, Fla.; Binny Lee, Frisco, Texas; Bailey Tardy, Peachtree Corners, Ga.
7:50 a.m. Alexis Sadeghy, Edmond, Okla.; Alyssa Akiyama, Terrace Park, Ohio; Lindsay May, Auburn, N.Y.
8 a.m. Virginia Green, Fairhope, Ala.; Rose Huang, Honolulu, Haw aii, Gabrielle Curtis, Eau Claire, Wis.
8:10 a.m. Janet Mao, Johns Creek, Ga.; Amy Lee, Brea, Calif.; Robynn Ree, Redondo Beach, Calif.
8:20 a.m. Kacey Godwin, Denver, Colo.; Kaho Monica Matsubara, San Diego, Calif.; Alex Wright, Midlothian, Va.
8:30 a.m. Bethany Wu, Diamond Bar, Calif.; Kristen Gillman, Austin, Texas; Megan Khang, Rockland, Mass.
8:40 a.m. Elizabeth Choi, Syosset, N.Y.; Rachel Johnson, Anderson, Ind.; Alexa Tsay, Andover, Mass.
8:50 a.m. Jenny Buchanan, Loudonville, N.Y.; Victoria Huskey, Greenville, S.C.; Emily Campbell, Lewisville, Texas
9 a.m. Youngin Chun, Austin, Texas; Katharine Patrick, West University Place, Texas; Maddie Rose Hamilton, Louisville, Ky.
TEE NO. 10
7 a.m. Paige Van Dyk, Tama, Iowa; Lauren Hartlage, Elizabethtown, Ky.; Lois Kaye Go, Philippines
7:10 a.m. Angela Garvin, Feeding Hills, Mass.; Rei Nakatani, Japan; Amber Wang, Sugar Land, Texas
7:20 a.m. Amanda Kim, O'Fallon, Mo.; Victoria Parker, Lewiston, N.Y.; Alexandra Farnsworth, Nashville, Tenn.
7:30 a.m. Abigail Cantwell, Scottsdale, Ariz.; Maria Davis, Vallejo, Calif.; Shannon Brooks, Vienna, Va.
7:40 a.m. Gigi Stoll, Beaverton, Ore.; Kaitlyn Papp, Austin, Texas; Sierra Brooks, Sorrento, Fla.
7:50 a.m. Maddie Luitwieler,Katy, Texas; Lauren Waller, Canonsburg, Pa.; Haydyn Gibson, Clearwater, Fla.
8 a.m. Sarah Burnham, Maple Grove, Minn.; Nikki Long, San Antonio, Texas; Greer Clausen, Bloomfield Hills, Mich.
8:10 a.m. Megan Furtney, South Elgin, Ill.; Maddy McDanel, Pittsburgh, Pa.; Ellen Takada, Irvine, Calif.
8:20 a.m. Maya Walton, Austin, Texas; Haley Thiele, Wahoo, Neb.; Isabella DiLisio, Hatfield, Pa.
8:30 a.m. Allisen Corpuz, Honolulu, Hawaii; Kelly Whaley, Farmington, Conn.; Cheyenne Knight, Aledo, Texas
8:40 a.m. Michelle Xie, Palo Alto, Calif.; Kasey Nielsen, Kent, Ohio; Hannah Thiele, Wahoo, Neb.
8:50 a.m. Alisa Snyder, Phoenix, Ariz.; Haley Nist, Meridian, Idaho; Emily Campbell, Lewisville, Texas
9 a.m. Valeria Sofia Pacheco, Hallandale Beach, Fla.; Jackie Rogowicz, Yardley, Pa.; Dominique Galloway, Rio Rancho, N.M.
• • •
BOYS
TEE NO. 1
Noon Louie Chen, Fremont, Calif.; Allen Hamilton, Louisville, Ky.; Clay McCrory, Spring, Texas
12:10 p.m. Will Grimmer, Cincinnati, Ohio; Austin Connelly, Irving, Texas; Sam Burns, Shreveport, La.
12:20 p.m. Cameron Young, Scarborough, N.Y.; Brad Dalke, Hobart, Okla.; Wilson Furr, Jackson, Miss.
12:30 p.m. John Felitto, Mountainside, N.J.; Edwin Yi, Beaumont, Calif.; Michael Sass, Louisville, Ky.
12:40 p.m. Austin Eckroat, Edmond, Okla.; Philip Barbaree, Shreveport, La.; Garrett Glanton, Richardson, Texas
12:50 p.m. Vinay Ramesh, Newtown, Pa.; Garret Buckley, Novi, Mich.; Andrew Paysse, Temple, Texas
1 p.m. Sam Tidd, Meridian, Idaho; Tanner Owens, Milton, Tenn.; Jason Liu, Windsoe, Conn.
1:10 p.m. Matthew Weber, Saint Charles, Ill.; Julian Keur, Summerville, S.C.; Sam Meuret, Brunswick, Neb.
1:20 p.m. Will Thomson, Pittsford, N.Y.; Connor Chesky, Saint Helena, Calif.; John Lazor, Westw ood, Mass.
1:30 p.m. Patrick Martin, Hoover, Ala.; Ryoto Furuya, Wesley Chapel, Fla.; Alec Bard, New Hartford, N.Y.
1:40 p.m. Tyler McDaniel, Manchester, Ky.; Grayson Davis of Franklin, Tenn.; Maxwell Miller, College Station, Texas
1:50 p.m. Matt Echelmeier, Columbia, Mo.; Gavin Cohen, Tuscon, Ariz.; Thomas Longbella, Chippewa Falls, Wis.
2 p.m. Jalen Heald, Topeka, Kan.; Matt Marrese, Bellevue, Wash.; Sam Riemer, Canton, Mass.
TEE NO. 10
Noon Wes Artac, Kingwood, Texas; Kendel Hodges, Temecula, Calif.; Patrick Sheerer, Gibsonia, Pa.
12:10 p.m. Luis Gagne, Orlando, Fla.; Jaece Stokes, West Haven, Utah, Luke Kelly, Brownsburg, Ind.
12:20 p.m. Brandon Smith, Frisco, Texas; Zachary Bauchou, Forest, Va.; William Gordon, Davidson, N.C.
12:30 p.m. Andrew Walker, Battle Creek, Mich.; Pierce Aichinger, Englewood, Colo.; Brandon Berry, Great Falls, Va.
12:40 p.m. Ryan Grider, Lewisville, Texas; Graysen Huff, Eagle, Idaho; Daniel Martinez, Austin, Texas
12:50 p.m. Nathan Jeansonne, Keithville, La.; Cooper Dossey, Austin, Texas; Jacob Solomon, Dublin, Calif.
1 p.m. Zach Mosholder, Tallmedge, Ohio; Matthew Junge, Cedar Rapids, Iowa; Anthony Gabriele, West Palm Beach, Fla.
1:10 p.m. Parker Reddig, Minneapolis, Minn.; Timothy Colanta, Champions Gate, Fla.; Triston Fisher, Southlake, Texas
1:20 p.m. Sean Meehan, San Antonio, Texas; Ryan Dornes, Lancaster, Pa.; Walker Lee, Houston, Texas
1:30 p.m. Kyle Burke, West Sayville, N.Y.; Ariel Elftman-Hanson, Wailuku, Hawaii; Arthur Griffin, Lake Placid, N.Y.
1:40 p.m. John Augenstein, Owensboro, Ky.; Gordon Neale, Trabuco Canyon, Calif.; Chandler Phillips, Huntsville, Texas
1:50 p.m. Andrew Proctor, Chandler, Ariz.; Thomas Johnson, Norman, Okla.; S.M. Lee, Bufrod, Ga.
2 p.m. Taylor Suggs, Cincinnati, Ohio; Sean Carlon, Albuquerque, N.M.; Glenn Piot Jr.; Canton, Mich.
Golfweek.com readers: We value your input and welcome your comments, but please be respectful in this forum.
---
---