Mechanic's Monday dining partner? A bottle of wine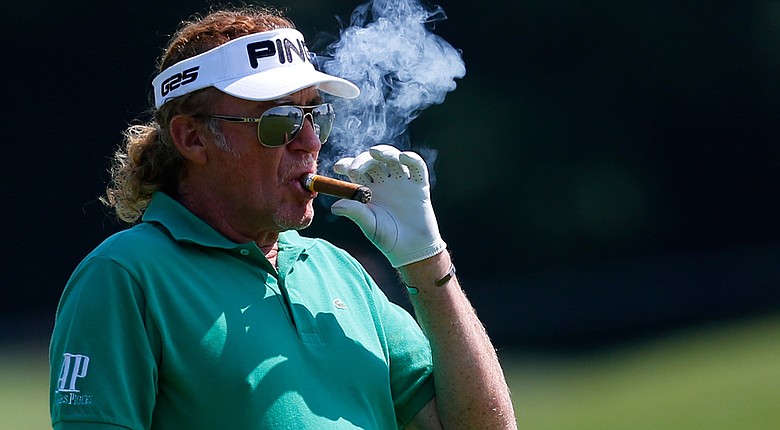 Tuesday, June 10, 2014
Turns out that legend of Spain's Miguel Angel Jimenez is deserved. The golf star, known for his ponytail hair, unusual stretching exercises on the driving range each morning and taste in fine wine and cigars, merits the nickname of "The Most Interesting Man in Golf."
On Monday night in a virtually empty main dining room at The Pinehurst Resort's famous Carolina Hotel, Jimenez sat down by himself for dinner, promptly ordered a bottle of wine, and proceeded to have two glasses poured, one for himself and one opposite him at his little table, as if awaiting a guest – though it was clear he was dining alone.
And then started a procession of folks to stop by and greet him, among them Ted Bishop, president of the PGA of America. Jimenez regally greeted all, and in the process managed to polish off virtually the entire bottle. The Forecaddie did not see what he ordered for dinner. But The Man Out Front has never seen anyone in golf look so royal and so content while enjoying his dinner.
After his meal, Jimenez took the last remaining half glass off his wine and retreated to a far corner of the veranda outside the Ryder Cup lounge. He took a seat in a rocking chair, fired up a cigar, and sat there rocking away, gazing up at the moon through the cloud of smoke he created.
For the Mechanic, life is obviously good.
Golfweek.com readers: We value your input and welcome your comments, but please be respectful in this forum.
---
---