Achie's Awards: Appreciating opinions at Pinehurst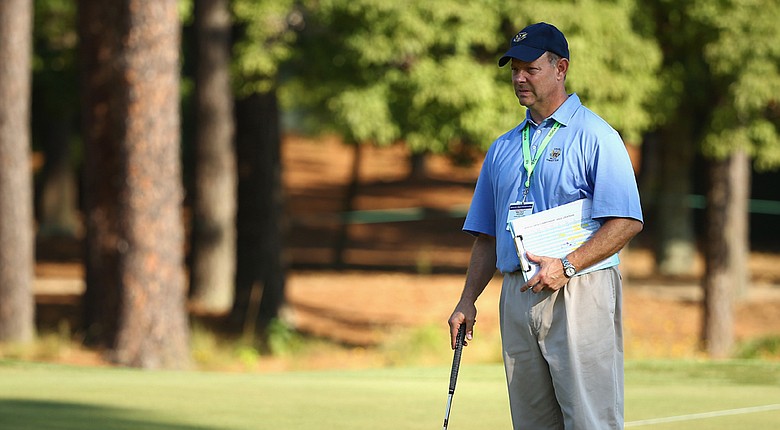 Wednesday, June 11, 2014
PINEHURST, N.C. – It's Wednesday. It's the eve of the U.S. Open. Everybody's nervous with anticipation. Lots of 11th-hour preparation by the players who have journeyed here to the Sandhills of North Carolina.
Still, some players and officials took the time to talk at length about the upcoming challenge. Here's a salute and a handful of Major Jim awards to honor their perspectives heading into the year's second major championship.
• The Sandy Andy Award goes to U.S. Golf Association executive director Mike Davis. The subject was the difference between bunkers and waste areas. Davis was asked about "any potential problem in determining whether a ball is in one or the other."
---
Photo Gallery
PHOTOS: 2014 U.S. Open (Wednesday)
Here are some images from Wednesday's practice round for the 2014 U.S. Open at Pinehurst No. 2 in Pinehurst, N.C.
---
Part of the response by Davis: "Where there's maybe any question – am I in a bunker or am I through the green? – we will have a walking rules official with every group, just like we have since 1991 at every U.S. Open, and they will make a decision.
"Even if it's so close you'd say, 'I'm not sure' … we've told our rules officials to treat it has a hazard, which basically means you can't ground your club or remove a loose impediment that's within the bunker. We don't think it's going to be an issue this week."
Tell that to Dustin Johnson, who was victimized by a similar situation in the 2010 PGA Championship.
• My Plate is Full of USGA Championships: Pinehurst Resort & Country Club gets this award after it was announced Wednesday that Pinehurst will host the 2017 U.S. Amateur Four-Ball Championship for its ninth USGA Championship. The 1962 U.S. Amateur was the first of these nine.
• We Are the Host With the Most: Merion Golf Club in Ardmore, Pa., has hosted 18 USGA championships to lead the list. The Country Club in Brookline, Mass., is second with 16.
Other contenders: Baltusrol Golf Club, 15; Chicago Golf Club, 11; Winged Foot Golf Club, 11; Pebble Beach Golf Links, 11; Oakland Hills Country Club, 10, Cherry Hills Country Club, 9; The Olympic Club, 9; Southern Hills Country Club, 9.
Most of these clubs have a long and rich golf history. Among the newer clubs moving up the list, Pumpkin Ridge Golf Club in North Plains, Ore., has hosted six USGA championships in 22 years and will add its seventh with the 2015 U.S. Women's Amateur.
---
Photo Gallery
PHOTOS: Equipment on the range at U.S. Open
Our David Dusek takes you onto the range to get a look at the newest equipment in play at the 2014 U.S. Open at Pinehurst No. 2.
---
• Sure, I'll Pick a Winner: Two-time major champion Rory McIlroy, omitting himself, named Adam Scott, Bubba Watson and Jason Day as favorites here at Pinehurst.
"I think this golf course sets up really well for someone like Jason Day," McIlroy said. "He hits it long, hits it high, has a really sharp short game."
• Don't Forget Hideki Matsuyama: "He's an impressive young player, very strong, and a great ballstriker," observed world No. 1 Adam Scott. "He doesn't have many weaknesses. It's hard to say that anything is a weakness. There are lots of areas he's going to get better as he plays more and gets older. But to me the strength that stands out is his mental strength, really. Everyone struggled coming in there (Memorial), and I think somehow he handled it best and was able to hit a great shot into the 18th hole and make a birdie and win a playoff. For a young kid, I think his mental strength is his biggest asset at the moment."
• The Honesty Award goes to North Carolina native Webb Simpson. "The last two months I've played terrible," Simpson said, "but kept working on it, kept trying to improve. And I think you've got to stay positive in this game, because there's countless stories of guys who play poorly for a while and then they win a huge tournament. I think those guys are guys who are ready for the moment. They're ready to play well. And obviously I think the better player is one who stays positive and is very optimistic, just waiting for that moment to break through and play better."
Golfweek.com readers: We value your input and welcome your comments, but please be respectful in this forum.
---
---
---
---
---
---
---
---
---
---
---
---
---
---
---
---
---
---
---
---
---