Achie's Awards: Players' honesty at Pinehurst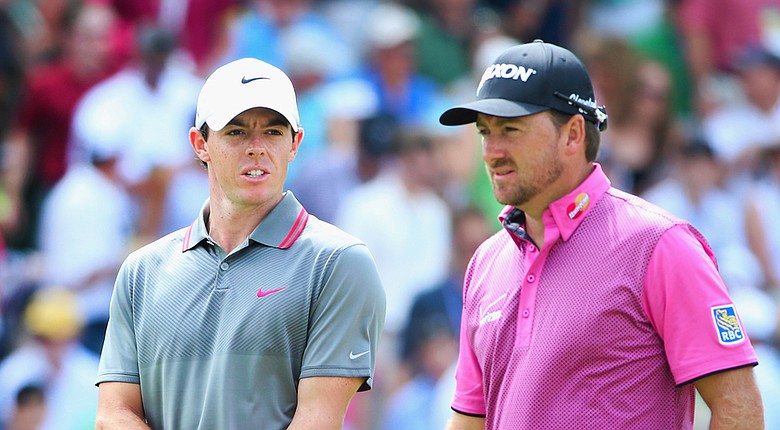 Thursday, June 12, 2014
PINEHURST, N.C. – Major championship competition brings out the honesty in most participants. Because the golf invariably is so difficult, the players tend to drop any false confidence. They talk more candidly about their challenges and frustrations.
Here are some examples from Thursday at the U.S. Open.
• SERGIO GARCIA, who finished with 13 pars, four bogeys and just one birdie for a 3-over-par 73: "With such small targets – I mean so little that you can't really (afford to) miss that much – you can hit a shot that is five feet away from the hole and it just catches the slope and it goes, and then you have a really, really tough up and down. Like I've hit (several) greens today, but really had (only) two birdie chances all day."
• BRANDT SNEDEKER, on the increase in green speed as the day progresses: "They are a foot, (or) foot and a half faster (on the Stimp scale) from this morning to the afternoon, just from the sun coming out and baking them out a little bit."
• HENRIK STENSON, expressing complete surprise about green softness in the morning: "I had a 9-iron into the first (green) and it spun back a couple of yards instead of skipping forward, then I three-putted that one coming up the hill."
• HENRIK NORLANDER: "It definitely played easier (than in practice rounds). I hit an 8-iron into 10 (his starting hole) and it actually checked up on me. So I realized they put some water on it, and it played a little easier. But you still can make bogeys pretty quick out here. This is as easy as it's going to play."
• RORY McILROY, agreeing with Norlander: "What we saw this morning out there on that golf course is probably the most scorable it's going to be all week. My goal coming into this week was (to make) somewhere around 15 birdies, like maybe four a day. I made two today."
• GRAEME McDOWELL: "I guess the USGA were really relying on some rain last night, which didn't come. I'm assuming they put some water on this place this morning. And we were able to take advantage of that a little bit early on, and actually think about getting at some of those flags."
• WEBB SIMPSON, displaying an extremely straightforward perspective: "It played a little softer than I expected. You know, maybe they got a few complaints with how firm it was Tuesday and Wednesday. On 11, my stance was kind of touching an ant pile, and I was trying to argue that it was a red ant pile. But they (USGA rules officials) claimed that they sprayed and there's no red ants. I had a bad lie, too, so I was trying to use the rule to my advantage, but I didn't get relief."
• MATT KUCHAR, who had no bogeys through his first 15 holes: "I was thinking for awhile I was looking like I might go bogey-free around a U.S. Open course, which is a thought I shouldn't have had in my head. "(As a result) 16 and 17 got me (with bogeys) and almost 18. You feel you should be aggressive, but at the same time you miss by a small margin and you make a bogey with a pitching wedge in your hand."
• KEVIN NA, on feeling uncomfortable: "You know you're at a U.S. Open, but you see no rough. It's a little different. It's hard to get used to."
• JUSTIN ROSE, the defending champion: "My short game was very poor. The short game is confidence. I'm going to check my basics, start hitting a few feeling shots again and build up that confidence."
• PHIL MICKELSON, unwavering in his belief that he will win a U.S. Open: "This is a special tournament, a tournament that means a lot to me. I don't know if it will be this week or next year or the year after. I do still have 100 percent confidence that I'll be able to break through and get one."
• RICKIE FOWLER, as if to answer Mickelson: "There are so many good young players out right now, we're starting to get into the (major championship) scene a little bit. We're trying to take some of the majors away from some of the older guys."
• HIDEKI MATSUYAMA, who was asked about Fowler's Payne Stewart look-alike outfit: "I don't think I could pull it off, but he can."
Golfweek.com readers: We value your input and welcome your comments, but please be respectful in this forum.
---
---
---
---
---
---
---
---
---
---
---
---
---
---
---
---
---
---
---
---
---