Pinehurst's elusive 15th hole: a primer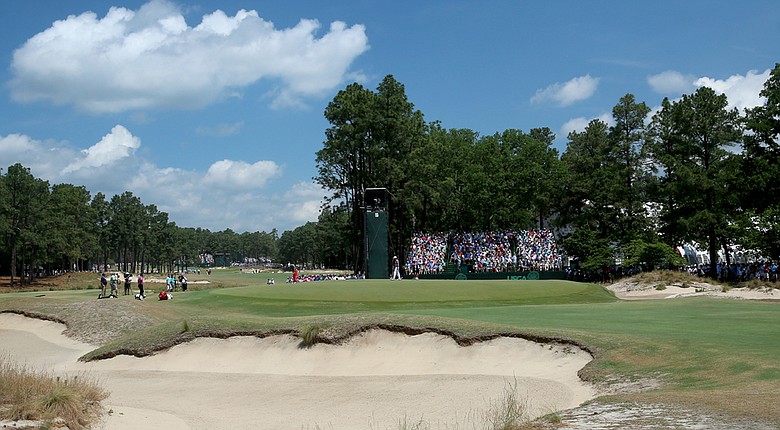 Monday, June 23, 2014
PINEHURST, N.C. – It's wide open in front, no water, a level shot, the entire green surface visible from the tee and nothing that at first glance looks ominous. Yet the 202-yard, par-3 15th has been strangely elusive during this U.S. Open, registering an average score of 3.234 through two rounds, making it the eighth hardest hole at Pinehurst No. 2. So far the field is hitting the green in regulation only 50 percent of the time, well below the overall course average of 58 percent.
The green measures 6,220 square feet, larger than your course average for the entire course, 5,941 square feet. The 15th green also has more than average kick to it. During their restoration, Bill Coore and Ben Crenshaw marginally tinkered with flattening the right side of the green – the only other green on which they slightly modified a section was the 17th.
Here's what's going on and what to watch for during today's third round.
1. Today's set up. Today's third-round hole location on No. 15 is 15 yards deep on a green that's 31 yards long and 10 yards from he left edge. So it sits just above a false front and near a falloff to the left. The hole will play 199 yards on Saturday, with a light breeze out of the northeast that will push the ball somewhat over to the left, towards that fall off.
---
Photo Gallery
PHOTOS: 2014 U.S. Open (Friday)
Check out photos from Friday's second round of the 2014 U.S. Open at Pinehurst No. 2 in North Carolina.
---
2. Deflective green. This is one of those Pinehurst No. 2 greens that's turned down at the edges and raised slightly in the middle. That makes it hard to hit and hold unless the ball is flighted in high, soft and with spin. The difference on this green is that the edges are a bit more severe than others on the course, and the entire back half of the green is tipped ever so lightly away from the line of approach. If a ball lands on a surface that's sloped away, it will hyper-boost it further along. That's why you'll see so many shots here running way long and over.
3. Infinity edge. Like one of those Phoenix-area backyard pools that looks like it's hanging out in the desert, the green here is propped up with no supportive background other than the 16th green, which is 500 yards behind. They took out all the trees that used to backdrop this hole, making it harder to ascertain through depth perception where the target really is. No matter how armed you are with yardage, the eye and the mind play a role in orienting you on a shot – or not. This one doesn't.
4. Elusive run up. The ideal approach shot here lands above a false front that cuts into the first seven yards of the green. Anything short of the top of that slope rolls back off the front edge. Some players might be tempted to play a slow-slung run up – not exactly a shot the Tour players are comfortable with. The issue is compounded because the proper way to play such a shot is actually to chose a longer club than you think you need, hit it on a lower trajectory and land it well short of the upslope. Given the choice between a 5-, 6-, or 7-iron flown through the air or a low-slung long-iron hit well short at half speed, most Tour-quality players will opt for the familiar flighted shot – even if it reduces their margin of error on approach. Maybe if they played more links golf . . .

Golfweek.com readers: We value your input and welcome your comments, but please be respectful in this forum.
---
---
---
---
---
---
---
---
---
---
---
---
---
---
---
---
---
---
---
---
---