2014 U.S. Women's Open: Tee times, 2nd round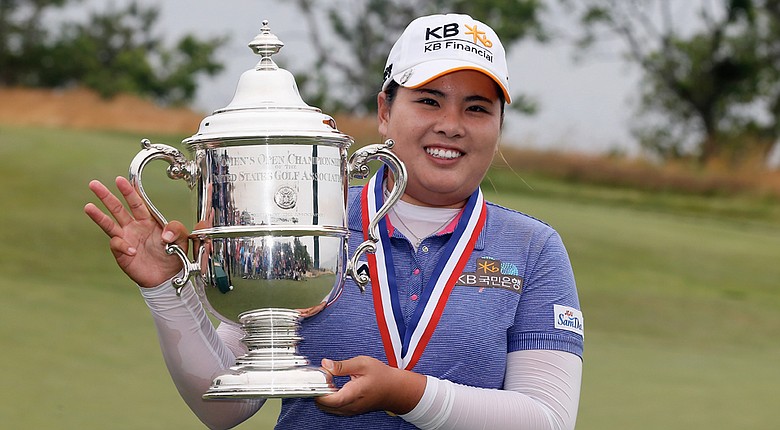 Thursday, June 19, 2014
Following the U.S. Open, for the first time in USGA history, the U.S. Women's Open will be conducted at the same site, Pinehurst No. 2.
Here is a look at some of the best pairings, followed by the full list of tee times:
• Stacy Lewis, Inbee Park, Emma Talley: The world's No. 1 and No. 2, respectively, will be paired with one of the top-ranked amateur players in the world in reigning U.S. Women's Amateur champion Emma Talley. Park won the championship in 2013, one of her three majors of 2013. Lewis won the 2013 Women's British Open.
---
Photo Gallery
PHOTOS: Pinehurst Resort 2014
View images from a recent visit to Pinehurst, ranging from holes on No. 2 to the Pinehurst Village.
---
• Cheyenne Woods, Natalie Gulbis, Juli Inkster: The only member of the Woods family who will play at Pinehurst throughout the two weeks, Woods qualified at the Scottsdale, Ariz., sectional. Gulbis is looking for her first major championship (best finish at U.S. Women's Open, T-4 in 2005), while Inkster, 53 and the 2015 Solheim Cup captain, is looking for her third U.S. Women's Open title.
• Lydia Ko, Suzann Pettersen, Cristie Kerr: Ko, 17, is playing in her first U.S. Women's Open as a professional. She won this year's Swinging Skirts LPGA Classic for her first win as a pro. Pettersen, the winner of the 2013 Evian Championship, is playing in her first major of the year after missing the Kraft Nabisco Championship with a back injury. Kerr is the winner of the 2007 U.S. Women's Open Championship at Pine Needles.
• Michelle Wie, Catriona Matthew, Amy Yang: Arguably the hottest player on the LPGA this season, Wie won the Lotte Championship amid six other top-10 finishes in 11 events. Matthew is looking to win her second major championship; her best finish at the Open was T-4 in 2001. Yang finished second to Na Yeon Choi in 2012.
• • •
Complete tee times and groupings for Friday's second of the 2014 U.S. Women's Open at Pinehurst (N.C.) Resort's No. 2 course (all times EDT):
No. 1 tee
6:45 a.m.: Jasi Acharya; (a) Elizabeth Tong; (a) Chisato Hashimoto
6:56 a.m.: Sue Kim; Marissa Steen; (a) Mathilda Cappeliez
7:07 a.m.: Dori Carter; (a) Minjee Lee; Kristy McPherson
7:18 a.m.: Laura Davies; Jennifer Rosales; Laura Diaz
7:29 a.m.: Irene Coe; Christel Boeljon; Belen Mozo
7:40 a.m.: Brittany Lang; Morgan Pressel; Yani Tseng
7:51 a.m.: Lizette Salas; Na Yeon Choi; Paula Creamer
8:02 a.m.: Shanshan Feng; Angela Stanford; Anna Nordqvist
8:13 a.m.: Lee-Anne Pace; Haeji Kang; Gwladys Nocera
8:24 a.m.: Hee Kyung Bae; Mina Harigae; Nicole Castrale
8:35 a.m.: Mariajo Uribe; Jee Young Lee; Ashleigh Simon
8:46 a.m.: Yueer Cindy Feng; Kelly Tan; (a) Janie Jackson
8:57 a.m.: (a) Megan Khang; Tzu-Chi Lin; Maria Hernandez
No. 10 tee
6:45 a.m.: Carleigh Silvers; (a) Sierra Sims; (a) Narangyi Bae
6:56 a.m.: (a) Jordan Ferreira; (a) Celine Boutier; Brooke Pancake
7:07 a.m.: Kris Tamulis; (a) Andrea Lee; Ashley Knoll
7:18 a.m.: Rebecca Lee-Bentham; (a) Ally McDonald; Ayaka Watanabe
7:29 a.m.: Beatriz Recari; Karine Icher; Chella Choi
7:40 a.m.: Rikako Morita; Ilhee Lee; Caroline Masson
7:51 a.m.: Amy Yang; Catriona Matthew; Michelle Wie
8:02 a.m.: Lydia Ko; Suzann Pettersen; Cristie Kerr
8:13 a.m.: Mika Miyazato; Jenny Shin; Brittany Lincicome
8:24 a.m.: Yumiko Yoshida; Mo Martin; Candie Kung
8:35 a.m.: Jacqui Concolino.; (a) Stephanie Meadow; TBD
8:46 a.m.: Sandra Changkija; Brianna Do; (a) Kathleen Scavo
8:57 a.m.: (a) Marissa Chow; So-Young Jang; Amy Boulden
No. 1 tee
12:30 p.m.: Nicole Garcia; Misuzu Narita; (a) Samantha Gotcher
12:41 p.m.: Kelsey Macdonald; (a) Paige Lee; (a) Madison Kerley
12:52 p.m.: Catherine O'Donnell; (a) Lucy Li, Redwood; Jessica Wallace
1:03 p.m.: Sei Young Kim; Teresa Lu; Carlota Ciganda
1:14 p.m.: Pernilla Lindberg; Katherine Kirk; Giulia Sergas
1:25 p.m.: Sakura Yokomine; Jodi Ewart Shadoff; Meena Lee
1:36 p.m.: I.K. Kim; Azahara Munoz; Ha Na Jang
1:47 p.m.: Inbee Park; Stacy Lewis; (a) Emma Talley
1:58 p.m.: Gerina Piller; Hee Young Park; Pornanong Phatlum
2:09 p.m.: Ai Miyazato; Sandra Gal; Jennifer Johnson
2:20 p.m.: Ayako Uehara; Dewi Claire Schreefel; Danielle Kang
2:31 p.m.: Sadena Parks; Caroline Powers; (a) Emily Penttila
2:42 p.m.: Paula Hurtado; (a) Hannah Pietila; Lucy Williams
No. 10 tee
12:30 p.m.: (a) Bailey Tardy; Xyra Suyetsugu; Rebecca Hudson
12:41 p.m.: Weiling Hsu; Erica Popson; (a) Jessica Porvasnik
12:52 p.m.: Jane Park; Jennifer Song; Lisa McCloskey
1:03 p.m.: Stacey Keating; Lala Anai; Nikki Campbell
1:14 p.m.: Birdie Kim; Sarah-Jane Smith; Katie Burnett
1:25 p.m.: Yoo Lim Choi; Moriya Jutanugarn; Alison Walshe
1:36 p.m.: Jessica Korda; Se Ri Pak; Caroline Hedwall
1:47 p.m.: Lexi Thompson; Karrie Webb; So Yeon Ryu
1:58 p.m.: Sun Young Yoo; Julieta Granada; Eun Hee Ji
2:09 p.m.: Juli Inkster; Cheyenne Woods; Natalie Gulbis
2:20 p.m.: Marta Silva; Holly Clyburn; Chie Arimura
2:31 p.m.: Jaye Marie Green; (a) Brooke Mackenzie Henderson; Stephanie Na
2:42 p.m.: Eri Joma; (a) Yuting Shi; Karlin Beck
Golfweek.com readers: We value your input and welcome your comments, but please be respectful in this forum.
---
---
---
---
---
---
---
---
---
---
---
---
---
---
---
---
---
---
---
---
---