Lewis atop rankings as USWO gets underway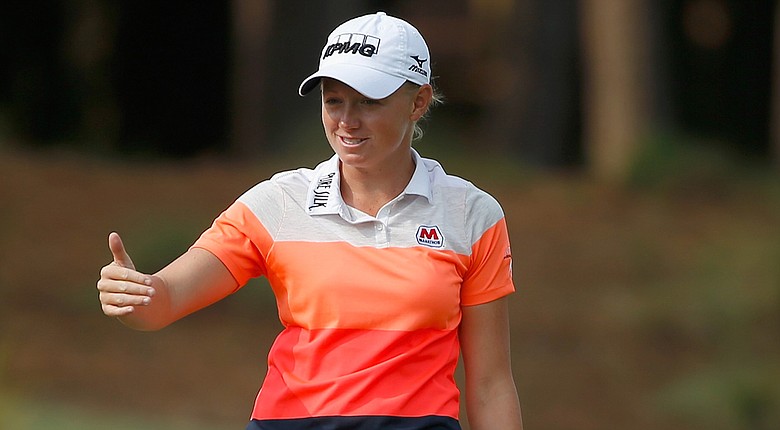 Thursday, June 19, 2014
Stacy Lewis enters this week's U.S. Women's Open sitting atop the Golfweek/Sagarin Performance Index – a spot she has occupied since last November.
Lewis has put up some impressive numbers since the beginning of the 2013. In her last 40 starts she has 31 top-10 finishes and 17 inside the top five. However, one of her worst finishes using that time frame is last year U.S. Women's Open where she tied for 42nd.
Below is a look at the full field and their Golfweek/Sagarin Ranking.
1. Stacy Lewis
2. Suzann Pettersen
3. Inbee Park
4. Lydia Ko
5. Shanshan Feng
7. So Yeon Ryu
9. Michelle Wie
10. Lexi Thompson
11. Na Yeon Choi
12. Cristie Kerr
13. Anna Nordqvist
14. Chella Choi
15. Paula Creamer
16. Karrie Webb
17. Gerina Piller
18. I.K. Kim
19. Azahara Munoz
20. Karine Icher
21. Teresa Lu
22. Angela Stanford
24. Sakura Yokomine
25. Hee Young Park
27. Jenny Shin
28. Jessica Korda
30. Amy Yang
31. Caroline Hedwall
32. Pornanong Phatlum
33. Catriona Matthew
35. Lizette Salas
37. Morgan Pressel
38. Misuzu Narita
41. Sandra Gal
44. Yumiko Yoshida
45. Brittany Lang
46. Jodi Ewart Shadoff
48. Sun Young Yoo
49. Mika Miyazato
51. Meena Lee
52. Lala Anai
54. Rikako Morita
61. Eun-Hee Ji
62. Ai Miyazato
63. Se Ri Pak
65. Ayaka Watanabe
66. Ayako Uehara
67. Jennifer Johnson
68. Lee-Anne Pace
72. Mina Harigae
73. Haeji Kang
76. Julieta Granada
77. Brittany Lincicome
81. Carlota Ciganda
91. Gwladys Nocera
92. Caroline Masson
93. Jane Park
95. Candie Kung
96. Mo Martin
97. Pernilla Lindberg
98. Ilhee Lee
99. Christel Boeljon
101. Dewi Claire Schreefel
104. Yani Tseng
109. Natalie Gulbis
110. Beatriz Recari
113. Sarah Jane Smith
118. Dori Carter
119. Ashleigh Simon
120. Mariajo Uribe
125. Alison Walshe
128. Brooke Pancake
133. Juli Inkster
140. Belen Mozo
143. Holly Clyburn
146. Jee Young Lee
152. Moriya Jutanugarn
156. Chie Arimura
159. Jennifer Rosales
161. Nicole Castrale
168. Nikki Campbell
177. Katie Burnett
180. Lisa McCloskey
187. Irene Coe
189. Rebecca Artis
190. Sandra Changkija
193. Marissa Steen
199. Kris Tamulis
203. Giulia Sergas
211. Kelly Tan
225. Wei Ling Hsu
226. Laura Davies
231. Kristy McPherson
234. Laura Diaz
235. Cheyenne Woods
238. Jennifer Song
247. Jaye Marie Green
251. Maria Hernandez
262. Stacey Keating
264. Rebecca Lee-Bentham
269. Marta Silva
294. Sue Kim
298. Jacqui Concolino
299. Stephanie Na
301. Caroline Powers
311. Brianna Do
313. Erica Popson
341. Rebecca Hudson
370. Catherine O'Donnell
375. Tzu-Chi Lin
391. Karlin Beck
394. Jessica Wallace
396. Sadena Parks
416. Eri Joma
433. Jasmeen Acharya
N/R. Hee-Kyung Bae
N/R. Narangyi Bae (a)
N/R. Amy Boulden
N/R. Celine Boutier (a)
N/R. Mathilda Cappeliez (a)
N/R. Yoo Lim Choi
N/R. Marissa Chow (a)
N/R. Yueer Cindy Feng
N/R. Jordan Ferreira (a)
N/R. Nicole Garcia
N/R. Samantha Gotcher (a)
N/R. Chisato Hashimoto (a)
N/R. Brooke M. Henderson (a)
N/R. Paula Hurtado
N/R. Janie Jackson (a)
N/R. Ha Na Jang
N/R. So Young Jang
N/R. Danielle Kang
N/R. Madison Kerley (a)
N/R. Megan Khang (a)
N/R. Birdie Kim
N/R. Sei Young Kim
N/R. Katherine Kirk
N/R. Ashley Knoll
N/R. Andrea Lee (a)
N/R. Minjee Lee (a)
N/R. Paige Lee (a)
N/R. Lucy Li (a)
N/R. Kelsey Macdonald
N/R. Ally McDonald (a)
N/R. Stephanie Meadow (a)
N/R. Emily Penttila (a)
N/R. Hannah Pietila (a)
N/R. Jessica Porvasnik (a)
N/R. Kathleen Scavo (a)
N/R. Yuting Shi (a)
N/R. Carleigh Silvers
N/R. Sierra Sims (a)
N/R. Xyra Suyetsugu
N/R. Emma Talley (a)
N/R. Bailey Tardy (a)
N/R. Elizabeth Tong (a)
N/R. Lucy Williams
Golfweek.com readers: We value your input and welcome your comments, but please be respectful in this forum.
---
---
---
---
---
---
---
---
---
---
---
---
---
---
---
---
---
---
---
---
---