Tee times: U.S. Women's Open, 3rd round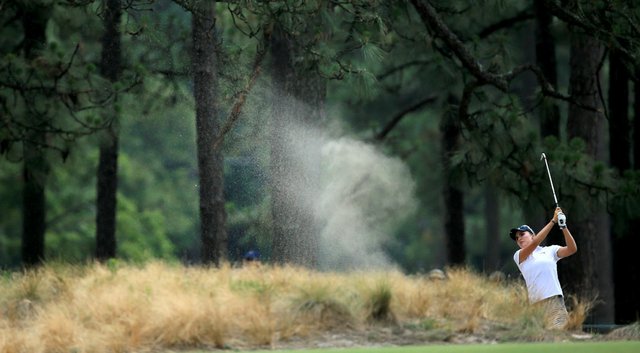 Michelle Wie will take a three-shot lead into Saturday's third round of the U.S. Women's Open at Pinehurst No. 2.
Wie (4 under) will be paired with Lexi Thompson, who holds solo second at 1 under. The two will tee off at 1:25 p.m. Eastern.
Here are the complete tee times and pairings (all times Eastern):
7 a.m.: Jennifer Johnson
7:11 a.m.: Caroline Hedwall, Ha Na Jang
7:22 a.m.: Moriya Jutanugarn, Giulia Sergas
7:33 a.m.: Pernilla Lindberg, Nikki Campbell
7:44 a.m.: Sandra Changkija, Haeji Kang
7:55 a.m.: Lee-Anne Pace, Ilhee Lee
8:06 a.m.: Ashley Knoll, Andrea Lee
8:17 a.m.: Dori Carter, Chisato Hashimoto
8:28 a.m.: Emma Talley, Hee Kyung Bae
8:39 a.m.: Rikako Morita, Yani Tseng
8:50 a.m.: Brittany Lang, Karine Icher
9:01 a.m.: Belen Mozo, Inbee Park
9:12 a.m.: Jodi Ewart Shadoff, Carlota Ciganda
9:23 a.m.: Sei Young Kim, So-Young Jang
9:34 a.m.: Candie Kung, Brittany Lincicome
9:45 a.m.: Lydia Ko, Shanshan Feng
9:56 a.m.: Caroline Masson, Beatriz Recari
10:07 a.m.: Laura Diaz, Danielle Kang
10:18 a.m.: Juli Inkster, Sandra Gal
10:29 a.m.: Eun Hee Ji, Julieta Granada
10:40 a.m.: Hee Young Park, Jennifer Song
10:51 a.m.: Misuzu Narita, Jee Young Lee
11:02 a.m.: Mathilda Cappeliez, Se Ri Pak
11:13 a.m.: I.K. Kim, Meena Lee
11:24 a.m.: Katherine Kirk, Mina Harigae
11:35 a.m.: Chella Choi, Brooke Mackenzie Henderson
11:46 a.m.: Pornanong Phatlum, Gerina Piller
11:57 a.m.: Azahara Munoz, Yueer Cindy Feng
12:08 p.m.: Jenny Shin, Catriona Matthew
12:19 p.m.: Sue Kim, So Yeon Ryu
12:30 p.m.: Karrie Webb, Stephanie Meadow
12:41 p.m.: Angela Stanford, Sakura Yokomine
12:52 p.m.: Mariajo Uribe, Paula Creamer
1:03 p.m.: Na Yeon Choi, Stacy Lewis
1:14 p.m.: Amy Yang, Minjee Lee
1:25 p.m.: Lexi Thompson, Michelle Wie
Latest Related Headlines