Golfweek's Golfest 2014 Wraps Up 8th Year at The Villages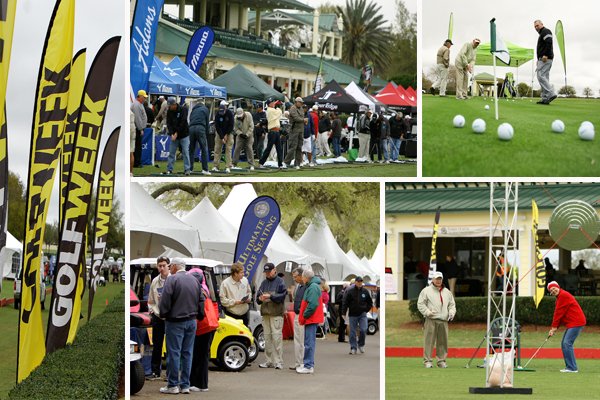 Golfweek's Golfest, presented by CenturyLink/Prism for a fifth consecutive year, drew more than 8,000 devoted golf fans March 7-8 during its eighth annual stop at The Villages in Central Florida. After a chilly opening day at The Villages Polo Field, Saturday's turnout tripled.
---
CLICK HERE TO SEE GOLFEST SPONSORS & ACTIVITIES
---
Club manufacturers lined the east side of the field as exhibitors offered special rates on golf equipment. Attendees were able to try and buy featured equipment, and all 52,000 range balls on site were hit at least once. Across the field, the Golfest Superstore included merchandise from top manufacturers Adams, Bridgestone, Callaway, Cleveland, Cobra Puma, Mizuno, Nancy Lopez Golf, Nike, Ping, TaylorMade, TourEdge and Wilson.
The first 2,000 patrons who signed up for Golfest's daily prize giveaways received a sleeve of golf balls. Dozens more won rounds of golf at premier golf courses like World Woods (No. 7 among Golfweek's Best Courses You Can Play in Florida) and French Lick Resort (No. 1 in Indiana). Golf equipment, resort packages and tickets to premier PGA Tour and LPGA tour events also were given away.
The west side of the Polo Field featured the CenturyLink/Prism Short Game Challenge, where prizes were awarded to the attendees who demonstrated the most touch inside 100 yards. The Columbia Car Par-sponsored $1 Million Hole-In-One Challenge drew crowds to the south end of the field, and Sleekline Enclosures drew excitement to the north, where they sponsored a putting contest where tickets to the Bay Hills Invitational and Tiger Woods World Challenge were on the line.
Florida Hospital, Golfest's official health and wellness partner for the third year, created buzz beneath its expansive tent with Healthy 100 demos, physician lectures, screenings, games, prizes and other valuable health information. Other venders included everything from nutrition companies like Boost to Ultimate Golf Cart Seating to Advantage Golf Cars. Other sponsors included The Villages Regional Hospital, Cart World, Honey Baked Ham and Talon Wealth Management.
A panel of judges crowned Lisa Vlooswyk the entertainer of the year on Friday, and The Villages Golf Academy presented a lineup of "Improve Your Game" Clinics on Saturday.
Latest Related Headlines