Tour players recall Balicki's 'passion for college golf'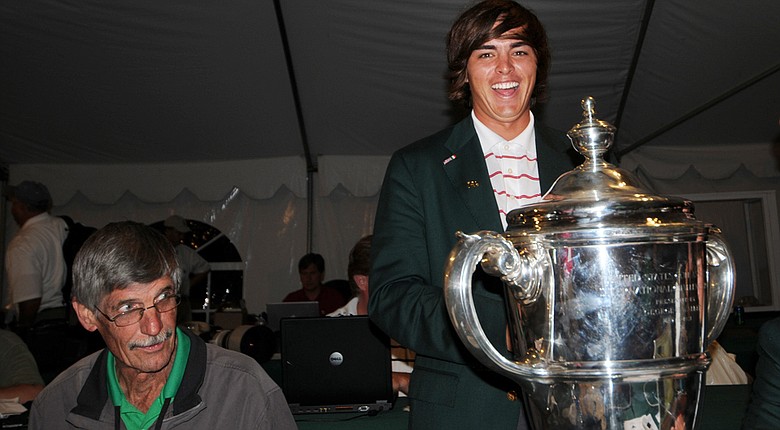 Wednesday, March 26, 2014
He was preparing for the 2009 U.S. Amateur Public Links, just cruising along in a practice round at Jimmie Austin OU Golf Club in Norman, Okla., when Rickie Fowler knew he finally had come to grips with a difficult decision: He was going to turn professional in a few months, after the Walker Cup.
But an easier decision was how to make the news public.
"I called Ron Balicki," said Fowler, who was going to forgo his final two years at Oklahoma State. "I wanted him to know first. He had written so much about me, about Oklahoma State, and I didn't hesitate. So I called him that day, right in the middle of my practice round."
Balicki, who had covered primarily college and amateur golf since 1983 for Golfweek, died Tuesday morning at his home in Mount Ida, Ark., of complications from cancer. He was 65.
Asked what he admired about Balicki, Fowler didn't hesitate. "His passion for college golf," Fowler said. "He just loved it, and we as players could feel that and we respected the job he did on our behalf."
Other PGA Tour players who had come up through the college and amateur ranks took time from their tournament preparations Tuesday at TPC San Antonio, site of this week's Valero Texas Open, to reminisce about Balicki, a 2010 inductee into the Golf Coaches Association of America's Hall of Fame, the only writer so honored.
---
Photo Gallery
PHOTOS: Moments from Ron Balicki's career
Here are just a few of the moments of Ron Balicki's long, hall-of-fame career covering college and amateur golf for Golfweek.
---
• Morgan Hoffmann (Oklahoma State): "He was always so much fun, just his own character. Amateur golf, college golf – that was his life, and he poured his heart into it."
• Justin Leonard (Texas): Recalling that Balicki was at Muirfield Village in Dublin, Ohio, to chronicle Leonard's U.S. Amateur victory in 1992: "Just the fact that someone would devote that much time and effort to college and amateur golf was phenomenal."
• Matt Kuchar (Georgia Tech): "He was always easy to be around, and if you talked with him, you knew something good would come out of the conversation, and he'd have a big smile on his face the whole time. For Ron Balicki to come out and do a proper story on your college tournament, it was a big deal."
• Hudson Swafford (Georgia): "He was very sneaky, loved to just slide along under the radar. But he was full of personality, always loose, always happy. He was pretty much the first college golf writer you would meet, and it was always a wonderful experience."
• Ricky Barnes (Arizona): "I would BS with him all the time. I was an outgoing guy and so was he, so we'd talk all the time. About 50 percent of the time it was about golf; the other 50 percent of the time it was everything else. He was always personable. You could always relate to him."
• Edward Loar (Oklahoma State): "He was one of my favorite people and such a tremendous asset for the college golf game. For many of us, he was the introduction to golf writers and prepared us for what we would face in years to come. But he was a world-class guy, and I would always kid him, 'Ron, I want your job when you retire.' He was a dear, dear friend of mine, of my family."
Golfweek.com readers: We value your input and welcome your comments, but please be respectful in this forum.
---
---