U.S. extends lead to 12-6 at Concession Cup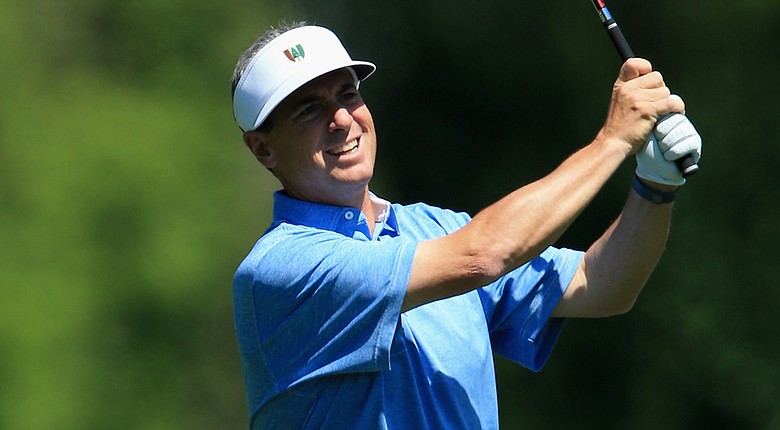 Saturday, May 3, 2014
BRADENTON, Fla. – Edward Richardson wagged a finger at me and said, "Are you the local journalist who wrote in the paper this morning that the Great Britain and Ireland side isn't as talented as the Americans?"
For once, I could honestly say it wasn't me. But the Englishman said the damage was done. "We must have all read the story over our orange juice this morning and gone out with an inferiority complex," he said.
Richardson and his teammate in four-balls scratched out a victory, but the U.S. side won seven of the nine matches and halved another to take a commanding 12-6 lead after the second day of the inaugural Concession Cup.
The event features teams composed of leading male mid-amateurs (25 and older), senior amateurs (55 and older), and super-senior amateurs (65 and older) from the United States and Great Britain and Ireland.
The match was tied after the first day's foursomes matches at Concession Golf Club as GB&I captain Garth McGimpsey's strategy for pairing his players worked swimmingly.
"I've put all the Scots together because nobody else can understand them," he said. "We've got two English guys who are a bit off the wall, so I'm putting them together. And the best player, he's playing with me."
On a humid, overcast day that was delayed briefly for a tornado warning, the Americans huffed and puffed and blew away their guests from the other side of the pond. Those wily veterans George Zahringer, the 2002 U.S. Mid-Amateur champion, and Vinny Giles, the 1973 U.S. Amateur winner, made four birdies and no bogeys to win the day's most lopsided contest, 5 and 4 over Adrian Morrow and Andrew Stracey.
"I've never played on greens like these," Stracey said of Concession's severe putting surfaces.
"Nobody has," a Concession member said, offering consolation. Team Iowa, consisting of West Des Moines residents Mike McCoy and Gene Elliott, handled them better than most, squeaking past James Bunch and Matthew Clark, 1 up, when Elliott canned a 6-footer at the last hole for the win. Richardson and partner Eoghan O'Connell prevented the whitewash by defeating Tripp Kuehne and Patrick Christovich, 2 and 1.
Afterwards, in a great show of the camaraderie between the two sides, both teams reconvened in the men's locker room for the selection of Saturday's singles matchups. Pride, surely, will be on the line, but this event is about renewing friendships, reigniting old rivalries and striking up new ones. Giles recalled how he and Peter Hedges had competed against each other in the 1973 Walker Cup at The Country Club. "Some of us go way, way back," Giles said.
A total of 18 ½ points is necessary to win the match. Saturday's weather forecast calls for rain, so officials have moved tee times up to 8:30 a.m. off the first and 10th tees for the singles matches.
• • •
FRIDAY'S MATCH RESULTS
• Todd White/Nathan Smith (U.S.) def. Harry Diamond/Robbie Cannon (GB&I), 2 and 1
• Tim Jackson/Scott Harvey (U.S.) def. Ben Westgate/Martin Young (GB&I), 3 and 2
• Edward Richardson/Eoghan O'Connell (GB&I) def. Patrick Christovich/Trip Kuehne (U.S.), 2 and 1
• John Grace/Martin West III (U.S.) def. Garth McGimpsey/Arthur Pierse (GB&I), 2 and 1
• George Zahringer/Vinny Giles (U.S.) def. Adrian Morrow/Andrew Stracey (GB&I), 5 and 4
• Chip Lutz/Pat Tallent (U.S.) def. Richard Partridge/Ian Brotherston (GB&I), 3 and 1
• Jim Holtgrieve/Robert Lewis (U.S.) def. Peter Hedges/Ian Hutcheon (GB&I), 2 and 1
• Mike McCoy/Gene Elliott (U.S.) def. James Bunch/Matthew Clark (GB&I), 1 up
• Doug Hanzel/Paul Simson (U.S.) vs. Maurise Kelly/Richard Latham (GB&I), halved
Golfweek.com readers: We value your input and welcome your comments, but please be respectful in this forum.
---
---
---
---
---
---
---
---
---
---
---
---
---
---
---
---
---
---
---
---
---