U.S. tops GB&I to win inaugural Concession Cup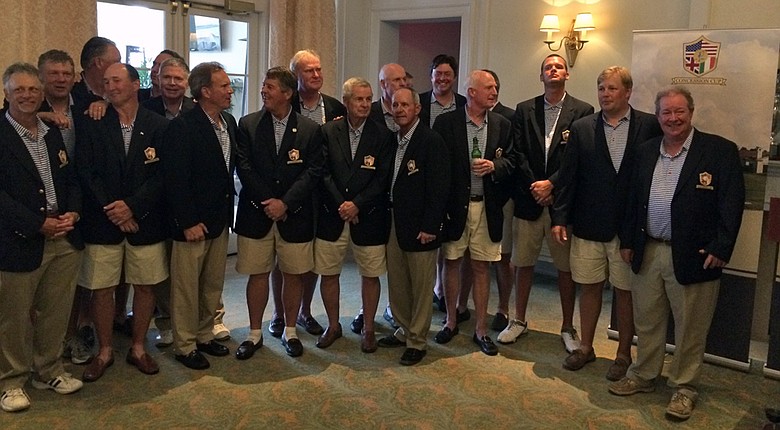 Sunday, May 4, 2014
BRADENTON, Fla. – The Concession Cup ended, fittingly enough, with a concession on the 18th green. By that time, the U.S. already had clinched a commanding victory to secure the Bonallack-Campbell trophy in the inaugural competition.
The week began with Tony Jacklin and Jack Nicklaus reminiscing the fateful moment in the 1969 Ryder Cup at Royal Birkdale in England that gave birth to a golf course and an international competition.
"We came to the last hole knowing we were even," Nicklaus said. "I had a 25-to-30-foot putt, and I ran it 5 feet by. I thought, 'Gee, it would be terrible to miss this and lose the Ryder Cup. I ran it in.
"Then I looked at Tony's 2-footer and I thought, 'That would be even worse.' "
Nicklaus had no emperor's thumb to consult, no team huddle, no demographic survey. He did what he thought was right. He conceded the putt.
For only the fourth time in 18 playings of the Ryder Cup, the Americans didn't win. For the only time ever, the matches ended in a tie.
"Jack understood my place in British golf that year," Jacklin said. "And he told me, 'I don't think you would have missed that putt, but I wouldn't want to give you the opportunity under the circumstances.' "
When the last match of the Concession Cup between American Gene Elliott and GB&I's Martin Young both landed safely aboard the 18th green, Elliott doffed his cap and they agreed to halve the final hole for the match to end all square and a final score of 21 1/2-14 1/2.
There were three stars on the final day of the matches. After a six-hour weather delay due to heavy rain and lightning, the Concession Golf Club drained superbly and the sun even made a brief appearance late in the day. Kudos to superintendent Terry Kennelly and his staff.
Paul Simson of Raleigh, N.C., the two-time USGA Senior Amateur champion, made six birdies in 11 holes to steamroll Andrew Stracey, the 2012 and 2013 Welsh Senior Open champion, 8 and 7. Equally impressive was GB&I's Harry Diamond of Belfast, Ireland, who birdied six of the first seven holes en route to a 7 and 5 victory over Scott Harvey.
"I didn't know I was playing the real Rory McIlroy," Harvey said in defeat.
Afterwards, Simson and Diamond matched cards for the 11 common holes of brilliance would have ended in no blood.
Doug Hanzel of Savannah, Ga., the reigning U.S. Senior Amateur champion, secured the winning point for the American side with a 5-and-4 win over Ian Brotherston.
The Concession Cup pitted leading male mid-amateurs (25 and older), senior amateurs (55 and older), and super-senior amateurs (65 and older) from the United States and Great Britain and Ireland.
The lead match of the day captured the spirit of the event with American Walker Cup captain Jim Holtgrieve facing off against GB&I's Ian Hutcheon, a four-time Walker Cup veteran. It was a rematch of 35 years ago when Holtgrieve earned a full point for the American side.
"He was an icon to me and I was just a young punk kid who happened to get the better of him that day," recalled Holtgrieve. "Today was really special."
This time around, their rematch, ended all square, and had Holtgrieve reminiscing of the time he traveled to Scotland ahead of the 2011 Walker Cup. On that occasion, Holtgrieve stopped by St. Andrews and played the Old Course.
"I was standing on the first tee and my caddie said, 'Do you realize this course is 600 years old?' It struck me cold and I had to back off my tee shot," Holtgrieve said. "When I think about that now, will there be 18 guys from the U.S. and Great Britain and Ireland 600 years from now playing the greatest game known to man here?"
Time will tell, but the first year of the Cup launched the start of a new tradition in amateur golf.
Golfweek.com readers: We value your input and welcome your comments, but please be respectful in this forum.
---
---
---
---
---
---
---
---
---
---
---
---
---
---
---
---
---
---
---
---
---