College Men
NCAA regional breakdown: Auburn (Ala.) Regional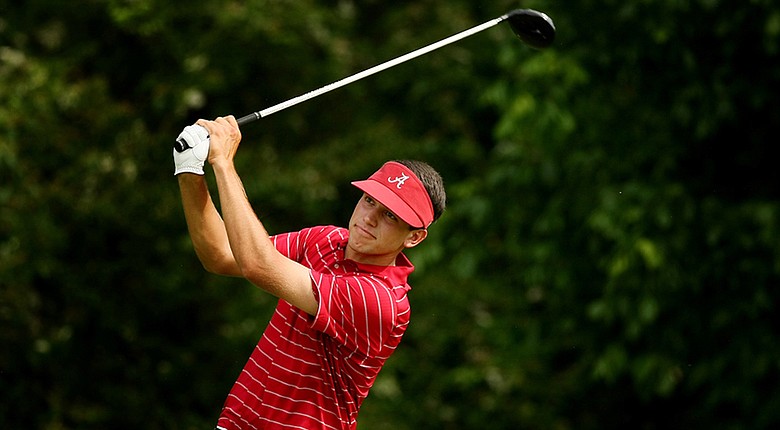 Tuesday, May 6, 2014
The Auburn (Ala.) Regional at the Auburn University Club features the No. 1 team in the Golfweek/Sagarin College rankings – the Alabama Crimson Tide – along with four other top 25 teams – Texas (13), Virginia Tech (14), Auburn (21) and New Mexico (22).
The defending national champions are looking to win their third consecutive regional title while 12 other teams will also vie for one of five spots in the NCAA Championship.
Over the next few days, our college golf experts will breakdown each of the six NCAA regionals answering some of the most asked questions for each regional.
Auburn (Tuesday)
Columbia (Wednesday)
Eugene (Thursday)
Raleigh (Friday)
San Antonio (Saturday)
Sugar Grove (Sunday)
• • •
Lance Ringler
WINNING TEAM: Alabama. Even if you wanted to pick another team to win this regional, you couldn't. Alabama, coming off a 16-shot win in college golf's best golf conference (SEC), has been ranked No. 1 all season and the Tide are the defending national champions with three players looking for a repeat.
SLEEPER (OUTSIDE OF TOP FIVE SEEDS): Colorado. In a regional that may have the best chance to hold form there is one team that seems to be making a trip to the postseason with momentum on their side. Roy Edwards' squad enters regional action with five top four showings in last five starts. That includes a fourth-place finish at the Pac-12 Conference Championship.
MEDALIST CONTENDERS: Any player carrying an Alabama bag is probably a good bet. Also, look for Virginia Tech's Scott Vincent to continue his good play this year.
INTRIGUING STORYLINE: Will this regional's seeds hold form and can a team from outside the top five advance to the national championship? This is also a big event for Virginia Tech. The Hokies could be a sleeper team to crack the top eight at Prairie Dunes and a good showing this week can get a good tee time and build confidence for the next step.
THE FIVE TEAMS ADVANCING WILL BE . . . Alabama, Virginia Tech, Auburn, New Mexico and Colorado
• • •
Brentley Romine
WINNING TEAM: Alabama. The Crimson Tide are the top-ranked team in the Golfweek/Sagarin rankings, and for good reason. Bobby Wyatt, Cory Whitsett and Trey Mullinax were part of the national-championship winning starting five from a year ago and freshman Robby Shelton has done well filling the void left by Justin Thomas.
SLEEPER (OUTSIDE OF TOP FIVE SEEDS): Colorado. The eighth-seeded Buffaloes finished fourth at the competitive Pac-12 Championship and seem to be peaking at the right time.
MEDALIST CONTENDERS: Alabama has several in Bobby Wyatt, Robby Shelton and Cory Whitsett, but New Mexico's Gavin Green, Texas' Beau Hossler and Auburn's Niclas Carlsson are all playing well at the moment.
INTRIGUING STORYLINE: UNC-Greensboro is making its first NCAA regional appearance in school history after finishing third in the Southern Conference Championship. The Spartans have no seniors on their roster, either, and as the 10th seed are one of five "cinderella" teams in this region.
THE FIVE TEAMS ADVANCING WILL BE . . . Alabama, Texas, New Mexico, Auburn and Virginia Tech.
• • •
Cassie Stein
WINNING TEAM: Remember the rout Alabama put on at the SEC Championship last week? The Crimson Tide are on a roll right now and I don't see anyone standing in their way at this regional. Host Auburn may give them a run for their money, but in the end, Alabama will win its eighth tournament of the season.
SLEEPER (OUTSIDE OF TOP FIVE SEEDS): BYU. A team that hasn't made it to the NCAA Championship since 2006, but has finished right around the six, seven, eight spot (top five advance) over the last five years. A few more consistent rounds from these Cougars, and they might just be able to advance.
MEDALIST CONTENDERS: Auburn's Niclas Carlsson finished third at the SEC Championship, but next week it's his home course. Carlsson has three collegiate wins, but none at the Auburn University Club. It would be fitting for the senior to win there, right? Also in consideration: Alabama's Bobby Wyatt and Texas' Kramer Hickok.
INTRIGUING STORYLINE: St. John's, No. 141 in the Golfweek rankings, won the Big East Championship for the first time since 1989. Right time for the team to pick up its first win of the season, especially heading into the postseason.
THE FIVE TEAMS ADVANCING WILL BE . . . Alabama, Texas, New Mexico, Auburn, Virginia Tech
Golfweek.com readers: We value your input and welcome your comments, but please be respectful in this forum.
---
---
---
---
---
---
---
---
---
---
---
---
---
---
---
---
---
---
---
---
---