Day later, Tour rescinds penalty against Rose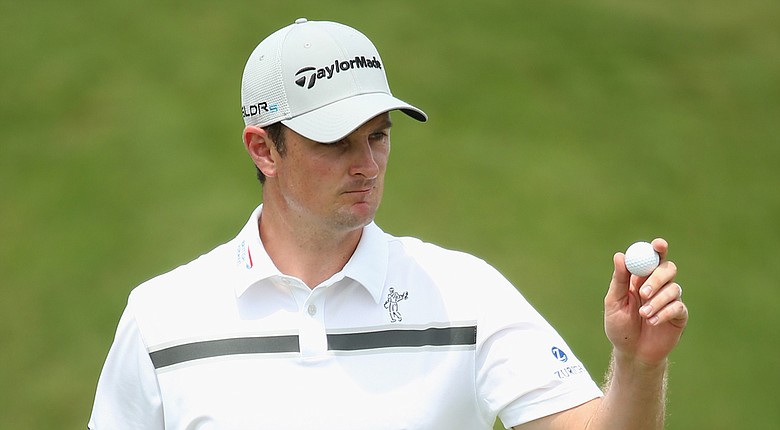 Sunday, May 11, 2014
PONTE VEDRA BEACH, Fla. – When is a two-shot penalty not a two-shot penalty? The PGA Tour tried to explain just such a riddle Sunday afternoon as officials rescinded the two-shot penalty assessed to Justin Rose on Saturday evening after the third round of The Players Championship.
Rose thought his ball might have moved on a chip behind the 18th green at TPC Sawgrass' Stadium Course on Saturday. But after looking at a replay on a nearby large-screen monitor, he determined that the ball had not moved and played on, making par.
At the same time, PGA Tour official Tyler Dennis received a call from European Tour counterpart David Probyn, who was watching the telecast in England and thought he saw the ball move. Dennis called PGA Tour rules official Stephen Cox.
While Rose was reviewing his scorecard, Cox intervened before Rose could sign the card and make the round official and took him to the NBC television feed. Viewing replays, neither Cox nor Rose could see the ball move.
At the same time, Tour official Steve Carman was looking at what was believed to be a different feed of the same incident and determined that the ball clearly could be seen to move. That observation was relayed to Cox, who then brought Rose to another monitor where they looked at an enhanced view of the incident and found the ball to have moved.
Rose was penalized two strokes under Rule 18-2b ("Ball at Rest Moved"), falling from 7 under to 5 under and seven shots behind co-leaders Martin Kaymer and Jordan Spieth.
"Well, the evidence is firstly the player puts the club behind the ball and immediately backs off," Cox said after the ruling Saturday night. "He sees something. He's obviously looking around, he's looking at Sergio (Garcia, Rose's playing competitor), did that ball move, and there's obviously some discussion with the player. He's unsure as to whether the ball moved, so he knows something has gone on, something irregular has happened."
On Saturday night, the PGA Tour concluded through Rose's actions that the ball movement was reasonably discernible to the naked eye, citing Decisions on the Rules of Golf 18-4 ("Television Evidence Shows Ball at Rest Changed Position But by Amount Not Reasonably Discernible to Naked Eye"), according to Mark Russell, who heads Tour rules and competitions.
"Justin obviously sees something, so he's seen something with the naked eye," Cox said. "I think Decision 18‑4 really is a decision where the player really has no idea that the ball has moved, and it comes to light through a very focused camera that the ball has subsequently moved; where in this occasion, from looking at the TV monitor, sort of the one Steve (Carman) was looking at, you could see movement."
If Decision 18-4 was discussed, why was it not implemented?
After the third round, the rules staff had an informal rules dinner at a nearby Ruth's Chris Steak House.
The Rose incident dominated the dinner discussion, and for the second time Decision 18-4 and its applicability was discussed.
By 8 a.m. Sunday, Cox, Carman and Russell decided that the Rose incident needed more voices. Rules officials John Paramor of the European Tour and Grant Moir of the R&A and Dennis were onsite, so they were brought into the discussion with Thomas Pagel of the U.S. Golf Association by phone.
By 11, it was decided that Rose's penalty should be rescinded because of the use of sophisticated technology, which was the enhancement of the TV footage.
"It was the only way we could determine it, and we applied this new decision that it was not discernible to the naked eye to the player, and we decided to rescind the penalty," Russell said.
Rose was unavailable when Cox tried to reach him just after 11 a.m., so Cox contacted the Englishman's caddie, Mark Fulcher, who eventually found Rose in the fitness trailer. Cox escorted Rose to the rules trailer to inform him of the decision.
Russell said that ultimately justice had been served.
"I think he received exactly what he deserved under the rules," Russell said. "It's a situation we can't control. I don't know about it being an advantage. It's just basically the way it is."
Was the Tour prepared to handle the application of Decision 18-4?
Saturday evening, Cox did not doubt that the ball moved. By Sunday morning, he was less certain.
"I think we would have stuck with the penalty," Cox said when asked whether he would have assessed a penalty without any enhancement of the TV footage Saturday night. "I think we were just trying to provide confirmation to Justin that there was movement there."
Yet, the PGA Tour said it doesn't need to look at any changes to its procedures or policies.
Graeme McDowell, Rose's Ryder Cup partner, was miffed by the fact that the system did not handle the situation better.
"They need to understand what technology is doing to the game in regards to what is perceivable to these high-def cameras, and they've got to work out what they're going to do about it," McDowell said. "They can't be giving out penalties and rescinding them. That's very strange behavior. It's weird."
Golfweek.com readers: We value your input and welcome your comments, but please be respectful in this forum.
---
---
---
---
---
---
---
---
---
---
---
---
---
---
---
---
---
---
---
---
---