At The Players, talk is cheap -- and plentiful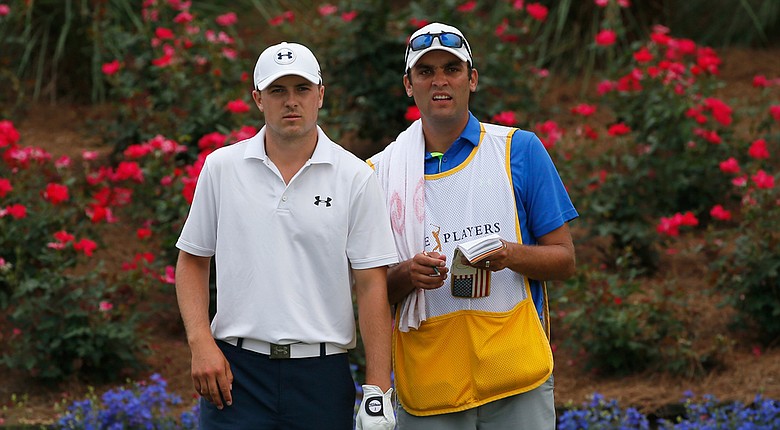 Sunday, May 11, 2014
Standing in the fairway on the first hole at TPC Sawgrass on Saturday, Jordan Spieth began discussing the approach shot with caddie Michael Greller. NBC's microphones picked up the first part of their conversation.
Spieth: "So where do you want to land it - 40, 45 (140 or 145 yards)?"
Greller: "I'd say splitting that."
Spieth: "Can I have the actual pin sheet?"
The entire sequence lasted 71 seconds, but we only heard the first 13 seconds of the Spieth-Greller strategy session. At that point, NBC anchor Dan Hicks apparently felt the need to interrupt, preventing viewers from hearing the player and caddie. Heaven forbid we lowly golf fans should go more than 20 seconds without an NBC voice stating the blatantly obvious.
"He's very meticulous the way he goes about his business," Hicks said. "You've heard the phrase regarding Spieth that he's poised beyond his years in every way, Roger (Maltbie), everything he does."
You don't have to tell us that, Dan. Be quiet and let Spieth illustrate his meticulous nature.
Maltbie then felt the need to describe the shot, apparently under the mistaken assumption that viewers would rather listen to him than hear the player discuss the shot he's about to hit.
"He's got 152 to the hole and the hole is sitting on the high area on the right side of the green," Maltbie said. "It falls away just past that hole, and the green will move away from him."
Then analyst Johnny Miller felt the need to intervene with a semi-coherent observation.
"If you watch (Spieth), he actually – he's a college player, he does it all himself."
Maltbie: "I remember a guy named Nicklaus who did all that stuff for himself, too, Johnny."
The entire time, Spieth and Greller were discussing the shot, though their words were obscured by the NBC crew. This set the tone for the day. Similar scenarios played out as Spieth and Greller talked strategy on Nos. 11, 16 and 18 – and probably other holes that I grew too weary to note.
I recite this episode in detail because it's a textbook example of what announcers should not do. As I've sometimes stated, the players are always – always – more interesting than the announcers. No observation by Miller, Hicks and Maltbie – particularly not the pablum cited above – will ever be more interesting than hearing the player-caddie interplay. The same would be true if CBS or Golf Channel or ESPN were airing the tournament.
This recurring problem detracts from what is otherwise one of the best live golf telecasts of the year. Even though TPC Sawgrass, to these eyes, has gotten a bit tired, and the histrionics surrounding the 17th hole seem hackneyed, it's still some of the best viewing of the year. The tournament isn't a major, but the shows are on that level – certainly better than the perpetually troubled PGA Championship telecasts that invariably end the major-championship season on a downer.
Yet the needless talking – voices merely filling a vacuum rather than enhancing the shows – remains a source of irritation.
Golf Channel recently has directed its announcers to hush up when microphones pick up player-caddie conversations. That's led to some especially good TV in recently months. But apparently that strategy hasn't filtered up to NBC, Golf Channel's corporate parent.
The incessant and ill-timed chatter reminded me of a conversation I had last week with a television savant. When I asked for his assessment of the state of televised golf, he used an interesting term: "It's announcer-heavy."
That's one of those terms that I wish I had coined. It perfectly captures the state of televised sports. The announcers have become far too prominent. In part, that's a reflection on modern-day television: lots of chatter and not much listening.
In Miller's case, I sometimes sense that he's not even listening to his colleagues, or even himself. I doubt that anyone has written more complimentary words about Miller over the years, but his work Saturday was cause for head scratching.
Consider this example: On the 11th hole, Justin Rose tried to use the toe of his putter from the fringe, but flubbed the shot.
"That's the problem, Johnny, when you do that you're actually hitting down on the ball right into that Bermuda grass," said on-course reporter Jerry Foltz. Miller responded with a throwaway line: "That's an American shot. He's English."
A minute later, Miller said, "You know what he did on that shot is he hit down on it too much and drove it right into the grain instead of trying to keep it a little more level with the slope."
Miller seemed oblivious to the fact that Foltz already had made that point.
And when Spieth was weighing which club to hit on the 18th tee, Miller called for a 3-wood because it "is easy to draw and you don't go through the fairway if you don't turn it. So I think that's a good club." But when Spieth hit 3-wood through the fairway, Miller called it a "mental error."
I hate to dwell on these problems. They're not unique to NBC; I could, and have, made the same criticism of CBS, Golf Channel or ESPN. For the most part, NBC's work at The Players has been reliably solid. If the announcers would exercise a little more discipline, the shows would be all the more compelling.
Golfweek.com readers: We value your input and welcome your comments, but please be respectful in this forum.
---
---
---
---
---
---
---
---
---
---
---
---
---
---
---
---
---
---
---
---
---