College Men
Briggs Ranch levels field at San Antonio regional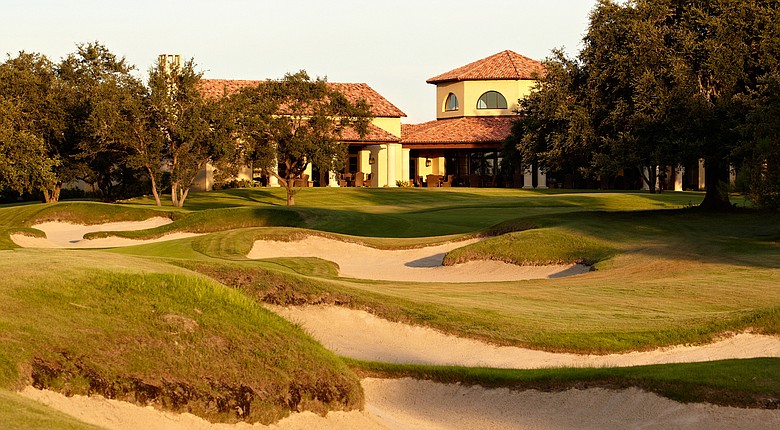 Sunday, May 11, 2014
The wild card at the San Antonio regional May 15-17 won't hit any tee shots, help read any greens or roll any birdie putts.
The old adage is that you play against the course – and that will be especially true as the 13 teams play Briggs Ranch Golf Club for the first time.
None of the teams selected – even Texas teams TCU and SMU – have competed in the Lone Star Invitational, the annual tournament held at Briggs Ranch by Texas-San Antonio, in the past four years. That will leave the likes of Georgia, Central Florida and UCLA scrambling to adjust to the course leading up to the tournament. And the coaches have already begun.
"The first thing I did was make a call to the coaching staff down there, find out about the grass from the fairway, rough and green perspectives and get a course book scanned and emailed to me," UCF head coach Bryce Wallor said. "And then we'll try and take our practice facility, which has the proper (zoysia) grass and do a lot of ballstriking, pitching and chipping out of similar conditions."
The Tom Fazio-designed course will give each team a challenge as it looks to place among the top five and advance to the national championship. The teams that arrive to San Antonio a day early might take UCF's approach and play a similarly-constructed course to gain an edge. Each team will then be allowed one practice round at the facility, where the players are able to hit multiple shots off the tee, but only one into the green.
"I like to tell our guys when they get done with a hole to turn around and look at the hole backward," said Chris Haack, whose Georgia Bulldogs are the No. 1 seed heading into play. "It gives you a little bit of a different perspective that you might not necessarily know about a place."
There are five teams from the states of Georgia and Florida in the field (Georgia, UCF, South Florida, Georgia Southern and Georgia State) and two teams from the state of Texas. As a former assistant at Augusta State, SMU head coach Josh Gregory has an extensive knowledge of the course conditions in all three states.
"Courses are very similar to (Georgia and Florida) as they are in Texas, except for the fact that there will be more wind in Texas on a daily basis. … The only real difference you're going to see is the wind."
With UTSA failing to seize the Conference USA title, San Antonio is one of three regional sites that lacks a host team in the field. Many of the coaches see this as a chance to play against a level playing field.
"We're excited to be on a golf course where there is not a host team and everybody is going in seeing it for the first time," Wallor said.
But that does not mean you can pencil in the top five seeds.
"You still have to play pretty good because there's a lot of teams that can beat you if you let your guard down," Haack said. "We've got to go in there and take care of business."
If course experience is any indication, some of the individual competitors could have the upper hand. Stuart Smallwood of Texas State has competed in the Lonestar Invitational the past four years, and Grady Brame of Southeastern Louisiana tied for third at the event this year.
• • •
Scouting report according to UTSA head coach John Knauer:
• Designer: Tom Fazio
"It's a very typical Fazio golf course, meaning it looks way harder than it is. It's definitely going to come down to mental toughness. ... The course looks like you have to make the perfect shot but you really don't. There's a lot of room out there, but from the tee it doesn't look that way."
• Fairways, roughs: Zoysia
"It doesn't take much rough to turn your club over and get you stuck. Even a couple of inches of rough will be plenty."
• Greens: Bent grass
"They're firm enough ... but they will spin if you hit a great shot."
• Yardage: 7,206 (par 72)
"There are a few par 4s in a room where a good drive will set you up with a nice wedge and you can make some birdies."
• Analysis: Look for low scores
"If everything goes perfect, I could see the top-ranked teams shoot 8 or 10 under a day and shoot really far under par. It can be gotten if you're really good or really on."
• X-factor: Strong winds
"All it takes is 20-mph winds from the wrong direction and all bets are off. The middle teams (4-10) will be 8 under to 8 over."
Golfweek.com readers: We value your input and welcome your comments, but please be respectful in this forum.
---
---
---
---
---
---
---
---
---
---
---
---
---
---
---
---
---
---
---
---
---