College Men
Stanford's Rodgers among All-Region honorees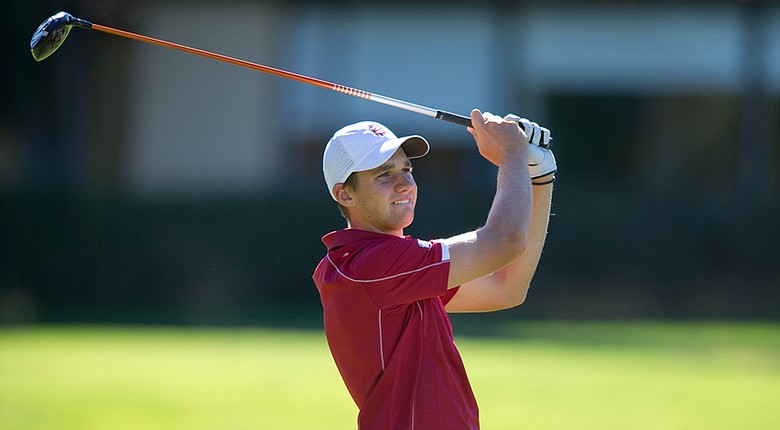 Thursday, May 22, 2014
The 2014 Division I Ping All-Region honorees were announced Thursday by the Golf Coaches Association of America. Here are the 157 players across six regions - Northeast, East, Southeast, Midwest, Central and West - who earned all-region honors for 2014:
• • •
Northeast
Pete Ballo, Sacred Heart
Sam Bernstein, Yale
Sean Bosdosh, Maryland
Jonathan Chang, Rutgers
Chris Crawford, Drexel
Dylan Crowley, St. John's
Will Davenport, Yale
Robert Deng, Harvard
J.D. Dornes, Penn State
Victor Fox, Maryland
Sean Gaudette, Yale
Bart George, Loyola (Md.)
Lloyd Jefferson Go, Seton Hall
Greg Jarmas, Princeton
Brandon Jowers, Columbia
Peter Kim, Army
Brendan Lemp, Loyola (Md.)
Brandon Matthews, Temple
Ryan McCormick, St. John's
Akash Mirchandani, Harvard
Matt Oshrine, Loyola (Md.)
Evan Russell, Hartford
Harrison Shih, Columbia
Jens Talbert, Penn State
Joe Willis, Yale
• • •
East
Anders Albertson, Georgia Tech
Bo Andrews, Georgia Tech
Derek Bard, Virginia
James Beale, Mercer
Stephen Behr, Clemson
Eric Brady, East Carolina
Bryce Chalkley, Virginia Tech
Trevor Cone, Virginia Tech
Mathieu Fenasse, Liberty
Carter Jenkins, North Carolina-Greensboro
Austin Langdan, Clemson
Niklas Lindstrom, Liberty
Chase Marinell, Liberty
Denny McCarthy, Virginia
Adrian Meronk, East Tennessee State
Zach Munroe, College of Charleston
David Pastore, Virginia
J.T. Poston, Western Carolina
Seth Reeves, Georgia Tech
Hans Reimers, Mercer
Trey Rule, Mercer
Ben Rusch, Virginia
Ollie Schniederjans, Georgia Tech
Scott Vincent, Virginia Tech
Richy Werenski, Georgia Tech
• • •
Southeast
Jimmy Beck, Kennesaw State
Niclas Carlsson, Auburn
Michael Cromie, Georgia
Paul Dunne, UAB
Greg Eason, UCF
Charlie Ewing, Vanderbilt
Joey Garber, Georgia
Matt Gilchrest, Auburn
Oliver Goss, Tennessee
Ricardo Gouveia, UCF
Marco Iten, Austin Peay
Stewart Jolly, LSU
Smylie Kaufman, LSU
Chase Koepka, USF
Hank Lebioda, Florida State
Jack Maguire, Florida State
M.J. Maguire, North Florida
Lee McCoy, Georgia
Wilson McDonald, UAB
Trey Mullinax, Alabama
Matt NeSmith, South Carolina
Stephen Powers, Kentucky
Chad Ramey, Mississippi State
Nicholas Reach, Georgia
Matthias Schwab, Vanderbilt
Robby Shelton, Alabama
Hunter Stewart, Vanderbilt
Curtis Thompson, LSU
Cory Whitsett, Alabama
Bobby Wyatt, Alabama
• • •
Midwest
Brian Anania, Marshall
Andrew Bailey, Cleveland State
Charlie Bull, Akron
Brian Bullington, Iowa
Brian Campbell, Illinois
Corey Conners, Kent State
Charlie Danielson, Illinois
Thomas Detry, Illinois
Austin Eoff, Purdue
Robert Geibel, Louisville
Frederik Hammer, Ohio State
Jonathan Hauter, Illinois
Steven Ihm, Iowa
Raymond Knoll, Iowa
Brett McIntosh, Michigan
Jose Mendez, Minnesota
Chris O'Neill, Michigan
Taylor Pendrith, Kent State
Enzo Perez, Purdue
Jack Perry, Northwestern
Niall Platt, Notre Dame
Adam Schenk, Purdue
Robin Sciot-Siegrist, Louisville
Boo Timko, Ohio State
Ian Vandersee, Iowa
• • •
Central
Pep Angles, Central Arkansas
Julien Brun, TCU
Zach Cabra, Sam Houston State
Sebastian Cappelen, Arkansas
Wyndham Clark, Oklahoma State
Ben Crancer, Texas A&M
Emilio Cuartero, Missouri
Ian Davis, Oklahoma State
Bryson Dechambeau, SMU
Scott Fernandez, Iowa State
Michael Gellerman, Oklahoma
Talor Gooch, Oklahoma State
Toni Hakula, Texas
Kramer Hickok, Texas
Beau Hossler, Texas
Kyle Jones, Baylor
Taylor Moore, Arkansas
Jordan Niebrugge, Oklahoma State
Zach Olsen, Oklahoma State
Curtis Reed, Houston
Roman Robledo, Houston
James Ross, Houston
Charlie Saxon, Oklahoma
Michael Schoolcraft, Oklahoma
Greg Yates, Texas A&M
• • •
West
Mark Anguiano, Cal State Fullerton
Cody Blick, San Jose State
Lorens Chan, UCLA
Cheng-Tsung Pan, Washington
Grant Forrest, San Diego
Jonathan Garrick, UCLA
Gavin Green, New Mexico
Brandon Hagy, California
Matt Hansen, UC Davis
Rico Hoey, Southern California
Keelan Kilpatrick, California
Kurt Kitayama, UNLV
Carl Jonson, UNLV
Thomas Lim, Oregon
Erik Oja, Arizona
Anthony Paolucci, Southern California
Joe Parkinson, BYU
Corey Pereira, Washington
Victor Perez, New Mexico
Jon Rahm, Arizona State
Patrick Rodgers, Stanford
Xander Schauffele, San Diego State
Jonathan Sanders, Washington
Trevor Simsby, Washington
Joel Stalter, California
Kyle Westmoreland, Air Force
Cameron Wilson, Stanford
Golfweek.com readers: We value your input and welcome your comments, but please be respectful in this forum.
---
---
---
---
---
---
---
---
---
---
---
---
---
---
---
---
---
---
---
---
---