College Women
Lance Ringler's Feel Test: Tulsa CC gets high marks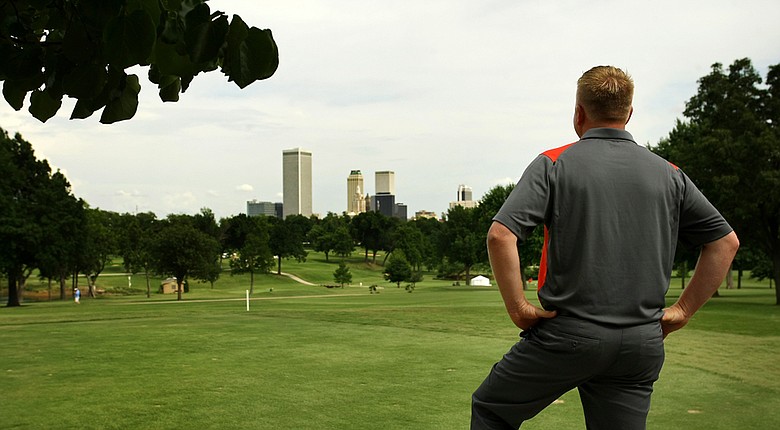 Friday, May 23, 2014
TULSA, Okla. - Life in the Midwest is commonly categorized as easy-going, and that pretty much sums up a week spent at Tulsa Country Club for the NCAA Women's Championship. This year's final is the 15th consecutive championship I have witnessed, and they continue to get better.
While there may not have been a big buzz in the community or around town, the folks at the University of Tulsa were one of the most buttoned-up groups we've seen. They seemed to have planned everything out very well - almost too well in some cases. (More on that later.)
Now that we have been here all week, it's time to see where this event falls on the Lance Ringler Championship Feel Test – which is a ranking of the last 15 women's national championships.
There are no exact criteria or guidelines used in deciding the ranking order of the championships. It's simply the atmosphere, from my point of view (and those around me), during championship week. It also should be known that there are certain aspects of the championship that carry some weight on the Feel Test that may not matter much to someone trying to read putts or avoid a bunker.
---
Photo Gallery
PHOTOS: Women's NCAA Championships (Final Round)
View images from the final round of the 2014 Women's NCAA Division 1 Championships at Tulsa Country Club.
---
One thing we know about competitive golf is if the weather is good and the greens are worthy, then all is well. Tulsa passes that test with flying colors. As one coach said to me this week, "These may be the best putting surfaces some of these players ever play."
The course itself is very good – in fact, nearly perfect in many ways. The 1920 A.W. Tillinghast design that was recently tweaked by Rees Jones, allows players, coaches and spectators to see a lot of holes at any given time. That is a big bonus in team golf.
There are other things that weigh in on the overall experience for the week. Things such as internet connection, lunch menu, snacks, drinks and proximity of the media room to the golf course play a role in how the event feels. Also, listening to what the players say about their experience is a big part of the puzzle.
The standard to be No. 1 is very high. The 2010 championship at the Country Club of Landfall in Wilmington, N.C., was top-notch in so many ways. If you were there, then you remember and have to agree that it will be tough to top.
The food for media, volunteers and competitors was above the norm here in Tulsa, but with the exception of the cookies being out-of-this-world, it does not measure up to the fried chicken and sweet tea at the Landfall. Still, Tulsa ranks very high in the culinary category.
The clubhouse served as a one-stop shop for everything. Including a spacious media room that did not miss on any detail. This made this site quite possibly the most convenient facility we have seen. Parking was as easy as it gets. No walks, no shuttles required.
While nearly everything was ideal it was a little over the top in one department. The security to get into the building was tight. As one school's media relations representative put it, "It's worse than the airport."
Don't get me wrong, good security is not a bad thing, but even the Virginia team was barred from re-entering the building just a few minutes after walking out the front door! It was just something much different than anything we have ever had to deal with.
Once you cleared the front-door security lady, all was smooth sailing and the proximity to the action was fantastic. Just taking a few steps out the back door put you in view of the golf course.
It's not all about me and my media-room friends. We can't forget about the importance of the golf course, which proved to be an excellent test and setup for the championship. The only concern was that Round 1 could have been set up a little differently considering the wind was forecasted to be very strong.
The course and gallery-friendly environment weighs heavily.
Now it's time to rank this year's NCAA championship with the past 13 finales I have attended.
The past couple of years, championships at the Vanderbilt Legends Club in Franklin, Tenn., and the University of Georgia Golf Course in Athens, Ga., have made a run at the top spot. Folks at Georgia even offered a few bribes in the food department. However, three years ago, North Carolina-Wilmington set the bar high.
And again, that tournament will remain on top.
The overall experience was good this week and makes it a tough place to compare to the last few years. Because all of the little things got check-pluses and golf course being tremendous, it goes on the list as No. 2.
Landfall will almost be an impossible act to follow for any host school or venue. A total of 5,034 tickets were sold at the 2010 championship. The environment that week with the homes surrounding the course added an element that we have never seen. There were numerous "tailgate" parties, complete with school flags waving and fans cheering on players as they walked by. Oh yes, the fried chicken and sweet tea in Wilmington will always be remembered.
Looking forward there are concerns. With the men and women sharing the same venue next year, will some aspects of the championship suffer? Can the red carpet be rolled out for back-to-back events? The big question is how Concession Golf Club will play for the ladies? We have been told it will be a great match-play golf course and that is a good thing because next year this tournament switches to match play.
Hopefully, they get the menu and the media room nailed down to continue the string of recent championship-venue performances.
• • •
Ringler's Championship Feel Test Rankings
1. 2010 at Landfall Tradition (UNCW)
2. 2014 at Tulsa Country Club (Tulsa)
3. 2013 at University of Georgia Golf Course
4. 2012 at Vanderbilt Legends Club
5. 2004 at Auburn (Grand National)
6. 2003 at Purdue's Kampen Course
7. 2008 at University of New Mexico GC
8. 2002 at Washington National GC
9. 2011 at Traditions Club at Texas AM
10. 2006 at Ohio State's Scarlet Course
11. 2001 at Mission Inn Resort, Howey-in-the-Hills, Fla.
12. 2009 at Caves Valley Golf Club (Georgetown)
13. 2000 at Sun River Crosswater GC
14. 2005 at Sun River Meadows GC
15. 2007 at LPGA International
Golfweek.com readers: We value your input and welcome your comments, but please be respectful in this forum.
---
---
---
---
---
---
---
---
---
---
---
---
---
---
---
---
---
---
---
---
---
---