College Men
NCAA men's championships: Tee times, round 2 finish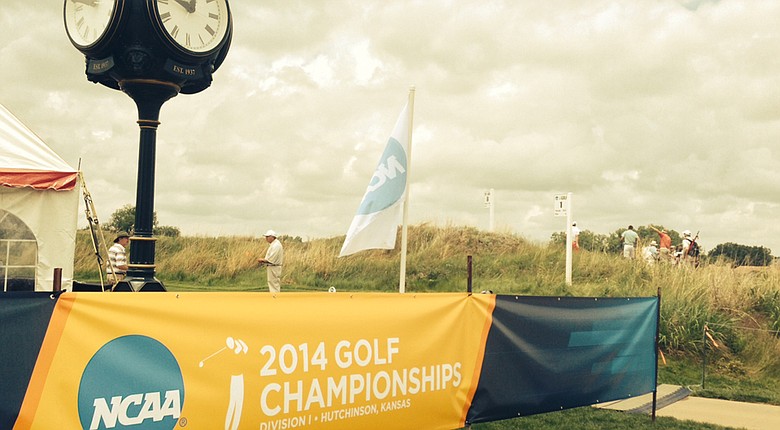 Saturday, May 24, 2014
Complete groupings and tee times for the second wave of the NCAA Division I Men's Championship's second round Sunday at Prairie Dunes in Hutchinson, Kan. (all times CDT):
• • •
No. 10 tee: Florida State, Texas, Texas A&M
7:00 a.m.: Joaquin Lolas, FSU; Toni Hakula, Texas; Johannes Veerman, Texas A&M
7:10 a.m.: Rowin Caron, FSU; Gavin Hall, Texas; Adria Arnaus, Texas A&M
7:20 a.m.: Cristobal Del Solar, FSU; Brax McCarthy, Texas; Andrew Lister, Texas A&M
7:30 a.m.: Hank Lebioda, FSU; Kramer Hickok, Texas; Ben Crancer, Texas A&M
7:40 a.m.: Jack Maguire, FSU; Beau Hossler, Texas; Greg Yates, Texas A&M
• • •
No. 1 tee: Auburn, UCLA, USC
7:20 a.m.: Daniel Stringfellow, Auburn; Matt Pinizzotto, UCLA; Paul Smith, USC
7:30 a.m.: Jake Mondy, Auburn; Preston Valder, UCLA; Eric Sugimoto, USC
7:40 a.m.: Will Long, Auburn; Anton Arboleda, UCLA; Jeffrey Kang, USC
7:50 a.m.: Matt Gilchrest, Auburn; Lorens Chan, UCLA; Anthony Paolucci, USC
8:00 a.m.: Niclas Carlsson, Auburn; Jonathan Garrick, UCLA; Rico Hoey, USC
• • •
No. 10 tee: Oregon, SMU, South Carolina
7:50 a.m.: Sulman Raza, Oregon; Austin Smotherman, SMU; Will Murphy, S. Carolina
8:00 a.m.: Jonathan Woo, Oregon; Ryan Burgess, SMU; Ben Dietrich, S. Carolina
8:10 a.m.: Zach Foushee, Oregon; Andrew Buchanan, SMU; Matthew NeSmith, S. Carolina
8:20 a.m.: Brandon McIver, Oregon; Harry Higgs, SMU; Caleb Sturgeon, S. Carolina
8:30 a.m.: Thomas Lim, Oregon; Bryson Dechambeau, SMU; Will Starke, S. Carolina
• • •
No. 1 tee: Kennesaw State, Kentucky, Missouri
8:10 a.m.: Austin Vick, KSU; Will Bishop, Kentucky; Hunter Kraus, Missouri
8:20 a.m.: Chris Guglielmo, KSU; Cody Martin, Kentucky; Wilson Sundvold, Missouri
8:30 a.m.: Teremoana Beaucousin, KSU; David Snyder, Kentucky; Euan Walker, Missouri
8:40 a.m.: Jimmy Beck, KSU; Stephen Powers, Kentucky; Ryan Zech, Missouri
8:50 a.m.: Kelby Burton, KSU; Ben Stow, Kentucky; Emilio Cuartero, Missouri
• • •
No. 10 tee: Georgia State, Iowa State, Purdue
8:40 a.m.: Nathan Mallonee, GSU; Collin Foster, ISU; Phillippe Schweizer, Purdue
8:50 a.m.: J.J. Grey, GSU; Ruben Sondjaja, ISU; Enzo Perez, Purdue
9:00 a.m.: Damon Stephenson, GSU; Jack Carter, ISU; Stuart Macdonald, Purdue
9:10 a.m.: Davin White, GSU; Sam Daley, ISU; Austin Eoff, Purdue
9:20 a.m.: Tyler Gruca, GSU; Scott Fernandez, ISU; Adam Schenk, Purdue
• • •
No. 1 tee: Individuals
9:00 a.m.: Marco Iten, Austin Peay; Chris Robb, Chattanooga; Cyrus Stewart, Wake Forest
Golfweek.com readers: We value your input and welcome your comments, but please be respectful in this forum.
---
---
---
---
---
---
---
---
---
---
---
---
---
---
---
---
---
---
---
---
---