College Men
Tee times: NCAA Championship, third round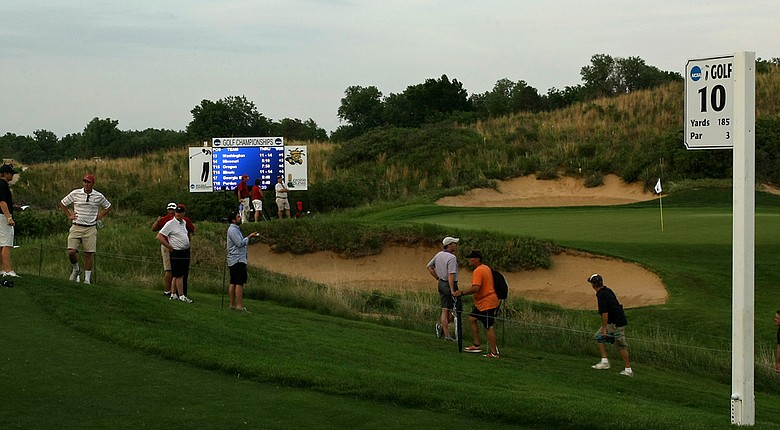 Sunday, May 25, 2014
The final round of stroke play at the NCAA Championship is already underway, as the bottom 15 teams on the leaderboard kicked play off via a shotgun start Sunday afternoon.
Those same teams will have to wrap up their rounds Monday morning. After that, the top 15 teams are set to start their third rounds beginning at noon Central.
---
Photo Gallery
PHOTOS: NCAA Championships (Sunday)
View images from Sunday's play at the Men's NCAA Division 1 Championship at Prairie Dunes Country Club.
---
Here are the third-round tee times and pairings for the top 15 teams at the NCAA Championship at Prairie Dunes Country Club in Hutchinson, Kan. (all times local):
• • •
OFF TEE NO. 1
LSU, Georgia Tech, SMU
12:30 p.m.: Zach Wright, Anders Albertson, Andrew Buchanan
12:40 p.m.: Stewart Jolly, Bo Andrews, Harry Higgs
12:50 p.m.: Smylie Kaufman, Richy Werenski, Ryan Burgess
1 p.m.: Curtis Thompson, Seth Reeves, Bryson Dechambeau
1:10 p.m: Ben Taylor, Ollie Schniederjans, Austin Smotherman
Stanford, Alabama, Oklahoma State
1:20 p.m: Viraat Badhwar, Trey Mullinax, Ian Davis
1:30 p.m: Maverick McNealy, Tom Lovelady, Jordan Niebrugge
1:40 p.m: David Boote, Bobby Wyatt, Zach Olsen
1:50 p.m: Patrick Rodgers, Cory Whitsett, Wyndham Clark
2 p.m: Cameron Wilson, Robby Shelton, Talor Gooch
Individuals
2:10 p.m: Denny McCarthy (Virginia), Taylor Pendrith (Kent State), Ricardo Gouveia (UCF)
• • •
OFF TEE NO. 10
Washington, Texas, UAB
Noon: Chris Babcock, Brax McCarthy, Wilson McDonald
12:10 p.m: Trevor Simsby, Gavin Hall, Martin Rohwer
12:20 p.m: Jonathan Sanders, Kramer Hickok, Thomas Sutton
12:30 p.m: Cheng-Tsung Pan, Beau Hossler, Sam Love
12:40 p.m: Corey Pereira, Toni Hakula, Paul Dunne
Illinois, Auburn, Vanderbilt
12:50 p.m: Alex Burge, Jake Mondy, Charlie Ewing
1 p.m: Jonathan Hauter, Daniel Stringfellow, Jordan Janico
1:10 p.m: Brian Campbell, Will Long, Carson Jacobs
1:20 p.m: Thomas Detry, Niclas Carlsson, Hunter Stewart
1:30 p.m: Charlie Danielson, Matt Gilchrest, Ben Fogler
Oklahoma, UCLA, South Carolina
1:40 p.m: Michael Schoolcraft, Matt Pinizzotto, Ben Dietrich
1:10 p.m: Max McGreevy, Jonathan Garrick, Matthew NeSmith
2 p.m: Michael Gellerman, Preston Valder, Will Starke
2:10 p.m: Beau Titsworth, Lorens Chan, Will Murphy
2:20 p.m: Charlie Saxon, Anton Arboleda, Caleb Sturgeon
---
---
---
---
---
---
---
---
---
---
---
---
---
---
---
---
---
---
---
---
---