College Women
Women's college golf preview: Top 2014 freshmen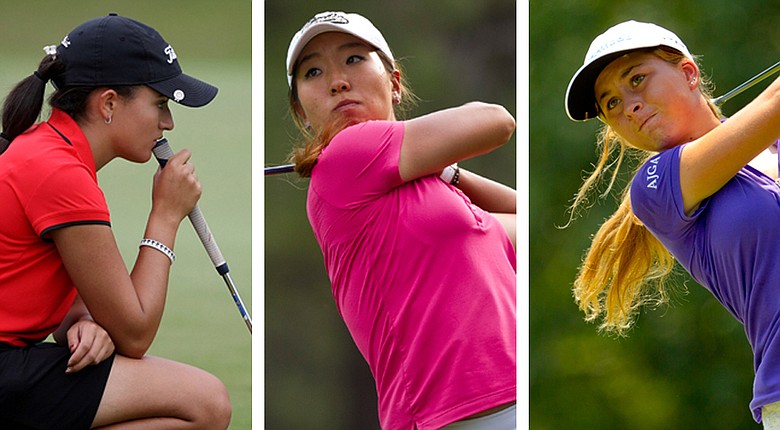 Wednesday, September 3, 2014
Sometimes, the best just keep getting better. That might be the case this year, as some of the top women's college golf programs bring in talented freshmen.
Here's a look at a handful of the players than can an impact this year:
• • •
Incoming Tide
The Outlook: Alabama returns a roster with zero seniors after losing superstar Stephanie Meadow and veteran Hannah Collier. Bringing in two of the nation's top freshmen could help fill that void for head coach Mic Potter, as he will look for some strong talent around junior Emma Talley.
Nicole Morales
School: Alabama
Ranking: 340 (World Amateur Golf Ranking)
Hometown: Salem, N.Y.
Resume: 2013 Thunderbird International Junior champion, Rolex All-American, advanced to round of 32 at 2013 U.S. Women's Amateur
Assets: "Nicole's parents, Miguel and Barbara, have raised a first class young lady, and her coach, Cheryl Anderson, has schooled her into a world class golfer." - head coach Mic Potter
• • •
Lakareber Abe
School: Alabama
Ranking: 230 (WAGR)
Hometown: Angleton, Texas
Resume: Six AJGA top-fives, runner-up at 2013 U.S. Girls' Junior
Assets: "Justin Poynter (Abe's coach) has done a tremendous job of taking a young lady with raw power and refining her into a very accomplished all-around player." – head coach Mic Potter
• • •
S-E-C!
The Outlook: Six teams from the Southeastern Conference advanced to the NCAA Championship last year, the second most from any conference behind the Pac-12's seven. Freshmen found ways to contribute in the power conference last year, including Vanderbilt's Simin Feng, LSU's Caroline Nistrup and South Carolina's Katelyn Dambaugh. These girls hope to make the same kind of impact in 2014-15.
Maddie Szeryk
School: Texas A&M
Ranking: 467 (WAGR)
Hometown: Allen, Texas
Resume: Four-time AJGA winner, including 2014 Thunderbird International Junior, competed in 2014 North Texas LPGA Shootout (MC)
Assets: "Maddie is a player that has been good for a long time. We first put our eye on Maddie back when she was just in the 8th grade. She has become stronger in all areas of her game and I can't wait for her to be here. She could be one of the fiercest competitors that I've been around in a long time." – Trelle McCombs
• • •
Nanna Madsen
School: South Carolina
Ranking: 4 (WAGR)
Hometown: Copenhagen, Denmark
Resume: 2014 European Nations Cup Individual champion, 2013 British Ladies Amateur Championship stroke play medalist, member of Danish National team
Assets: "Nanna Madsen brings a very steady game, a game that's going to bring some excitement and very low numbers." – head coach Kalen Harris
• • •
Cindy Ha
School: Vanderbilt
Ranking: 251 (WAGR)
Hometown: Demarest, N.J.
Resume: Advanced to round of 16 at 2011 U.S. Women's Amateur, won 2013 Exide Technologies Junior Open
Assets: "Cindy has such a presence about her that just screams, 'I'm about to dominate this place,' yet she is so humble. Her golf swing is silky smooth, her ball striking is pure and she if very eager to keep learning and growing." – head coach Greg Allen
• • •
Out West
The Outlook: This trio has had international success and plans on bringing that to the world of college golf. The Pac-12 features some of the strongest amateur golfers in the world, but these three look to figure into that argument before their careers are over.
Yan Jing
School: Washington
Ranking: 29 (WAGR)
Hometown: Shanghai, China
Resume: Won 2013 Girls' British Open Amateur Championship and Ladies' British Open Amateur Stroke Play Championship, played in seven professional events in 2014
Assets: "Her consistency and decision making. She rarely makes a poor choice about how to attack a hole location. She is also an exceptional putter." – head coach Mary Lou Mulflur
• • •
Shannon Aubert
School: Stanford
Ranking: 28 (WAGR)
Hometown: Annecy, France Stuart, Fla.
Resume: French national team member, Junior Solheim Cup and U.S. Women's Open participant, Rolex All-American
Assets: "Shannon has an unmatched level of experience having competed significantly in Europe and also with the United States-based AJGA tour. She is a mature player, with a terrific short game and I believe she will blossom at the college level." – head coach Anne Walker
• • •
Roberta Liti
School: Arizona State
Ranking: 123 (WAGR)
Hometown: Tuscany, Italy
Resume: Italy national team member, 2012 World Amateur participant, runner-up at 2013 Girls' British Open Amateur Championship
Assets: "I got to play with 18 hole with Roberta recently. To play with her and see her power and explosiveness, wow she hits the ball so far. I think its going to separate her from a lot of players. She has tremendous clubhead speed." – head coach Melissa Luellen
Golfweek.com readers: We value your input and welcome your comments, but please be respectful in this forum.
---
---
---
---
---
---
---
---
---
---
---
---
---
---
---
---
---
---
---
---
---