Staff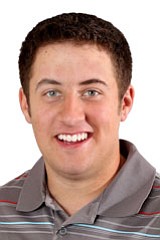 D.J. Piehowski
Assistant Editor
D.J. Piehowski joined Golfweek in 2009 as an editorial intern before being hired full time in July 2010 as an Assistant Editor. Piehowski grew up in Genoa, Ill., and graduated from Bradley University with a degree in journalism. Prior to joining Golfweek, Piehowski worked in golf shops throughout Illinois and covered high school sports and Bradley basketball for the Pekin Daily Times.

• Best golf shot seen live: Padraig Harrington's "Happy Gilmore" swing that cleared the barn at the end of the Cog Hill driving range at last year's BMW Championship. After making contact, the Irishman turned around without watching his ball and climbed into his car to drive to a U2 concert.
• Believe it or not: I spent my freshman year of college as a mechanical engineering student. You can see how that worked out.
• Favorite golf course: Bull Valley GC, Woodstock, Ill.
• Dream foursome: A game of wolf between my dad, myself, Roy McAvoy and Baggar Vance.
Recent Stories by D.J. Piehowski
---
---
---
---
---
---
---
---
---
---