Nicklaus and Player: Among the Legends of Golf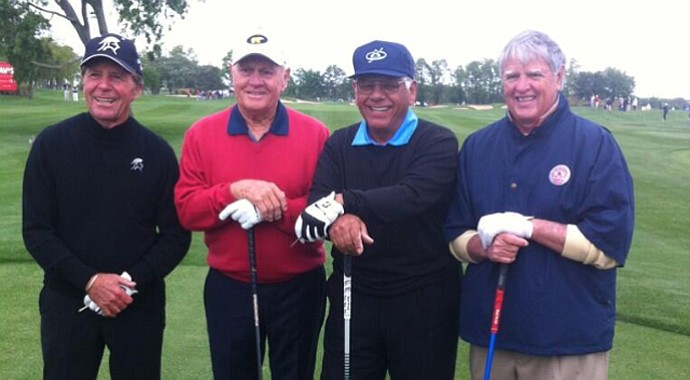 Monday, April 22, 2013
SAVANNAH, Ga. – If seeing Jack Nicklaus and Gary Player hit ceremonial tee shots at the Masters brought a smile to your face, get ready for an even bigger treat at this week's Liberty Mutual Legends of Golf.
Two of the game's greatest legends will be paired together in the 36-hole Demaret Division for golfers 70 and older, beginning April 22 at the Westin Savannah Harbor Golf Resort & Spa.
Player, 77, won the Demaret Division in 2009 and 2010 with Bob Charles. But with Charles unable to play, Player called in fellow South African Simon Hobday to be his partner last year.
At the Masters, Nicklaus, 73, explained how he came to be Player's partner this time.
"I said to Gary, 'I wish you'd asked me,' " Nicklaus said. "I'd be happy to fill in for you.'
He says, 'You would?'
'Sure, I would love to play with you.'
He says, 'Well, you'll play next year.'

"I should have kept my mouth shut," Nicklaus said.
But the truth is that Nicklaus, who is to making his first appearance in the Legends since 2001, is pleased to be back. Player said that Nicklaus told him, "No one ever asks me to play in these things. I'm so glad you asked me to play."
Between them, they won 97 PGA Tour titles and 27 majors. But Nicklaus isn't promising any of the old magic in his game. A bit of rust may be more like it. At a birthday party for Player's wife, Vivienne, Player asked Nicklaus if he was getting his game ready.
"I can't remember the last time I played," Nicklaus said. "I probably haven't played in a month or so, and I won't play until I get there. I'll play the day before. That will be enough. In other words, I'm not taking a golf tournament serious. I don't play golf anymore. I play occasionally, if I have to."
Don't tell that to Player. He has other plans in mind: "Jack said he wanted to have fun," Player said. "I'm going there to win."
Golfweek.com readers: We value your input and welcome your comments, but please be respectful in this forum.
---
---
---
---
---
---
---
---
---
---
---
---
---
---
---
---
---
---
---
---
---