Quail Hollow scrambles to repair greens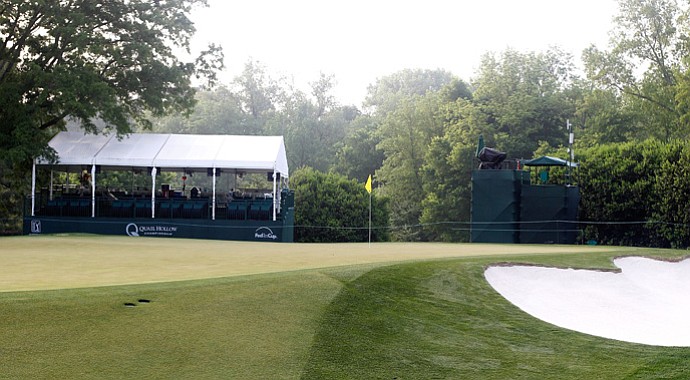 Thursday, April 25, 2013
The site of the Wells Fargo Championship, one of the premier stops on the PGA Tour, underwent emergency maintenance Tuesday as two greens at Quail Hollow Club in Charlotte, N.C., were completely re-sodded.
It's an unusual step, just nine days before Rickie Fowler begins defense of his first professional title, for the Tour to re-sod the eighth and 10th greens.
"They would not have been in acceptable condition," Andy Pazder, the PGA Tour's chief of operations, said Tuesday. "It was rather an extraordinary step."
The greens might look patchy during the television broadcast, but the damage will merely be cosmetic, N.C. State agronomy professor Fred Yelverton told TurfNet.com on Thursday.
"I've seen little patches 6 to 8 inches wide turn yellow and die from heat stress while the other 99 percent of the green is fine. And I've never seen that before, and I've never seen it anywhere other than (at Quail Hollow)," Yelverton said of the strain of bentgrass used there, Penn G-2.
Robert Karlsson, who lives in Charlotte, and Johnson Wagner, a Quail Hollow member, agreed with Pazder that the two holes were not up to Tour standards. Both players said that sections of the 12th and 13th greens were not Tour-quality, either.
Karlsson played Quail Hollow on Friday and said the No. 8 green, which recently had been redesigned, was merely passable, with certain areas – notably the center and left center of the putting surface – questionable.
Wagner played at Quail Hollow two weeks ago during the Masters and putted on temporary greens at Nos. 8 and 10. Upon seeing the greens Monday, he said it was clear that the putting surfaces would be bumpier then usual, but the eighth and 10th greens were in trouble.
Wagner blamed the problems at No. 10 on extensive top-dressing by the Tour's agronomy staff, which oversees conditions at host courses in advance of tournaments. "It went from a perfectly sodded green three weeks ago, which I thought was unbelievable, to being dead," Wagner said.
Pazder vehemently disagreed as to why the 10th green needed to be re-sodded. "There were a number of factors involved which contributed to the decline in the conditions of the 10th green," said Pazder, without elaborating, "but over-top-dressing was not one of them."
He said the 12th and 13th greens received new sod in places for aesthetic purposes.
Pazder said he received good news from the Tour's agronomy staff Tuesday after the re-sodding and that the problematic greens will be in good condition for next week's tournament.
With such a limited time to make repairs, the resodding was done with strips 40 feet long by 4 feet wide, to minimize the number of seams.
Ironically, the eleventh-hour surgery won't last. The week after the Wells Fargo Championship, Quail Hollow Club officials will tear up all 18 greens and replace the bentgrass with a more heat-tolerant MiniVerde Bermudagrass in advance of the 2017 PGA Championship.
"We're hoping to make it through this tournament unscathed," Wagner said. "It's unfortunate because we put on such a great golf course and a great event for, I guess, this is our 11th year, and it's going to leave a sour taste in our mouths for this year. But after putting on Bay Hill's greens that are Bermuda slightly overseeded for so many years and Harbour Town's, Quail Hollow is going to be better than ever next year, and we'll have a great event this year."
Golfweek.com readers: We value your input and welcome your comments, but please be respectful in this forum.
---
---
---
---
---
---
---
---
---
---
---
---
---
---
---
---
---
---
---
---
---