College Women
USC, Duke, 'Bama women grab regional top seeds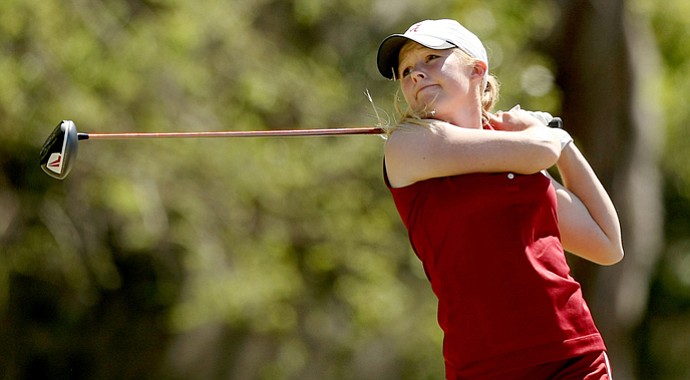 Tuesday, April 30, 2013
USC, Duke and Alabama will take the No. 1 seeds into their respective regionals as NCAA postseason play begins May 9. They are among the 72 teams that will make up three NCAA Regional fields around the country.
Pac-12 Conference champion USC, the top-ranked team in the Golfweek/Sagarin College Rankings, is atop the West Regional field, followed by Arizona, another Pac-12 team. Vanderbilt, Purdue and Stanford round out the top five seeds. Earlier in the year, USC won the Stanford Invitational at Stanford Golf Course, the site of the West Regional.
Duke, coming off a 24-shot victory at the ACC Championship, is No. 1 in the Central Regional. It will be played at the Jimmie Austin OU Golf Course in Norman, Okla., site of this year's U.S. Women's Amateur Public Links. Oklahoma is the No. 2 seed and will play on its home course.
Alabama, which won the team title in five of its six spring starts, is No. 1 in the East Regional, hosted by Auburn. Arkansas, UCLA and North Carolina also are in the East Regional.
In addition to the 24 teams that make up each regional field, six players will compete as individuals. Regional championships consist of 54 holes to be played May 9-11. The top eight teams and the top two individuals from each region will advance to the NCAA Championship, to be played May 21-24 at the University of Georgia Golf Course in Athens, Ga.
Regional fields are listed below, with automatic qualifiers listed in parentheses:
• • •
East Regional
Auburn (Ala.) University GC
TEAMS
1. Alabama (Southeastern Conference)
2. Arkansas
3. UCLA
4. North Carolina
5. Virginia
6. Oklahoma State (Big 12 Conference)
7. Tulane (Conference USA)
8. Texas
9. Notre Dame (Big East Conference)
10. Northwestern (Big Ten Conference)
11. Tennessee
12. Kentucky
13. Texas State
14. Auburn
15. Central Florida
16. Pennsylvania State
17. East Carolina
18. Florida International (Sun Belt Conference)
19. Mississippi
20. East Tennessee State (Atlantic Sun Conference)
21. Chattanooga (Southern Conference)
22. James Madison (Colonial Athletic Association)
23. Eastern Kentucky (Ohio Valley Conference)
24. Alabama State (Southwestern Athletic Conference)
INDIVIDUALS
1. Natalie Wille, Augusta State
2. Kelly Shon, Princeton
3. Casey Kennedy, Augusta State
4. Isabel Southard, Boston College
5. Shu-Yin Liu, Tulsa
6. Kristina Merkle, Tulsa
• • •
Central Regional
Jimmie Austin OU GC, Norman, Okla.
TEAMS
1. Duke (Atlantic Coast Conference)
2. Oklahoma
3. Florida
4. Washington
5. Arizona State
6. UC Davis (Big West Conference)
7. Texas Tech
8. North Carolina State
9. Michigan State
10. Iowa State
11. Southern Methodist
12. Campbell
13. Coastal Carolina (Big South Conference)
14. Wake Forest
15. Texas Christian
16. Gonzaga
17. Indiana
18. Texas San Antonio
19. Mississippi State
20. Wisconsin
21. Lamar (Southland Conference)
22. Illinois State (Missouri Valley Conference)
23. Detroit (Horizon League)
24. Butler (Metro Atlantic Athletic Conference)
INDIVIDUALS
1. Fanny Cnops, North Carolina-Greensboro
2. Lori Beth Adams, North Carolina-Wilmington
3. Emma Henrikson, San Diego State
4. Julia Roth, Central Arkansas
5. Paige Spiranic, San Diego State
6. Christine Wong, San Diego State
• • •
WEST REGIONAL
Stanford (Calif.) GC
TEAMS
1. USC (Pac-12 Conference)
2. Arizona
3. Vanderbilt
4. Purdue
5. Stanford
6. Georgia
7. Baylor
8. Texas A&M
9. Pepperdine (West Coast Conference)
10. LSU
11. Denver (Western Athletic Conference)
12. South Carolina
13. Ohio State
14. Oregon
15. UNLV (Mountain West Conference)
16. California
17. Florida State
18. Miami (Florida)
19. San Jose State
20. Harvard (The Ivy League)
21. Kent State (Mid-American Conference)
22. Northern Arizona (Big Sky Conference)
23. North Dakota State (The Summit League)
24. Long Island (Northeast Conference)
INDIVIDUALS
1. Laura Wearn, Furman
2. Jennifer Coleman, Colorado
3. Sammi Stevens, New Mexico
4. A Ram Choi, Portland State
5. Luciane Lee, UC Irvine
6. Michelle Park, UC Irvine
Golfweek.com readers: We value your input and welcome your comments, but please be respectful in this forum.
---
---
---
---
---
---
---
---
---
---
---
---
---
---
---
---
---
---
---
---
---