College Women
Women's spring preview: West Coast Conference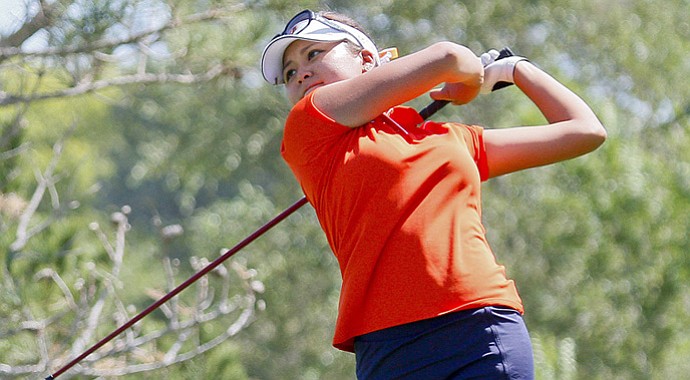 Monday, February 4, 2013
Pepperdine has won 14 out of 16 West Coast Conference titles -- San Francisco won the two other titles in 1997 and 2001.
The Waves have also won 13 of 16 West Coast Conference individual titles.
To say the least, Pepperdine has dominated the West Coast Conference. And it doesn't seem to be changing.
"We look forward to defending out WCC championship title," said head coach Laurie Gibbs.
With a core group of young and talented players, Pepperdine is a national contender, led by Grace Na, No. 11 in the Golfweek/Sagarin Rankings. Na finished inside the top-6 in all four events for the Waves this fall, including a runner-up finish at the Golfweek Conference Challenge. The other two juniors, Danielle Giallspy and Liv Cheng, have also contributed to the team. Two sophomores, Somin Lee and Alina Ching, sister of former San Diego standout Alex Ching, each had top-10s this fall. And freshman Marissa Chow has come in and has shown that she can play at the highest college level, including a top-20 finish.
"Grace had a very good fall with consistent results," Gibbs said.
Although it was a closer than normal contest last year at the WCC championships (Pepperdine won by six strokes over San Francisco), the Waves won their 11th straight title.
"Other teams in the conference have strengthened their roster with some excellent recruits and it should be another great championship," Gibbs said.
Gonzaga may be a challenger this spring. Senior Victoria Fallgren is back to defend her inidivudal title at the WCC championships after winning in a one-hole sudden-death playoff. Freshman Raychelle Santos has come in and been good for the Bulldogs. A native of La Quinta, Calif., placed in the top-5 of her first two tournaments.
• • •
Where it stands now
Top of the class: Pepperdine
Best player of the fall: Grace Na, Pepperdine
• • •
Past champions
2012: Pepperdine
2011: Pepperdine
2010: Pepperdine
2009: Pepperdine
2008: Pepperdine
• • •
Conference Capsules
Pepperdine (Golfweek/Sagarin Ranking: No. 31)

Won the Golfweek Conference Challenge with junior Grace Na, and sophomore Somin Lee and Alina Ching all finished in the top-5. Na finished inside the top-6 in all four events for the Waves this fall.

Gonzaga (No. 61)

The Bulldogs won the Lady Mustang Invitational and finished second at the Cougar Cup. Raychelle Santos had two top-5 finishes, while 2012 WCC individual medalist Victoria Fallgren led Gonzaga with a 73.8 scoring average.

San Francisco (No. 112)

Finished fifth at the Oregon State Women's Invitational and the Cowgirl Desert Intercollegiate. Freshman Emelie Lundstrom finished as the team's lowest scorer at 75.92.

BYU (No. 99)

Placed better at each tournament as the season went on with their best finish (eighth) at the Rainbow Wahine Invitational. Amanda Keith had the only top-10 finish of the fall at the first tournament, the Dick McGuire Invitational.

Santa Clara (No. 151)

The team finished third at its own Santa Clara University Colby Invitational. Senior Balbina Guajardo played all 10 rounds this fall and added two top-10 finishes, including a runner-up finish at the Lamkin Grip Invitational and a scoring average of 75.50.

Cal State Bakersfield (No. 222)

The team's best finish, fifth, was at their first tournament, the Cal Poly Firestone Invitational. The team is lead by Jordanne Barr with a 77.9 scoring average. This will be the first time for the RoadRunners are competing in the WCC.

Conference championship

April 15-17, Gold Mountain GC, Bremerton, Wash.

Lance Ringler's prediction

Pepperdine. This conference is better than year's past. Gonzaga is much improved, San Francisco has been trying to close the gap and BYU has had competitive teams in the past. However, it is still Pepperdine clearly in front and the Waves almost certain to get better this spring will again be your WCC champs.
Golfweek.com readers: We value your input and welcome your comments, but please be respectful in this forum.
---
---
---
---
---
---
---
---
---
---
---
---
---
---
---
---
---
---
---
---
---