College Men
Men's spring preview: West Coast Conference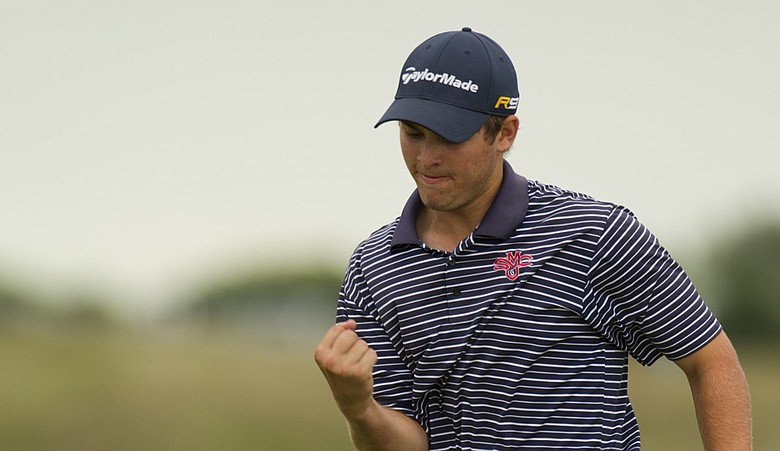 Thursday, February 28, 2013
Who would have thought five or six years ago that St. Mary's would be a team of prominence not only within the West Coast Conference, but on the national scale as well? Yet, that's exactly where the program is today.
In his 12 years as head coach of the Gaels, Scott Hardy has slowly developed the roots and nurtured a tree of success.
The Gaels won the WCC title last season before finishing seventh at their NCAA Regional which left them two spots shy of qualifying for the NCAA finals. They ended the season No. 35 in the Golfweek/Sagarin Rankings.
That success certainly has carried over into the current season and makes St. Mary's the team to beat within the conference.
The program may not have the history, tradition and past success as many of the nation's golfing powers or even of the likes of WCC foes BYU and Pepperdine, but it now is one to be reckoned with.
The Gaels finished in the top five in each of their five fall starts, including a victory in their own event, and will carry a No. 29 ranking into the spring season. They rolled up a 55-8 overall record.
Senior Ben Geyer leads this talented squad. The 2012 Northern California Golf Association Player of the Year, finished the fall ranked 33rd after posting six top-15 showings with a win at the St. Mary's tournament.
Still, before that WCC championship trophy is handed out on April 17, you can bet the likes of San Francisco, San Diego and BYU will have a say so in who takes it home.
Those three teams, like St. Mary's, finished the fall with winning records and each showed some firepower at times. They'll be chasing the Gaels, that's for sure, but they certainly have what it takes catch them.
And if you're looking for a darkhorse in the WCC, keep an eye on Santa Clara. The Broncos just might surprise some of their conference foes before all is said and done.
What it boils down do is a tight race for the league championship and St. Mary's will be the major roadblock for all those in the running.
• • •
Where it stands now
Top of the class: St. Mary's
Best player this fall: Ben Geyer, St. Mary's
• • •
Past champions
2008 San Diego
2009: San Francisco
2010: Pepperdine
2011: San Francisco
2012: St. Mary's
• • •
Conference capsules
St. Mary's (Golfweek/Sagarin Ranking: No. 29)

The Gaels are proving their success last year was no fluke. These guys are for real and posted a most impressive fall campaign to prove it. St. Mary's finished in the top five in each of its five starts -- a victory at its own tournament, seconds at the Northern and Firestone, a third at the Husky and a fifth at Cabo. A 55-8 overall record wasn't too shabby either.

San Francisco (No. 59)

Over the past few years the Dons have constantly shown improvement and this season appears to be a continuation of that. After a slow start this fall where they finished eighth at the Golfweek Conference Challenge and seventh at St. Mary's, the Dons came on strong with a third at the Tucker, a fourth at the Irish Gridiron and a second at the MacKenzie.

San Diego (No. 63)

The top four players this fall were sophomores and one would have to think each will keep improving with experience. Grant Forrest, the 2012 Scottish Amateur champion, led the Toreros with four top-25s, including a second at the Bill Cullum and T-9 at the Nicklaus. Mathias Dahl had a trio of top-20s, while Alexis Piacenter had three top-30s and Linus Vaisanen notched a pair of top-15s.

BYU (No. 64)

While they any overly outstanding tournaments, the Cougars proved steady throughout the fall. After a ninth at the Husky, the tied for fourth at the Tucker, were sixth at the Nicklaus, fourth at the MacKenzie and fifth at Pacific. Sophomore Devon Purser had a solid fall with a T-13 at the Husky and T-22 at the Tucker before closing things out with a victory at the Pacific.

Santa Clara (No. 102)

The Broncos had only one top five in the fall, but overall were pretty consistent. They opened with a seventh at Washington State and followed with a fifth at St. Mary's, T-7 at Cabo and an eighth at Pacific. Freshmen Martin Keskari and Carlos Briones and junior Scott Lowe paced the team.

Pepperdine (No. 132)

The Waves finally showed a bit of life in their final fall start with a fifth place at the Warrior-Wave. Before that, they were pretty much swept away in an undertow. In its other three outings, Pepperdine had finishes of 12th, 14th and 13th. The Waves finished the fall with a 13-40 record, including just 1-11 against top-50 teams.

Loyola Marymount (No. 145)

The Lions got off to a decent start with a T-5 at the McLaughlin, but never threatened after that, placing 11th at St. Mary's and ninth at Cabo and the Cullum. Junior Tyler Torano was the team's bright spot with four top-25s, highlighted by a T-2 at Cabo.

Gonzaga (No. 186)

After a T-5 in their season opener at Washington State, the Zags pretty much faded away, finishing 10th or worse in each of their last four starts. They finished the fall with a 19-45-2 record and were 0-5 against top-50 teams.

Conference championship

April 15-17, Bremerton, Wash.
Golfweek.com readers: We value your input and welcome your comments, but please be respectful in this forum.
---
---
---
---
---
---
---
---
---
---
---
---
---
---
---
---
---
---
---
---
---