College Men
Men's spring preview: Atlantic Sun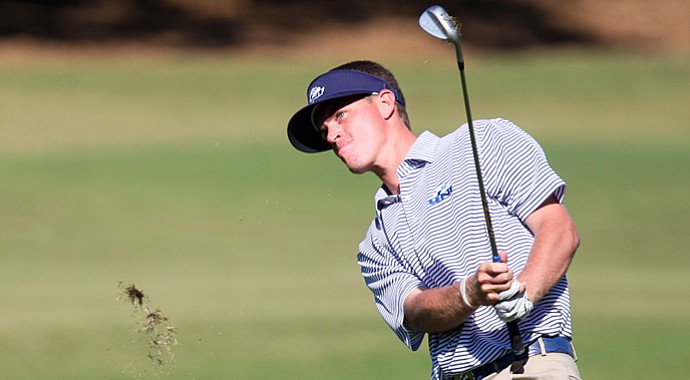 Tuesday, January 8, 2013
Editor's note: Over the next month, Golfweek.com will be previewing every conference that has an automatic bid into the NCAA Regionals. For all of the men's conference capsules, click here.
• • •
Seven shots.
That's all that has come between North Florida and a match-play berth in its last two NCAA Championship appearances – four strokes in 2010 and three last season.
Sean Dale has been there for both, and this spring the senior will get one more shot at helping the Ospreys advance to match play, which has eluded North Florida in three trips to the NCAA Championship since the program moved to Division I before the 1997-98 season.
Of course, the two-time All-American, who has won four tournaments with the Ospreys, wouldn't have gotten that chance had he earned his PGA Tour card through Q-School late last year.
Dale had said if he made it through Q-School, he'd forego his college eligibility and turn pro. But if things didn't go well and he failed to earn his card, he'd return to school this spring.
He ended up finishing T-45 at a second stage qualifier in McKinney, Texas, in November, signaling his return to Jacksonville, Fla. – a move that turns North Florida from a conference contender into a national title contender.
"Obviously anytime you add a two-time All-American, it's a huge boost," North Florida head coach Scott Schroeder said. "He's worth about 10 shots a tournament. He just brings that intangible to the team where he expects to win."
The Ospreys had a good fall campaign, but it wasn't up to the standard set last fall when North Florida, led by Dale, worked its way up to fifth in the country.
North Florida's third-place finish at the Brickyard Collegiate in Macon, Ga., was the highlight of the fall, as the Ospreys shot 1-over 865 as a team and placed four individuals in the top 25.
M.J. Maguire led the team in two of four events, finishing seventh at the Carpet Capital Collegiate in Rocky Face, Ga., and T-5 at the Shoal Creek Collegiate in Birmingham, Ala. North Florida finished ninth and sixth, respectively, in those two tournaments.
A 10th-place showing at the Isleworth Collegiate rounded out the Ospreys' fall schedule. Kevin Phelan finished T-9 to lead North Florida.
Maguire and Petronio were the only two individuals to play in all four fall events for the Ospreys. Maguire, Phelan and Petronio each notched a scoring average of 74.92 or better in the fall with Maguire's 72.25 stroke average leading the team.
The fifth spot in the lineup seems to be up for grabs as Austin Padova, Joe Stepnes and Taylor Hancock all saw action in multiple tournaments and posted scoring averages in the 75s.
"We probably have four or five guys who will battle it out for that final spot," Schroeder said.
North Florida will open its season at the SunTrust Gator Invitational in Gainesville, Fla. The Ospreys are the obvious favorite to win a second straight A-Sun conference title and Schroeder's bunch is up to the task.
"We want to get out to a good start this spring, see how we stack up with the best teams in the country and try to make a run like we did last year," Schroeder said.
And with Dale back to join a formidable and experienced lineup, maybe the Ospreys' run will be a little longer this season.
• • •
Where it stands now
Top of the class: North Florida
Best player this fall: Jimmy Beck, Kennesaw State
• • •
Past champions
2012: North Florida
2011: Kennesaw State
2010: East Tennessee State
2009: Campbell
2008: North Florida
• • •
Conference capsules
North Florida (Golfweek/Sagrain Ranking: No. 35)

Third-place finish at the Brickyard Collegiate in Macon, Ga., was the highlight of the fall, as the Ospreys shot 1-over 865 as a team and placed four individuals in the top 25. Now, they'll get senior Sean Dale back and hope to better last year's season, which included a conference title and trip to the NCAA Championship.

Kennesaw State (No. 53)

Played tough events at Carpet Capital Collegiate and Shoal Creek Intercollegiate before closing fall with a win at the Pinetree Intercollegiate. Sophomore Jimmy Beck won his first career individual crown at the Owls' final event of the fall.

East Tennessee State (No. 75)

Notched top-5 finishes at the Tar Heel Intercollegiate and Warrior Wave Intercollegiate, and posted a pair of 11th-place finishes at U.S. Collegiate and Mason Rudolph Championship.

Mercer (No. 80)

Third-place finish at Autotrader.com Collegiate in Duluth, Ga., was the highlight of the fall season, which also included top 5s at the Ram Masters and Brickyard Collegiate. No individual, however, posted a scoring average below 74.

Florida Gulf Coast (No. 134)

Aside from a record-breaking performance at the Cobra/Puma Invitational in which the Eagles set a 54-hole program record of 27-under 837, FGCU posted finishes of 14th, 15th, eighth and second this fall.

Jacksonville (No. 162)

Dolphins didn't have an ideal fall, finishing no better than fifth. It's only top 5 finish came in the season opener, the Raines Development Group Intercollegiate.

South Carolina Upstate (No. 178)

Spartans won the Rutgers Invitational, but also had a 15th- and 19th-place finishes, both of which came in Kiawah Island, S.C.

Lipscomb (No. 181)

Bisons didn't play as tough a schedule as some of its conference foes, but they did finish second twice and third once this fall.

Northern Kentucky (No. 216)

It was an up-and-down fall for Northern Kentucky, which opened its season with a third-place finish at the Wasioto Winds Fall Kickoff before finishing 11th, 12th, fourth and 10th.

Stetson (No. 231)

Hatters didn't finish better than seventh this fall and also finished eighth at its host tournament, the Stetson/CFSC Invitational.

Conference championship

Atlantic Sun Conference Championship, April 21-23, The Legends Course, Braselton, Ga.

Lance Ringler's prediction

North Florida. The Ospreys are not as strong as they were a year ago. But, will still be the favorite to hold off Kennesaw State and win the A-Sun title. North Florida feature the best trio in the league with Dale returning to the lineup joining MJ Maguire (No. 49) and Kevin Phelan (No. 70).
Golfweek.com readers: We value your input and welcome your comments, but please be respectful in this forum.
---
---
---
---
---
---
---
---
---
---
---
---
---
---
---
---
---
---
---
---
---