College Men
Men's spring preview: Ohio Valley Conference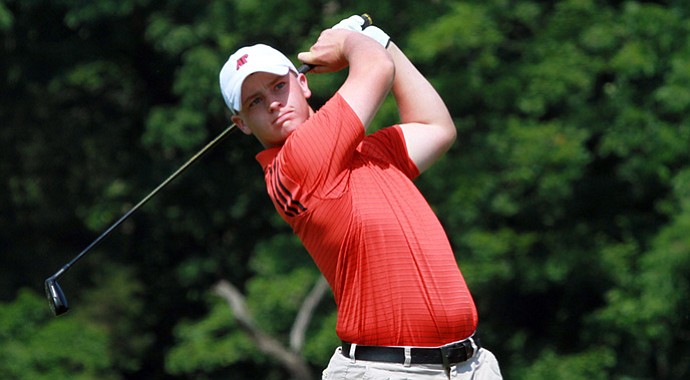 Tuesday, February 5, 2013
In last year's Ohio Valley Conference Championship, Austin Peay junior Anthony Bradley put the competition to shame. He finished with a 54-hole total of 210 (66-71-73) to win the individual crown by three strokes, thus earning a trip to the NCAA regionals.
It was the most bittersweet victory of his life.
With the individual title virtually locked up, Bradley arrived on the 18th tee at the end of he final round with his team hovering around the top of the scoreboard. If he could finish strong, the Governors could claim the team championship.
"There were a lot of screams and cheers going on because the guys were making a lot of birdies," said Bradley, a native of England. "I kind of knew it was close coming down the 18th."
For 53 holes, Bradley left the rest of the OVC's best in the dust. On the 54th, disaster struck as Bradley hit his drive out of bounds. He scrambled for a double bogey.
Austin Peay lost the team championship by one shot to Jacksonville State.
"I wasn't really that nervous," Bradley said. "I was still focused and ready to try to make a par or better, so we could win. Unfortunately, I put a bad swing on it."
Austin Peay coach Kirk Kayden watched the action unfold. After the round, he and the team tried to set Bradley's mind straight.
"I've never seen a person win a golf tournament before and be so disappointed like he was," Kayden said. "One of the things that we stressed to him and the team stressed to him is anybody could have done it. Everybody could have made up one shot here or there."
Bradley became the third Governor to earn an individual NCAA Championship bid, and he finished 56th at his regional. Still, for nine months, Bradley has had the memory of last year's OVC Championship stuck in his head, specifically what happened at the 18th.
"It's an example of how much of a team player he is," Kayden said. "The biggest thing he's concerned about is the team doing well."
This season, Bradley is prepared to help deliver the team title that eluded the Govs last spring. Bradley showed a glimpse of his determination during the fall season as he earned three top-3 finishes and played to a 72.9 scoring average (sixth in the OVC).
Bradley owes some of his fall success to his swing coach and uncle, Nick Bradley. Nick, who works with 2014 European Ryder Cup captain Paul McGinley, has given Anthony a few lessons over the phone.
Bradley also has confidence this season. Playing in the NCAA regionals last season has taken Bradley a long way.
"I go to (regionals) and you've got the best golfers in the nation, in the world," he said. "I was next to Patrick Cantlay, who's on the PGA Tour now. I could see my game was very, very close to their game, and that gives you a lot of confidence. I can win golf tournaments and I can achieve my ultimate goal of becoming a professional golfer."
Kayden saw it, too.
"It gave him this feeling he can be one of the best players in our league and can compete with a lot of good players out there in college golf," he said.
No matter how well he plays individually, redemption is the theme for Bradley and the Govs. Anything short of an OVC Championship will be a bust.
During the winter, Austin Peay has team workouts every Tuesday and Thursday. When the Govs huddle up at the end of the workouts, they put their hands in and recite the same chant.
"OVC champs."
"That's the ultimate goal," Bradley said. "I've done that individually. That's where I want to be, and I think it's time now for the team to win that championship. It'd be huge for the program and huge for all our individual golfers."
The Govs know they are almost there. They just need to play one shot better this year.
• • •
Where it stands now
Top of the Class: Jacksonville State
Best Player in the Fall: Patrick Newcomb, Murray State
• • •
Past champions
2008: Eastern Kentucky
2009: Austin Peay
2010: Murray State
2011: Jacksonville State
2012: Jacksonville State
• • •
Conference capsules
Jacksonville State (Golfweek/Sagarin Ranking: No. 88)

The Gamecocks finished fourth or better in four of their five fall events, including a first-place mark at the Kenny Perry WKU Invitational. Sophomore Tomasz Anderson, sophomore Franco Grillo and senior Andres Schonbaum are all averaging below 74. This team may be primed for a three-peat.

Austin Peay (No. 105)

The Governors sent a message in the fall by finishing in the top 5 in all five events and winning two team titles. Junior Anthony Bradley has a 72.93 scoring average and three top-3 finishes.

Murray State (No. 129)

The college golf year may be a marathon and not a sprint to most teams, but don't tell that to the Racers. MSU won twice in the fall and finished inside the top 4 in every start. Senior Patrick Newcomb is the low scorer in the conference with a scoring average of 71, and helps make the Racers a championship threat.

Belmont (No. 151)

It was a solid fall for the Bruins, who had four top-4 finishes in five events. Sophomore Ted Moon and freshman Ashton Van Horne each had a scoring average of 74. If they can keep it up, Belmont has an outside chance to compete for a conference title.

Eastern Kentucky (No. 179)

A third-place finish at the Purdue/Midwest shootout was the highlight of a tough fall schedule. Sophomore Taylor Riggs and Junior Stewart Witt are the key to the Colonels' success.

Tennessee Tech (No. 208)

A disappointing fall did have one bright spot. Freshman Mitch Thomas (76.29 scoring average) appears to be the future of the Golden Eagles.

SIU-Edwardsville (No. 218)

The Cougars picked up their play to end the fall with three consecutive top-5 finishes. Sophomore Colin McCarty only played in the final two tournaments of the season, but he is second in scoring in the OVC with a 71.5 average.

Tennessee-Martin (No. 224)

The Skyhawks opened the season with a second-place finish at the Wasioto Winds Falls Kick-Off Invitational, but slowed down as the fall progressed. Junior Tyler Shellnut (72.6 scoring average in 11 rounds) could help bring UTM back into contention in the conference.

Tennessee State (No. 245)

A second-place finish at the National Black Hall of Fame Golf Tournament displayed the potential of this team. The Tigers should be hoping senior Cameron Scitern (71.8 scoring average) and company can set things right under interim coach Parrish McGrath.

Morehead State (No. 256)

The Eagles opened the season with a fifth-place finish, but did not crack the top 6 for the remainder of the fall. Seniors Jared Flanery and Crit Reddick have a chance to leave their mark on the program.

Eastern Illinois (No. 278)

EIU finished strong with a sixth place at the Chicago State Cougar Fall Classic. Senior Kevin Flack was the low Panther in all four events (75 scoring average), and had three top-20 finishes.

Conference championship

April 25-27, GreyStone GC, Dickson, Tenn.

Lance Ringler's prediction

Jacksonville State. At the beginning of the season the favorite was Austin Peay with four of its top five players returning, however Jacksonville State, which has won the last two OVC titles, has played the best to this point and will look to make it three in a row.
Golfweek.com readers: We value your input and welcome your comments, but please be respectful in this forum.
---
---
---
---
---
---
---
---
---
---
---
---
---
---
---
---
---
---
---
---
---