College Women
Women's spring preview: Pac-12 Conference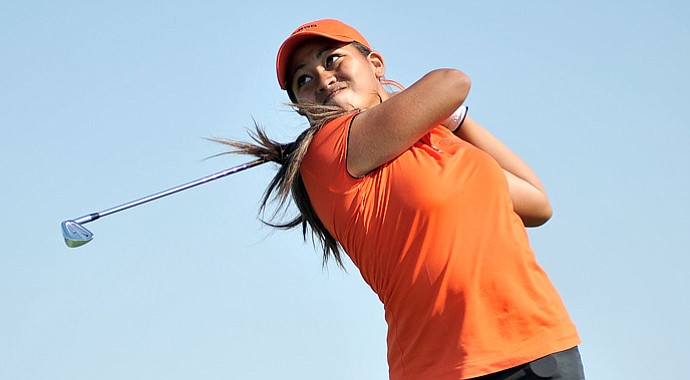 Wednesday, January 30, 2013
At Oregon State, Rise Alexander's squad lives by the phrase "be in the moment." In a conference that includes the top-ranked team in the nation (Washington), and the worst team ranking is No. 84 (Colorado), Oregon State must be in the moment to find success.
In light of that level of competition, Alexander is working with her squad to be physically prepared, nutrionally sound and mentally ready. The Beavers have bought in.
"Last weekend we played 18 holes of qualifying, and the temperature never got above 31 degrees," Alexander said. "Not one of the 11 players on the team had a complaint. I was struck by the fact that they were having fun and supporting each other in such adverse playing conditions. I believe that speaks volumes to their commitment to accomplish their goals."
Alexander has made it one of her personal goals to build a strong schedule, and it's not hard considering the level of competition to which her team has access. Oregon State won't stick just to the West Coast this spring, however. Included in its seven spring starts, which is far more than most teams in the country, are trips to Florida, Texas and Hawaii.
In building the schedule, Alexander had specific goals in mind. She wanted her team to play more 18-hole competitive days than 36-hole ones, and to travel the most in February when weather in the Northwest generally is cold and wet. Oregon State's trip to Hawaii for the Avenue Spring Break Classic falls during the school's spring break, and trips to Florida (UCF Challenge) and Texas (SMU/Dallas Athletic Club Invitational) will expose the Beavers to playing conditions they don't see back home.
"My intent is to prepare them for postseason and give them a vast array of experiences to build their performance on," she said.
With a No. 60 ranking by Golfweek, Oregon State could be on the bubble for the postseason. Alexander saw grit in this squad in the fall, most noticeably at the Stanford Intercollegiate, the Beavers' final fall event, in which they tied for eighth in a loaded Pac-12 field.
"They came back this January ready to play and even through some unseasonably cold weather this month have played and practiced with focus and a like-minded purpose," Alexander said. "They are motivated by their experience last year at the West Regional and their desire to have another opportunity to play in the NCAA Championship."
• • •
Where it stands now
Top of the class: Washington
Best player in the fall: SooBin Kim, Washington
• • •
Past champions
2008: USC
2009: Arizona State
2010: Arizona
2011: Arizona
2012: California
• • •
Conference champions
Washington (Golfweek/Sagarin Ranking: No. 1)

Started the season atop Golfweek's rankings and stayed there. Won two of four fall starts and finished second in the other two. Compiled a 58-2 head-to-head ranking. A big turnaround from the Huskies considering the team didn't even make the NCAA Championship last spring.

USC (No. 3)

Stanford Intercollegiate victory set the tone for spring. Freshman Kyung Kim led the team in scoring in the fall.

Arizona (No. 7)

This year was a fresh start for a young Wildcat roster. Two wins and a fourth-place finisha t Stanford should signal high expectations for spring.

Arizona State (No. 8)

Won its season opener and contended in final fall start. Nothing flashy, but it was a solid fall.

Stanford (No. 22)

Freshmen Mariah Stackhouse and Lauren Kim came up big for first-year head coach Anne Walker. Stanford's spring slate isn't easy – or short.

UCLA (No. 36)

The best finish in four fall events was eighth. Tiffany Lua, a spunky leader for this team, had to sit out with a wrist injury, and the Bruins could never rally without her. UCLA will be without another player in the spring, as sophomore Kyle Roig will not return.

Oregon (No. 40)

Couldn't get anything going during a tough fall schedule, and spring doesn't get any easier.

California (No. 44)

Cougar Cup victory was a bright spot, but Cal posted disappointing finishes at the Fall Preview and the Stanford Intercollegiate.

Oregon State (No. 60)

Four top-10 finishes for the Beavers in the fall. The spring is going to be busy for Oregon State with seven tournament starts before the Pac-12 Championship, including a trip to Florida for the UCF Challenge and a trip to Hawaii for the Avenue Spring Break Classic.

Washington State (No. 67)

A consistent season of top-3 finishes until the Las Vegas Collegiate Showdown, where Washington State finished 15th. The team just got off to a rough start, which could amount to a valuable learning experience.

Colorado (No. 84)

A tough year for the Buffs after losing three players from the five-woman squad that made it to last year's NCAA Championship for the first time in program history. Junior Jenny Coleman provides leadership along with twin sister Kristin.

Conference championship

April 22-4, Valencia (Calif.) CC

Lance Ringler's prediction

USC. Probably the hardest championship to pick a winner. There could be up to five teams that could win the Pac-12. Look for the Trojans to win its first conference title since 2008. USC finished fall strong with win at Stanford and will probably see the Trojans play better this spring.
Golfweek.com readers: We value your input and welcome your comments, but please be respectful in this forum.
---
---
---
---
---
---
---
---
---
---
---
---
---
---
---
---
---
---
---
---
---