Junior Boys
Cover, Walsh raise money via Dormie Cup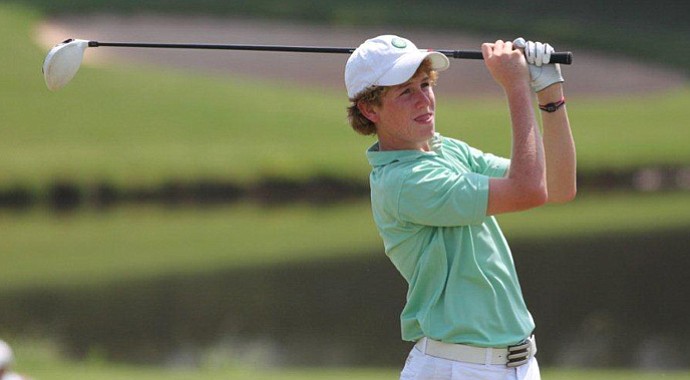 Monday, July 1, 2013
Patrick Cover and Thomas Walsh were kids when they stepped into the private golf club, but they weren't there to play around.
Each aided by an older family member, Walsh, an 8th-grader at the time, and Cover, just one year older, presented their ambitious idea — the start of a charity golf tournament at the Dormie Club in West End, N.C.
"The people [at the Dormie Club] were pretty shocked that we even would think about that," Walsh said. "But they were very supportive of us."
Three years and as many successful tournaments later, the duo has turned its passion for giving back into thousands of dollars for charity and an annual tradition — the Dormie Cup.
The USGA and AJGA teamed up to recognize Cover for his work with the Dormie Cup and several other organizations, naming him the Presidents' Leadership Award recipient for 2013. One boy and one girl are selected for the award each year for their leadership, character and community service through involvement in the Leadership Links program.
Winning the 2013 award on the girl's side is Divya Manthena. The pair will be honored on July 10 at the Rolex Tournament of Champions, the prestigious junior invitational that Cover and Manthena have earned an exemption to as part of the honor. They also will receive tickets to a future U.S. Open.
Cover, a rising high school senior, is excited for the Rolex Tournament of Champions, but the real rewards of community service come to him in the form of feelings and interactions.
"Ever since the first time I [volunteered], it's kind of addicting. You want to do more," Cover said. "You feel really good inside after you do it and if I didn't do it again next year, I would get a bad feeling. It makes you feel like you're giving back."
Said Walsh: "Patrick and I have been so fortunate in golf. …The people I've met, the things I've done, the person I've become — everything is so much better than it would be without the sport. Golf has shaped us. Since it's done that for us, we thought we should give back to the less fortunate."
The event has taken off over the past three years. Supporting charities like the Wounded Warrior Project, the Nicklaus Children's Health Care Foundation and The First Tee of the Sandhills, the cup has helped raise thousands of dollars.
Under Cover and Walsh's direction, the 22-player tournament raised more than $46,000 for the Nicklaus Children's Health Care Foundation in 2012.
And with each charity supported, Cover and Walsh are able to gain some perspective.
"The first year was insane, because we did it with the Wounded Warriors and we had two guys [there] that had come back from Iraq like the week before," Cover said. "The stories they told were just mind blowing. Just things we couldn't even think of. It was incredible to meet them and listen to their stories."
Noah Spivey, a 15-year-old cancer patient, visited tournament participants last year.
"When he hit a putt, he would talk about how much he loved putting. And things we take for granted like that," Cover said. "When I'm putting on a golf course I'm not thinking about how much I love it, I'm thinking about how much I'd hate if I miss this putt.
"He doesn't care if he misses, he just wants to have a club in his hand and hit the ball. It makes you feel a lot better when you spend time with them."
Charities aside, both Walsh and Cover are focused on their game as well.
Cover, a UNC Wilmington commit, and Walsh, a Virginia commit, are both feeling confident right now.
Walsh is coming off of one of his top finishes of the season at the FootJoy Invitational on June 14 — even after spraining an ankle and breaking a bone the day before the tournament.
Cover fired a round of 69 in the first day of the Southern Junior on June 13, before coming unraveled with an 82 in the final round. But, he says he has the game to match up with some of the country's best in the Rolex.
Regardless of the tournaments the pair has planned for the rest of the summer, there's one looming that has them both excited.
The fourth annual Dormie Cup will likely take place in October, according to Cover.
And with it, another chance to give back for the young golfers.
Golfweek.com readers: We value your input and welcome your comments, but please be respectful in this forum.
---
---
---
---
---
---
---
---
---
---
---
---
---
---
---
---
---
---
---
---
---