College Men
Bama's Bradley to Purdue; McGraw to aid Seawell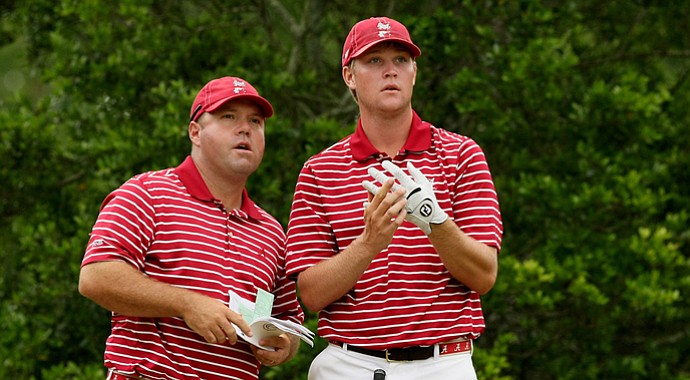 Sunday, July 14, 2013
Rob Bradley has been named the head men's golf coach at Purdue. Bradley will work with his former North Carolina coach Devon Brouse, who remains the director of golf at Purdue. Brouse is entering his 16th year as Purdue's head women's coach.
Meanwhile, former Oklahoma State head coach Mike McGraw will replace Bradley as Alabama head coach Jay Seawell's assistant. Bradley spent the 2012-13 season as Seawell's assistant, helping guide the Crimson Tide to the national championship in June.
Before arriving at Alabama, Bradley was the assistant coach at North Florida from 2009 to '12, during which time the Ospreys qualified for NCAA regionals three times and advanced to the national championship twice.
"I am looking forward to coaching at a university with such high academic and athletic standards," Bradley said. "The Birck Boilermaker Golf Complex is a first-class facility that displays the university's commitment to both men's and women's golf. I am excited to begin working with this talented group of players as we begin to take Purdue men's golf to the next level."
Assistant coach Brian Brodell, who is entering his third season at Purdue, will work as a men's assistant coach under Bradley, while Caroline Haase will begin her fourth season as an assistant women's golf coach for Brouse. The women's team achieved its eighth consecutive top-10 NCAA Championship finish under Brouse this spring, and that streak includes the national title in 2010.
As for McGraw, he will assist Seawell in day-to-day operations of the program and also will serve as the recruiting coordinator and assist in player development. McGraw was fired last month after eight years as head coach at Oklahoma State.
"I'm really excited to have Mike (McGraw) onboard," Seawell said. "He is one of the great coaches in college golf. He is a good friend, but more importantly, he has a track record of knowing how to win championships. We are just thrilled that he has accepted the opportunity to be a part of Alabama golf. Mike will be an excellent asset for our players and will help us continue our pursuit to be the best college program in the country."
–Information from Purdue Athletics, Alabama Athletics used in this report
Golfweek.com readers: We value your input and welcome your comments, but please be respectful in this forum.
---
---
---
---
---
---
---
---
---
---
---
---
---
---
---
---
---
---
---
---
---