Stackhouse, Park fall in North & South quarters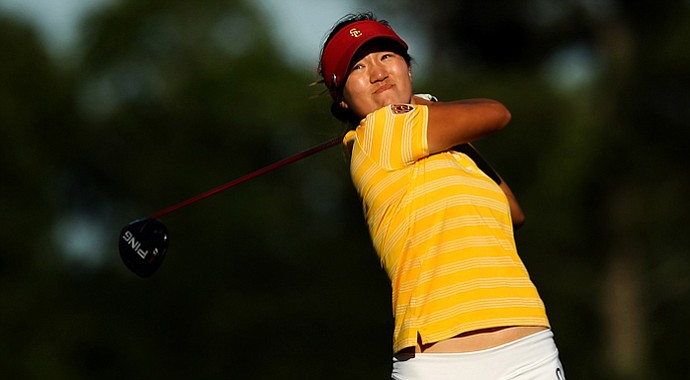 Friday, July 19, 2013
Big names fell Friday in the quarterfinals of the North & South Women's Amateur. Stroke-play medalist Mariah Stackhouse of Stanford defeated Emma Lavy, 5 and 4, in the morning only to lose to Columbia's Michelle Piyapattra in the afternoon, 1 up. NCAA Champion Annie Park also fell Friday afternoon at Pinehurst No. 2. She lost to Mississippi State's Ally McDonald.
McDonald and Piyapattra will face off Saturday in the semifinals. The second match will pit recent UC Davis graduate Demi Runas against junior golfer Yueer Cindy Feng.
Runas took down Hayley Bettencourt and Rinko Mitsunaga on Friday while Feng defeated North Carolina's Katherine Perry then ended Ashlan Ramsey's run. Ramsey has won three amateur titles this summer.
• • •
ROUND OF 16
Mariah Stackhouse def. Emma Lavy, 5 and 4
Michelle Piyapattra def. Cathleen Santoso, 2 up
Annie Park def. Monifa Sealy, 3 and 2
Ally McDonald def. Cyna Rodriguez, 2 and 1
Demi Runas def. Hayley Bettencourt, 1 up
Rinko Mitsunaga def. Christine Wong, 20 holes
Ashlan Ramsey def. Brooke Henderson, 19 holes
Yueer Cindy Feng def. Katherine Perry, 2 and 1
QUARTERFINALS
Piyapattra def. Stackhouse, 1 up
McDonald def. Park, 1 up
Runas def. Mitsunaga, 3 and 2
Feng def. Ramsey, 3 and 2
Golfweek.com readers: We value your input and welcome your comments, but please be respectful in this forum.
---
---
---
---
---
---
---
---
---
---
---
---
---
---
---
---
---
---
---
---
---