Rose watches plan blossom with win in major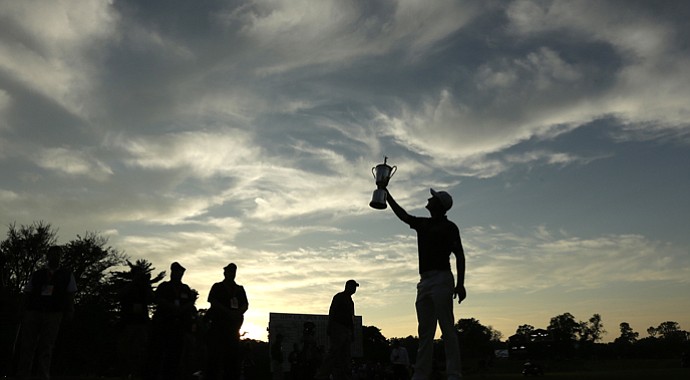 Tuesday, June 18, 2013
ARDMORE, Pa. — Many people love the U.S. Open because it pushes the game's best players to the limit, and sometimes beyond. For those fans, Sunday's action at historic Merion Golf Club was divine theater, at some moments tragic and at others almost comical, complete with shanks, skulls, big numbers and drama. In the end, it came down to who could avoid catastrophes on a rain-softened, venerable course that many felt at the beginning of the week was going to yield low numbers.
That man wound up being Justin Rose, 32, who made five birdies and five bogeys en route to an even-par 70 that left him at 1 over par and at the top of the leaderboard. With the win, Rose becomes the first English winner of the U.S. Open since Tony Jacklin won at Hazeltine National Golf Club in 1970. He is also the first English major winner since Nick Faldo won the 1996 Masters.
Phil Mickelson, who had either the lead or a share of the lead after each of the first three rounds, shot 74 Sunday to finish tied for second with Australia's Jason Day at 3 over par.
With the tournament on the line, Rose played the 18th hole, which statistically played as the second-hardest on the course Sunday, nearly to perfection. After hitting the fairway off the tee, Rose hit an excellent 4-iron shot ("I felt I did it justice") that ran through the green and stopped in the back fringe.
"I took the gamble with the 3-wood," Rose said, referring to his decision to go with the fairway wood instead of a short iron or a wedge to chip with on this third shot. "I wanted to treat it like a putt shot."
The ball came off the face perfectly and almost curled into the hole, stopping just inches away. "I was happy to make four and get out of there," Rose said.
As he waited for Luke Donald, his fellow competitor who had long before fallen out of contention, Rose looked to the blue sky above him, held back some tears and pointed upward.
"Yes, the look up to the heavens was absolutely for my dad. Father's Day was not lost on me today," he said. "You don't have opportunities to really dedicate a win to someone you love and today was about him and being Father's Day."
Rose said he was moved and inspired throughout the day by a text message he got Sunday from his swing coach, Sean Foley. It said that Justin should be the man his dad taught him to be, to be the man his kids can be proud of and look up to.

Clutching the trophy, Rose said he was also thrilled that a new mindset for major championships clearly paid off.
"I committed myself to the process this week. I committed myself to putting a strategy in place that I hoped would work in five to 10 years in delivering major championships," he said. "To strike on that the first week out, first time I tried and tested it, to come out with the silver it feels absolutely amazing."
Phil's fans felt amazing when he hit a 64-degree wedge shot out of the rough from on the 10th hole and watched the ball go into the hole 75 yards away. The eagle vaulted him back into the lead, but it didn't last.
Tied with Rose while playing the 121-yard, par-3 13th hole, Mickelson hit a draw with his pitching wedge that bounced off the back of the green and into deep rough behind the hole. When he missed the par-saving 20-footer, Rose was back in the lead.
Instead of finally winning an elusive first U.S. Open title, Mickelson, who turned 43 Sunday, became a runner-up for a record-setting sixth time.
"For me, it's very heartbreaking," he said. "This could have been a really big turnaround for me on how I look at the U.S. Open and the tournament that I'd really love to win after having so many good opportunities."
Mickelson is in the Hall of Fame, he's won the Masters three times, and he won the 2005 PGA Championship, but the U.S. Open is clearly the event that he covets most right now. Unfortunately, like Apollo Creed kept sending Philadelphia's Rocky Balboa slamming to the canvas in the movies, the U.S. Open keeps landing haymakers that send Mickelson reeling.
"Playing very well here and really loving the golf course, this week was my best opportunity," he said.
Remember, this is coming from a man who lost on the 72nd hole at Pinehurst No. 2 to Payne Stewart in 1999, the man who was outdueled by Tiger Woods in 2002 and Retief Goosen in 2004 and lost the U.S. Open at Winged Foot in 2006 after hitting a tee shot on the last hole off a hospitality tent. Mickelson was also a runner-up in 2009 at Bethpage Black.
"This one's probably the toughest for me, because at 43 and coming so close five times, it would have changed way I look at this tournament altogether and the way I would have looked at my record," he said. "I just keep feeling heartbreak."
Jason Day, who was a runner-up to Rory McIlroy at Congressional in 2011, started Sunday feeling as if it might be the day he would his first major.
"When I woke up this morning, I was very calm," Day said after signing for 71 Sunday. "It just felt right. I played some nice golf; hit a lot of good quality shots."
Unfortunately, he also let some precious strokes slip away down the stretch. While Day miraculously pitched in for bogey after putting his second shot in the water on the 11th hole, he backed off a par-saving putt on the 14th and then struck it tentatively and watched the ball break across the hole. That bogey would prove costly, dropping him to 2 over, and when Day added another at the closing hole, he'd finish two back.
"At the start of the week everyone was talking about how they were going to rip the course up," Day said Sunday evening. "So I guess this shut everyone up."
Rose echoed that sentiment in the media center a few hours later.
"I certainly didn't buy into the 62s and 14 under, but I figured that maybe 4, 5, 6 under par would be the winning total," he said with the U.S. Open trophy safely within arm's reach. "It surprised everybody. And I'm just glad I was kind of the last man standing."
Golfweek.com readers: We value your input and welcome your comments, but please be respectful in this forum.
---
---
---
---
---
---
---
---
---
---
---
---
---
---
---
---
---
---
---
---
---