Park falls, Chen remains at Women's Publinx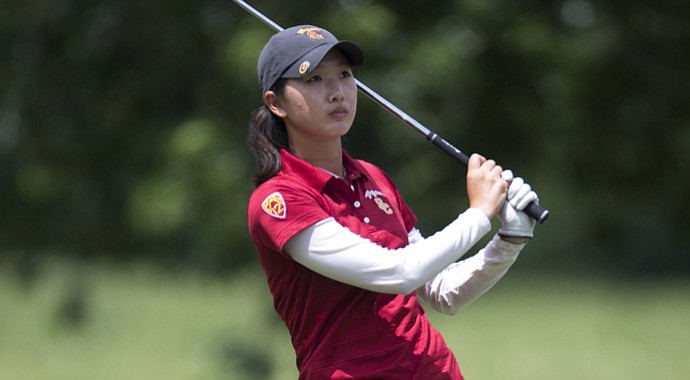 Wednesday, June 19, 2013
After the first round of match play at the U.S. Women's Amateur Public Links, one co-medalist stands and one is headed home.
Annie Park, the standout first-semester freshman at USC who recently won the NCAA individual title, lost to Ciera Min Tuesday at the Jimmie Austin OU Golf Club in Norman, Okla. Min beat Park, 6 and 4.
"I knew she was a great player," Min said. "It's humbling. Two years ago I played against [two-time Curtis Cup Team member] Tiffany Lua [at the WAPL] and now I draw Annie. I was like, 'Wow, I get the best draws in these tournaments.' "
Park was among three current USC players to make match play. Teammate Doris Chen, the other co-medalist, advanced to the Round of 32 by defeating Abbey Carlson, 4 and 3. Chen already is a USGA champion, having won the 2010 U.S. Girls' Junior.
The third Trojan, defending WAPL winner Kyung Kim, also advanced with a 6-and-4 victory over Monica Poomcharoen.
Recent UC Davis graduate Demi Frances Runas also fell on Tuesday to Rachelle Santos. So did 10-year-old Lucy Li, who lost, 3 and 2, to Ember Schuldt.
Among the three Oklahoma players competing on their home course this week, only Chirapat Jao-Javanil and Anne-Catherine Tanguay will move on. Taylor Schmidt lost to Pepperdine standout Grace Na on the 19th hole.
Casey Danielson, No. 3 the final stroke-play leaderboard, beat Kuriko Tsukiyama, 1 up, to advance. South Atlantic Amateur champion Kelly Shon, a Princeton senior, earned a lopsided 6-and-5 victory over Alison Hovatter.
ROUND OF 64
Ciera Min def. Annie Park, 6 and 4
Raychelle Santos def. Demi Frances Runas, 1 up
Robynn Ree def. Sierra Brooks, 1 up
Chirapat Jao-Javanil def. Madison Opfer, 1 up
Ashley Holder def. Mercedes Huarte, 19 holes
Ember Schuldt def. Lucy Li, 3 and 2
Grace Park def. Maria Villegas, 4 and 3
Cindy Ha def. Kaitlyn Papp, 20 holes
Kyung Kim def. Monika Poomcharoen, 6 and 5
Briana Mao def. Patricia Wong, 6 and 5
Krystal Quihuis def. Kendall Martindale, 4 and 3
Louise Yi def. Abby Newton, 6 and 4
Ericka Schneider def. Mariel Galdiano, 2 and 1
Lauren Diaz-Yi def. Katie Jean, 4 and 3
Grace Na def. Taylor Schmidt, 19 holes
Lucy Nunn def. Lacey Fears, 5 and 4
Doris Chen def. Abbey Carlson, 4 and 3
Allyssa Ferrell def. Harley Dubsky, 5 and 4
Kris Yoo def. Mallory Viera, 5 and 3
Allisen Corpuz def. Chonlada Chayanun, 2 and 1
Chaewon Park def. Julia Calbi, 3 and 2
Krista Puisite def. Sarah Kellam, 2 and 1
Kelsey Vines def. Clariss Guce, 6 and 4
Casey Danielson def. Kuriko Tsukiyama, 1 up
Aurora Kan def. Hannah Wood, 5 and 4
Karen Chung def. Vaness Ha, 4 and 3
Catherine Dolan def. Lauren Cate, 2 and 1
Julie Yang def. Lakareber Abe, 4 and 3
Jade Staggs def. Rika Park, 2 and 1
Kelly Shon def. Alison Hovatter, 6 and 5
Whitney French def. Hannah Sodersten, 1 up
Golfweek.com readers: We value your input and welcome your comments, but please be respectful in this forum.
---
---
---
---
---
---
---
---
---
---
---
---
---
---
---
---
---
---
---
---
---