Tee times: U.S. Women's Open, second round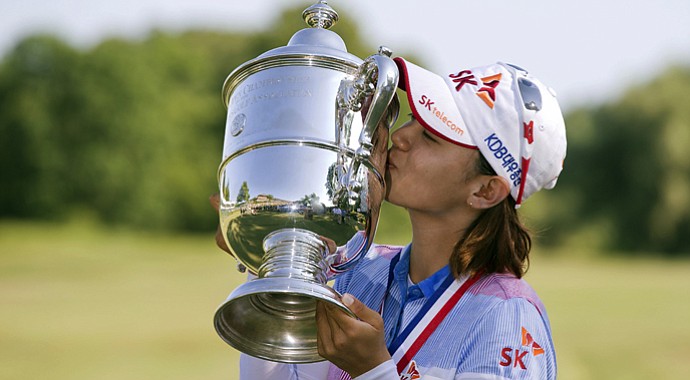 Friday, June 28, 2013
The 68th U.S. Women's Open begins next week on Long Island and pairings are out for the opening rounds. Highlights include the group of 2008 USWO champ Inbee Park, Stacy Lewis and Suzann Pettersen, set for their second-round tee time of 1:25 p.m. EDT on Friday.
2012 USWO champion Na Yeon Choi will be joined by last year's U.S. Women's Amateur champ Lydia Ko and Brittany Lincicome. Another featured group: Yani Tseng, Paula Creamer, and I.K. Kim.
The 2013 U.S. Womem's Open is being played for the first time at the par 72, 6,796-yard Sebonack Golf Club in Southampton, N.Y. The field of 156 players will be cut to low 60 scores and ties.
• • •
AFTERNOON
NO. 10 TEE
12:30 p.m.: Chelsea Harris, Ayako Uehara, Jamie Hullett
12:41 p.m.: Alice Kim, a-Erica Herr, a-Elizabeth Schultz
12:52 p.m.: Aimee Cho, Macarena Silva, a-Gabriella Then
1:03 p.m.: Christi Cano, a-Emily Tubert, Caroline Westrup
1:14 p.m.: Stephanie Sherlock, Elena Robles, Tiffany Lua
1:25 p.m.: Jenny Shin, Carly Booth, Belen Mozo
1:36 p.m.: Jane Park Danielle Kang, Mariajo Uribe
1:47 p.m.: Na Yeon Choi, a-Lydia Ko Brittany Lincicome
1:58 p.m.: Sun Young Yoo, Se Ri Pak, Jennifer Johnson
2:09 p.m.: Miki Saiki, Karen Stupples, Caroline Masson
2:20 p.m.: Sophie Gustafson, Natalie Gulbis, Je-Yoon Yang
2:31 p.m.: Jennifer Rosales, Kristy McPherson, Becky Morgan
2:42 p.m.: Charyoung Kim, Lindsey Wright, Yoonkyung Heo
NO. 1 TEE
12:30 p.m.: Jackie Barenborg Stoelting, a-Yueer Feng, Amelia Lewis
12:41 p.m.: Tiffany Tavee, Lindy Duncan, a-Kyung Kim,
12:52 p.m.: Kirby Dreher, a-Nelly Korda, Rachel Rohanna
1:03 p.m.: a-Doris Chen, a-Kelli Bowers, Felicity Johnson
1:14 p.m.: Meena Lee, Katie Futcher, Pernilla Lindberg
1:25 p.m.: Inbee Park, Stacy Lewis, Suzann Pettersen
1:36 p.m.: Vicky Hurst, Michelle Wie, Eun-Hee Ji
1:47 p.m.: Ai Miyazato, Lexi Thompson, Karrie Webb
1:58 p.m.: Alison Walshe, Jodi Ewart Shadoff, Candie Kung
2:09 p.m.: Danah Bordner, Sarah-Jane Smith, Mi Jung Hur
2:20 p.m.: Carlota Ciganda, Karine Icher, Caroline Hedwall
2:31 p.m.: Karin Sjodin, Momoko Ueda, Soo Jin Yang
2:42 p.m.: a-Nicole Zhang, Stacey Keating, Nicole Jeray
• • •
Morning
NO. 10 TEE
6:45 a.m.: Paz Echeverria, a-Karinn Dickinson, Caroline Powers
6:56 a.m.: a-Brooke Mackenzie Henderson, P.K. Kongkraphan, TBD
7:07 a.m.: a-Mariah Stackhouse, Irene Cho, Katy Harris
7:18 a.m.: Maude-Aimee Leblanc, Austin Ernst, Taylore Karle
7:29 a.m.: TBD; Moira Dunn, Pornanong Phatlum
7:40 a.m.: Mika Miyazato, Gerina Piller, Julieta Granada
7:51 a.m.: Morgan Pressel, Azahara Munoz, Hee Kyung Seo
8:02 a.m.: Amy Yang, Brittany Lang, Haeji Kang
8:13 a.m.: I.K. Kim, Paula Creamer, Yani Tseng
8:24 a.m.: Katherine Hull-Kirk, Christina Kim, Juli Inkster
8:35 a.m.: Chie Arimura, Ilhee Lee, Sandra Gal
8:46 a.m.: Hee-Won Han, Cynthia Lacrosse, Sydnee Michaels
8:57 a.m.: Laura Diaz, Janice Moodie, Birdie Kim,
NO. 1 TEE
6:45 a.m.: Catherine Matranga, a-Shannon Aubert, Kendra Little
6:56 a.m.: Megan Grehan, a-Mariel Galdiano, Ji Young Oh
7:07 a.m.: a-Annie Park, Izzy Beisiegel, Christine Song
7:18 a.m.: Emily Childs, Thidapa Suwannapura, a-Casie Cathrea
7:29 a.m.: Giulia Sergas, Hee Young Park, Chella Choi
7:40 a.m.: Mina Harigae, Mo Martin, Nicole Castrale
7:51 a.m.: TBD; Angela Stanford, Lizette Salas
8:02 a.m.: Cristie Kerr, Jiyai Shin, So Yeon Ryu,
8:13 a.m.: Beatriz Recari, Catriona Matthew, Jessica Korda
8:24 a.m.: Ariya Jutanugarn, Anna Nordqvist, Shanshan Feng
8:35 a.m.: Kris Tamulis, Tiffany Joh, Lorie Kane
8:46 a.m.: Brooke Pancake, Ha-Neul Kim, Dewi Claire Schreefel
8:57 a.m.: a-Alexandra Kaui, Jessica Shepley, Sally Watson
Golfweek.com readers: We value your input and welcome your comments, but please be respectful in this forum.
---
---
---
---
---
---
---
---
---
---
---
---
---
---
---
---
---
---
---
---
---