Cauley makes video-game debut in night-golf spot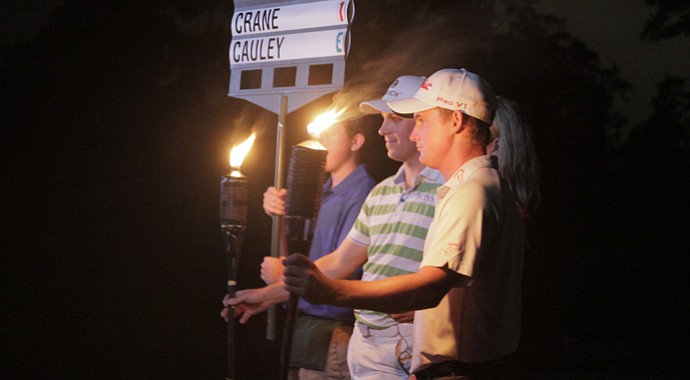 Monday, March 11, 2013
---
Video
Golf After Dark: Ultimate TPC Sawgrass Challenge
---
PONTE VEDRA BEACH, Fla. – Bud Cauley estimates he's played the Players Stadium Course at TPC Sawgrass some 50 times.
That number, though, doesn't include the times he used to sneak onto the course as a teenager to play the par-3 17th after sunset.
"I've snuck out here a couple times and played," Cauley said. "I guess it's no secret anymore."
Cauley is now a full-time member on the PGA Tour, has played in a Players Championship (he missed the cut in 2012) and practices at the private end of the range at TPC Sawgrass. So it's safe to say he won't have to play one of the toughest tests in golf in the pitch black anymore.
But with glow-in-the-dark balls, glow sticks lining the fairway and a glowing flagstick? Now that's a different story.
The former University of Alabama standout was back in his hometown of Jacksonville, Fla., last October to film a promotion for the new night golf feature in EA Sports' Tiger Woods PGA Tour '14. Cauley and fellow PGA Tour player Ben Crane went head-to-head in a match of night golf on Nos. 15-17 at the Players Stadium Course.
"To be able to come out here and play at night in the dark with glow sticks lining the fairway, I don't think there's three better holes for it," said Cauley, who would lose the three-hole match with Crane.
Night golf will be featured for the first time in the video game franchise and will provide players with the option to play not only the Players Stadium Course, but several other famous courses, as well. It will also be Cauley's first time in the game.
"It's an honor for me to be a part of the game my first year on the Tour and I obviously grew up playing a lot of Tiger Woods on PlayStation, so it's pretty cool," Cauley said.
---
Video
EA Sports' Tiger Woods '14: Lexi Thompson
---
Cauley is one of four new additions to the game this year along with Keegan Bradley, Stacy Lewis and Lexi Thompson. Cauley made the rare jump from college to the pros without going through Q-School. He has made 41 starts in his PGA Tour career, notching eight top-10s, including two third-place finishes, and earning $2,580,001.
Despite his professional success – Cauley was a nominee for the PGA Tour Rookie of the Year award last season – he's just like any other 22-year-old: he enjoys playing video games, which made him a perfect fit for the night golf addition.
"Personally for me, with all my friends, they all play the game," Cauley said. "It would be cool to sit down with them, maybe I can play as myself against them in the game, so that'd be a lot of fun."
Cauley arrived at TPC Sawgrass just before sunset on a warm night last October. After a sit-down interview for the game, a little warm-up session and a quick tutorial on the Xbox, Cauley sat down for a quick dinner. But shortly after, he was itching to get back to the Xbox to get more practice on the game.
Crane, whose flight was delayed in Atlanta, showed up just after sunset. And after a comical segment around the Xbox on the second-floor of the Perch – one that included the normal silliness from Crane – the two set out for the par-5 15th.
With torches surrounding the tee box, Cauley and Crane were given the ground rules – you can only use each club once and the winner gets the title of first-ever EA Sports Night Golf champion – and their balls – Cauley went with Alabama red while Crane chose Oregon green.
The two bombed their drives down the fairways, streaks of red and green lighting up the dark sky. On No. 17, both found the green with Crane shouting, "I'm on land, baby!"
Said Cauley: "You (aren't) able to see the water, so that's what scares you in the first place."
It was a unique experience for Cauley, and it sure beat sneaking on the course in the dark. It's also an experience that no one else will likely get a chance at.
So for gamers who want their crack at No. 17? They'll just have to settle for the game.
Golfweek.com readers: We value your input and welcome your comments, but please be respectful in this forum.
---
---
---
---
---
---
---
---
---
---
---
---
---
---
---
---
---
---
---
---
---