Weekly top 5: Could March Madness work in college golf?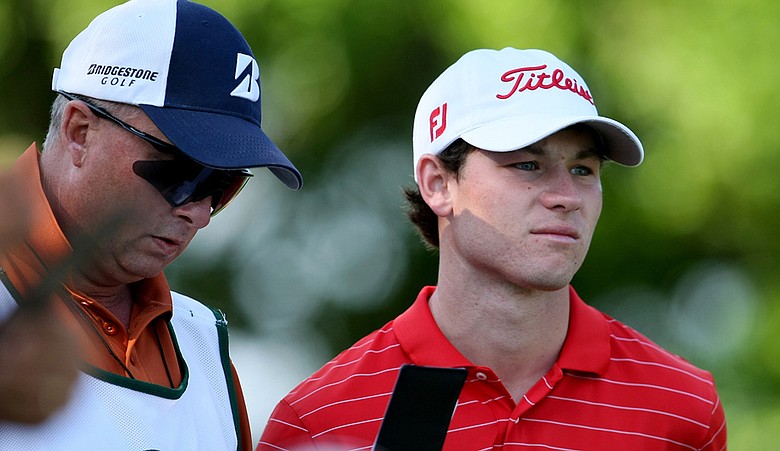 Sunday, March 17, 2013
The percentage of players who play professional sports after a career in college athletics is very small. Those who are fortunate enough to play in the NFL, NBA or MLB often were evaluated against their peer group and had the door opened through a draft of college or amateur players. That's never been the case with the PGA or LPGA tours. There always has been a qualifying school that the college stars had to enter alongside veteran players who might have spent as many as 20 years playing for pay.
I have always thought it would be a good thing if the professional golf tours would hold a very simple draft day-like event to give instant access to a few college players once the collegiate season was completed. That idea leads me to this week's top 5:
Last week at Las Colinas Country Club in Irving, Texas, a one-day, 18-hole tournament offered two spots into next month's North Texas LPGA Shootout. Out of the 18 players in the field, North Carolina junior Casey Grice and Texas senior Madison Pressel earned the chance to play with the pros. Just imagine if the PGA Tour or even the LPGA Tour held a 72-hole event with one fully exempt card on the line for the remainder of the season, or even the next year. Would that be a bad thing?
With the NCAA men's basketball championship looming large on everyone's radar this time of the year, could you imagine the excitement of a 64-team match-play championship in college golf to decide the national champion? It certainly would be exciting, but the current format of the NCAA men's golf championship is good enough for now. The stroke-play part of the national championship acts as a filter system, making those eight spots on the match-play bracket something every team covets. Upsets are a lot more common in match play and we almost saw one of those this past week when Duke played Division II Grand Canyon in an 18-hole match-play contest. The match ended in a 3-3 tie.
The California men have won eight times this year and have a head-to-head record of 120-2-1. The only two schools that have beaten the Golden Bears are TCU and New Mexico, and both are top-10 programs at this point in the season. The record for most victories in a season is believed to be 10, which is how many the Oklahoma State men won during the 1985-86 season. Steve Desimone's squad has four events left and most likely a fifth if it advances out of NCAA regional play the to the NCAA finals. Eleven wins is possible in a single season.
Abilene Christian's Alex Carpenter made it 18 career wins this past week with a victory at the St. Edward's Invitational. Carpenter posted an opening-round 66 to cruise to a 3-under 213 total. Carpenter, a senior, has now won twice this season. He won four events his junior season, seven during his sophomore year and four as a freshman.
The Ball State men's team is trying to secure its first at-large bid into the postseason since the previous format (regional allocations) was changed. The Cardinals, playing in their first stroke-play event of the spring season, won the Pinehurst Intercollegiate on March 12. It was Ball State's second victory in five stroke-play tournaments so far this year, and it was important for the Cardinals to finish atop the field to add to the body of work they started last fall. This event will go a long way in securing that spot.
Golfweek.com readers: We value your input and welcome your comments, but please be respectful in this forum.
---
---
---
---
---
---
---
---
---
---
---
---
---
---
---
---
---
---
---
---
---