College Men
Player Diary: California's Max Homa (Part 9)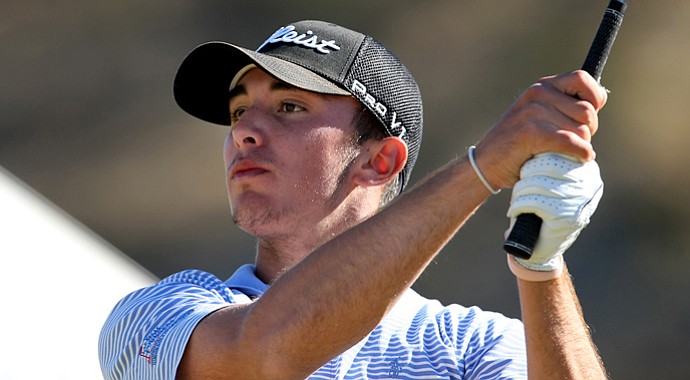 Wednesday, May 15, 2013
Hey golf fans!
Hope all is well on the links. I'm not going to lie, writing this blog is about the most fun thing I've done this week because of finals. I guess that's the price I pay to live the life of a college golfer.
I can't really complain though since I just got to play Los Angeles CC, one of the top courses in the country. I had heard a lot about it, but in my 22 years in Southern California, I had not been fortunate enough to play. I was excited to see the wonders of the course, but I was also excited because of the opportunity to play in the Pac-12 championship. It's an honor to play for a conference title, especially in the Pac-12 because of the stiff competition. Lucky for us, Roger Cleveland (Yes, Mr. Cleveland himself) was the speaker at the team dinner the night before the practice round. It was awesome getting to hear his input on belly putters, grooves, and golf in general.
Playing the practice round was pretty eye opening. The course was extremely long while the greens were firm and lighting fast. It was going to be important to keep the ball in the fairway so you could have the best chance of staying below the pins. The first round was underway, and the team got off to a good start. Michael Weaver and I were fortunate enough to post some low numbers to help the team get out to an early lead. I happened to shoot a 61, which broke the course record. This meant a lot to me because of my upbringing in Los Angeles, and the fact that I did it in front of a lot of friends and family. Unfortunately, there was no time to celebrate because there was another round in the afternoon. I quickly ate a hamburger and had to walk over to the first tee. The course set up was much harder for the rest of the tournament. It was basically all about survival. We did a good job of fighting for every stroke and managed to have a decent lead heading into the third round.
The next day brought more of the same situations. A lot of long irons to tucked pins with firm greens meant there weren't going to be many birdie opportunities. There was even a 290-yard par-3. That was mind-blowing. The key to that day was patience, and I felt like we did that. UCLA finished their round up very nicely and made up quit a bit of ground on us. We were only leading by two at the end of the day. After the round, we spent some time practicing and it seemed like everyone was getting more confident about our games.
That night, and into the next morning, everyone was pretty nervous, but we reminded each other that we had been here before so we needed to rely on our experience. I was extremely nervous because I had a lead for the first time since August in a tournament I regard very highly. The key to that day was the fast start we got off to in the beginning of the round. This settled us down and enabled us to play conservatively on all the demanding holes. We managed to maintain the lead and finished with a win. In addition, I also won the individual title. It meant so much to me to win both the team and individual honors because we had so much support that week.
I want to thank everyone who came out to support us, especially my mom and dad. It's an honor to win Pac-12's, and it felt great to finally get a solo college victory after all the runner-up finishes. I can say it was worth the wait. I want to thank Coach Freeman for putting on such a flawless event, and also the crew at LACC for everything they did to make the championship so special.
Unfortunately, it's been back to reality the last week and a half. We have had to split time between studying and practice because we are preparing for regionals in Pullman, Wash. The NCAA regional is always the most stressful event of the year, so hopefully finals fatigue doesn't do too much damage.
I hope everyone following along on Golfstat can hold on to their sanity because I'm sure it's going to be tense. Wish us luck!
Go Bears!
Golfweek.com readers: We value your input and welcome your comments, but please be respectful in this forum.
---
---
---
---
---
---
---
---
---
---
---
---
---
---
---
---
---
---
---
---
---