Zalatoris among juniors to watch at U.S. Am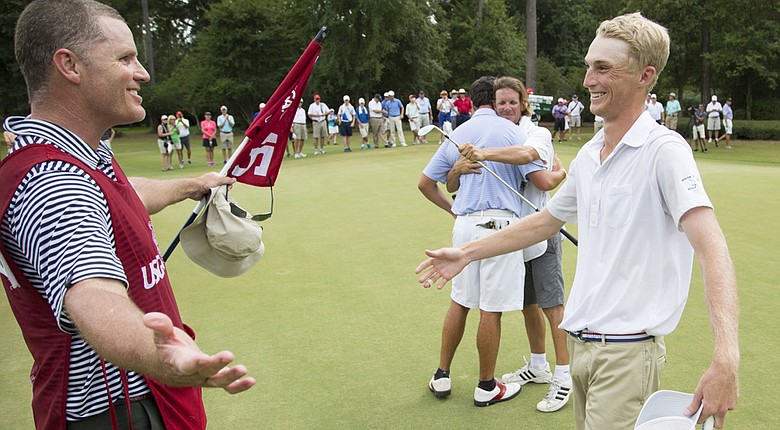 Sunday, August 10, 2014
When Will Zalatoris finally got to his phone a couple of hours after winning the U.S. Junior Amateur last month, he was a little shocked.
"It was insane – 143 texts, 28 missed calls, gained 100 followers on Twitter," said Zalatoris, a 17-year-old from Plano, Texas. "My phone was literally about to explode. . . . and I'm still getting them (texts and phone calls)."
The newly-gained fame didn't stop there. While waiting in an airport terminal to catch a flight to Atlanta two Fridays ago to practice for the U.S. Amateur, a man and his son walked up to Zalatoris, who was unassumingly sitting on the floor near the gate.
"They came up and said, 'Aren't you Will?' So I talked to them for a little bit," Zalatoris said. "Then on the plane, a guy across the aisle from me goes, 'Are you Will by chance?' Kind of crazy."
While Zalatoris has gotten plenty of attention since his big victory at The Club at Carlton Woods, he knows none of it will matter this week at Atlanta Athletic Club. He'll begin play Monday as one of 156 participants, all with an equal chance of capturing that coveted U.S. Amateur title.
"It's been easy flipping that switch (from the U.S. Junior to the U.S. Amateur)," Zalatoris said. "I'm never a kid that really gets complacent. . . . I took three days off and the day I got back out there I was already prepping (for the Amateur)."
Zalatoris credits his instructor for teaching him that complacency. When Zalatoris would feel good about completing a drill in practice, David Price, who teaches out of Bent Tree Country Club in Dallas, would quickly say, "Not bad, for a kid."
A Wake Forest signee, Zalatoris has also showcased a knack for staying patient. After each match-play victory at Carlton Woods, patience was the first thing Zalatoris touched on – "I might have worn everyone out with that, but it was true," he said. He went down in matches only to rally back, partly because of his strong play, but also due to his unwavering mental game.
In match play, having the right mindset can be just as important as hitting good shots. That's where former Web.com Tour player Scott Fawcett comes in.
Fawcett, who lives in Dallas, caddied for Zalatoris at the U.S. Junior and Texas State Amateur, which Zalatoris also won. The two have known each other for a few years with Fawcett serving as a mentor to the young Texan.
Last month, Fawcett said it was "highly unlikely" that he'd loop for Zalatoris at Atlanta Athletic Club. But shortly after, he changed his mind.
"He loves working with me and it's something that has become a passion for him," Zalatoris said. "It's been fun for both of us."
Zalatoris knows his golf history. He knows he can become the first player since Kelly Kraft in 2011 to win the Texas Amateur, Trans-Miss Championship and U.S. Amateur in the same year. He also knows that no player has ever won the U.S. Junior and U.S. Amateur in the same summer.
Even with the odds stacked against him, Zalatoris remains confident.
"That'd be awesome," Zalatoris said of potentially going back-to-back with the Junior and Amateur. "I'd get to be the first one."
• • •
While Zalatoris is certainly one junior golfer to watch this week, here are four others to keep an eye on at Atlanta Athletic Club:
Sam Burns
Hometown: Shreveport, La.
Age: 18
How he qualified: Shared medalist honors at Alexandria, La., qualifier
Buzz: The LSU commit, ranked 32nd in the World Amateur Golf Ranking, was three days too old to play in this year's U.S. Junior Amateur, but now will make his first U.S. Amateur appearance. He lost to Will Murphy in a playoff earlier this summer at the Sunnehanna Amateur, but then recently captured the Junior PGA Championship. Despite his lack of experience with big-time match play, Burns is playing at a high level right now.
• • •
Sam Horsfield
Hometown: England
Age: 17
How he qualified: Won medalist honors at Winter Garden, Fla., qualifier
Buzz: Horsfield, ranked 62nd in the WAGR, has made match play three times each at the U.S. Junior and U.S. Amateur Public Links, including advancing to the U.S. Junior semifinals last month. Horsfield loves match play and has the game to go far this week.
• • •
Davis Riley
Hometown: Hattiesburg, Miss.
Age: 17
How he qualified: Finished runner-up at the 2014 U.S. Junior Amateur
Buzz: Riley, ranked 48th in the WAGR, has handled two straight runner-up finishes at the U.S. Junior with class. He also beat Sam Horsfield in extra holes in last month's semifinals of the U.S. Junior, so he's used to the pressure of match play. He didn't make the cut last year at the U.S. Amateur, so he's hungry to advance past stroke play this week.
• • •
Ryan Ruffels
Hometown: Australia
Age: 16
How he qualified: Top 50 of World Amateur Golf Ranking
Buzz: Last year, Australians Oliver Goss and Brady Watt met in the semifinals of the U.S. Amateur, with Goss prevailing en route to a second-place finish. This year, another Australian could find success. Ruffels, ranked 28th in the WAGR and a member of the Australian national squad, won this year's Australian Junior and Riversdale Cup, and also advanced to the Round of 32 at last month's U.S. Junior.
Golfweek.com readers: We value your input and welcome your comments, but please be respectful in this forum.
---
---
---
---
---
---
---
---
---
---
---
---
---
---
---
---
---
---
---
---
---