Monday musings: Week ahead; Dufner's day; more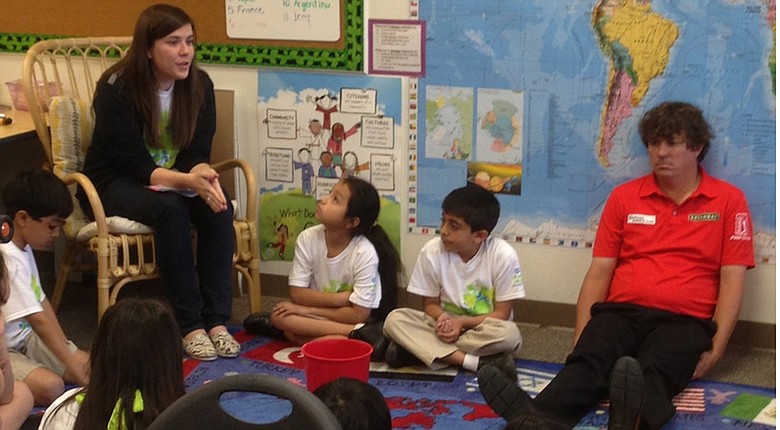 Monday, March 24, 2014
Golfers' posts via Twitter on Monday ranged from looking at the week ahead to Monday's practice time to congratulations for Sunday's winners to the usual travel travails. Oh, and the reigning PGA Championship victor's birthday. Here's a sample:
• • •
Ernie Els, @TheBig_Easy: "Looking forward to two weeks in Texas @valerotxopen @ShellHouOpen which starts an exciting five-week stretch for me @PGATOUR"
Edward Loar, @BigEinBigD: "Field moved my way at Valero so I'm in now & get to skip the Monday q circuit this week"
Kris Blanks, @krisblanks: "Early trip to the airport. Flying to Houston. Not sure where I'm playing this week San Antonio or Lafayette. Hope it will be clearer soon."
Pablo Larrazabal, @plarrazabal: "Here we are... Golf bag looking great for this week... #goEurope pic.twitter.com/uaXMmMdi86"
Billy Hurley III, @BillyHurley3: "Courtesy car this week @valerotxopen #VTOlovesFord When in Texas... pic.twitter.com/IQrdOSLfrv
Gavin Moynihan, @GavinMoynihan: "Nice course here in India this week for Bonallack trophy! Weather is seriously hot though! Can't wait to get going pic.twitter.com/oJ2nMgyoEB"
Claude Harmon III, @CH3golf: "Day 1 Valspar Collegiate Invitational at the Flo-Rida! pic.twitter.com/pNRI5ALNMA"
Karrie Webb, @Karrie_Webb: "Wow! What a whirlwind day! Def didn't expect 2 b holding up the trophy at the start of today! Thx 2 @lpgafounders for another gr8 event!"
Webb: "Thx to everyone for all their tweets of congrats! Love hearing from all of u..hopefully will inspire me to kick on and continue a gr8 yr!"
Azahara Munoz, @AzaharaGOLF: "Really happy w my week again!!Getting closer!!Playing really well and just have to be patient! Thank u all so much for ur nice messages!"
Munoz: "Muy contenta de nuevo con mi semana!! cada vez más cerquita. Paciencia!!!! Muchísimas gracias a todos por vuestros mensajes!!!"
Munoz: "Congrats @Karrie_Webb on another amazing win. Such a champ!!! So much to learn from u. Hope u enjoyed it yesterday!"
Gary Player, @garyplayer: "Saddened to hear of the passing of my friend Frank Hannigan. Such a wonderful man and contributed greatly to this game that we all love. RIP"
Rickie Fowler, @RickieFowlerPGA: "Hey @jbthompSON1 thanks for lessons this morning on the links of @MedalistGC #LunchTime"
Anya Alvarez, @anyaalvarez: "I don't like how my swing coach told me today it's not the club's fault. Damn, that stings @JonBullas"
PaulStankowski, @PaulStankowski: "Work in progress...RT @steveyrayj: @PaulStankowski New and improved backswing. Have the courage to use it! pic.twitter.com/AtgfEPRLSB"
Jim Gallagher Jr., @GallagherJr: "Maintenance crew got confused on colors this morning. Which tee do I play? pic.twitter.com/8TLLytztWR
Mark Calcavecchia, @MarkCalc: "Congrats Matt Every on your first win! Way to make GatorNation proud!"
Brian Gay, @BrianGayPGA: "Congrats to my fellow gator Matt Every and @dmason227 on winning the @APinv Well done boys!! #gatornation"
Stacy Lewis, @Stacy_Lewis: "Loved having a couple girls in the media center with me after my round today... Favorite ... m.tmi.me/1e1zxD pic.twitter.com/iNR9IVbugW"
Gary Player, @garyplayer: "Congratulations to Matt Every on your wonderful @APinv victory to secure your 1st @PGATOUR win. See you at @The_Masters next month. Best."
Player: "Another fantastic victory @Karrie_Webb in the @lpgafounders after a course record, 63, to fight back from a 6 shot deficit. Incredible. Best"
Player: "Well done Jeff Maggert on winning your debut @ChampionsTour tournament at the @MGRclassic. Can't beat a win right out of the gate! Best."
Jim Gallagher Jr. @GallagherJr: "As I walked through autograph line @MGRclassic I heard a young man say "this has been the best day ever" proud to be part of @ChampionsTour"
Gallagher: "To the fans, staff and everyone @MGRclassic, my home state Champions Tour event. Great job this week. Thanks for a wonderful week!!! #MGRC"
Ian Poulter, @IanJamesPoulter: "Finished my 2nd cup of tea & the kids are all still asleep, You would think the first day of holiday they would all be up, not the Poulters."
Brendan Steele @Brendan_Steele: "Airport pet peeve. Don't expect me to push your carry on luggage through the x ray machine. I do it, but I might not next time."
Jay McLuen, @JayBirdMcLuen3: "Where have you been? They came in at 2:30 this morning. pic.twitter.com/ajy94iU0ei"
• • •
Jason Dufner, @JasonDufner: "Big thanks to all those who wished me a happy birthday today.Getting older, but hopefully many more great years of life and golf ahead of me"
Golfweek Magazine, @GolfweekMag: "It's @JasonDufner's birthday! Send us a pic of you #Dufnering & we'll make sure the big guy sees them. The original: bit.ly/YMBMw3"
Mike Collins, @MikeCollins03: "@GolfweekMag @JasonDufner pic.twitter.com/BY4aVz9ybY"
Brooks, @mysticbrooks: "Happy Birthday Duffy! @PGATOUR @JasonDufner @GolfweekMag #everyday #Im #Dufnering #legend pic.twitter.com/FYD7G8I4zF"
JB Meacham, @JapaneseBistro: "@GolfweekMag @JasonDufner pic.twitter.com/5S7FdDsw2X"
Golfweek.com readers: We value your input and welcome your comments, but please be respectful in this forum.
---
---
---
---
---
---
---
---
---
---
---
---
---
---
---
---
---
---
---
---
---