Junior Boys
Player diary: Brad Dalke (Part 9)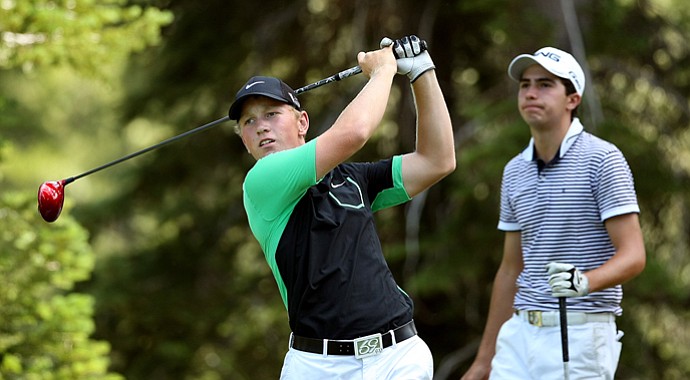 Saturday, August 24, 2013
The summer is finally coming to a close and I am ready to put my suitcases away for a while.

Summer is the busiest time for junior golfers. We can play in great events every week of the summer if we want to. My parents and I try to make sure I have a little bit of downtime, but it sure is hard to choose which tournaments to play in. One thing I have found helps is to decide my overall goals for the year. Once I have those on paper, it seems easier to make the selections in order to achieve my goals.
I have played in five events since I last wrote. July kicked off with the AJGA Rolex Tournament of Champions in Lancaster, Pa., followed by the AJGA Wyndham Cup in Rancho Santa Fe, Calif. My third tournament was the U.S. Junior Amateur in Truckee, Calif., then the Junior PGA in Sterling, Va., and finally, the U.S. Amateur in Brookline, Mass.
Now for some details!
• • •
My dad and I traveled to the Rolex TOC at Lancaster Country Club. I was really glad he got to go. He is a football coach and doesn't get to travel with me very much. The course was in outstanding shape and was deep in Amish country. The area was beautiful. I finished in 12th place with rounds of 72-69-72-71 (4 over). I hit the ball great all week, but just couldn't score and make the necessary putts. It was a disappointing finish considering the way I struck the ball, but if a disappointing week is 12th place, I'll take it!
• • •
I flew from the Rolex to the AJGA Wyndham Cup at The Bridges Country Club in California, just north of San Diego. The Wyndham Cup (formerly the Canon Cup) is a team competition and a blast, and we do not take it lightly! It is the Ryder Cup of junior golf with the format of East vs. West - 10 boys and 10 girls on each side based on the Polo Golf Junior Rankings. I was on the West team (dividing line is the Mississippi River) and we needed 25 1/2 points to win.
Going into the singles matches on the final day, West led 21.5-8.5. The East mounted a great comeback on the final day, but fell short and the West won 27.5-22.5. This was my third Wyndham Cup, but my first win on the West team. I partnered in the four-ball match with Austin Connelly from Texas. We defeated Jimmy Stanger and Adam Wood, 3 and 1. In the co-ed four-ball match I partnered with Allison Lee and we defeated Jimmy Stanger and Shawn Rennegarbe, 4 and 2. The final foursomes match put Scottie Scheffler and I against Zachary Bauchou and Jimmy Stanger. Scottie and I won, 1 up. In the final singles match, I played Carl Yuan and we halved the match. It was a hard fought battle for all 18 holes.

The Bridges course was amazing. There were seven bridges throughout the course and I am sure glad the tournament committee allowed us some shuttle rides!
• • •
After the Wyndham Cup, my mom and I drove to the U.S. Junior Amateur at Martis Camp Golf Club in Truckee, Calif. I have had the opportunity to play some incredible golf courses and Martis Camp is right at the top of the list. Set in the mountains and near Lake Tahoe, the scenery was beautiful. Before arriving, I was kind of scared because the yardage we were playing was nearly 8,000 yards. After arriving, I was told that the high elevation (6,600 feet) would make the ball go farther - about 10 percent. So, that meant the course would play at just more than 7,000 yards. I shot 72-77 in stroke play and made the cut into match play.
Also, a big thanks to good friend Frank Capan, who came to my rescue and caddied for me. I was going to carry my own bag.
My first match was against one of my closest friends, Alvaro Ortiz, who attended the Jim McLean Junior Academy with me a few years ago. We both played well until the back nine. He started making some mistakes and I kept making putts. I ended up winning, 4 and 3. My next match was against Brian Carlson. I shot 2 under on the first nine with several lip-outs and a putt hanging on the lip. They just weren't falling! I was 1 down through the first nine. I couldn't get anything going on the back nine and ended up losing the match, 1 down.

It was disappointing losing the match, but hats off to Brian. He played well. I lost in the first round last year to Robby Shelton, so this year did show improvement. I am eager to have a run at it again next year! Congrats to one of my great friends, Scottie Scheffler, for winning the tournament! Great playing, Scottie!
• • •
On the way to the Junior PGA Championship at Trump National Golf Club in Sterling, Va. (near Washington, D.C.), my mom and I met up with my dad and my oldest brother, Brian, and his family in Breckenridge, Colo. We stayed two days, and enjoyed a little break from the non-stop golf. The elevation was nearly 10,000 feet so my brother took me to a driving range so I could see just how far the ball would go in the extra-high elevation. All I could think of was just how far Cameron Champ would hit the ball!
Going into the Junior PGA I felt like my game was in good shape. I played really well, ending up with a T-3 and rounds of 65-71-70-70 (8 under). I set the course record on the first day, and was hitting the ball great and making putts. I made six birdies with no bogeys. The next three days I kept hitting the ball well, just couldn't get my putter going. I believe I could have shot four 65s if the putter was working. It was a great tournament and it felt really great to be in the mix at the top of the leaderboard the first two days. Congrats to Tyler McDaniel and his great play at the end to win the tournament.

After the Junior PGA, my mom, along with my aunt Pam and cousin Lisa, went sightseeing in Washington, D.C. My mom and I had never been to our nation's capital, and it was a blast! Thanks Aunt Pam for being a great tour guide!
• • •
My last tournament of the summer was the U.S. Amateur at The Country Club in Brookline, Mass. The history behind the course is amazing. It was the club where Francis Ouimet won the U.S. Open and where the United States won the 1999 Ryder Cup with a huge comeback on the last day. I felt great before the tournament, but once I got there and played some practice rounds, my swing did not feel right. Fortunately, my instructor Joey Wuertemberger was flying in to caddy for me during the stroke play qualifying rounds.

I played The Country Club on the first day, starting on No. 9. Nos. 9-14 are the toughest stretch of holes on the course, and the toughest stretch of holes I have ever played. I didn't hit the fairway on the first three holes, and paid for it. I was 5 over through that stretch of holes, and the rest of the day was spent trying to come back from a huge deficit. I shot 79 and found myself needing to shoot really low the second day to have any chance of making the cut from 312 players to 64.
I played Charles River the second round and started off with two bogeys. Mentally, that just killed me. I shot 75 and missed the cut by 10.
It was a disappointing tournament, but I learned a lot from it. I was the third youngest qualifying for the U.S. Amateur, and I can't wait to work hard and try to get back again next year. Playing poorly at the U.S. Am showed me just what I need to work on. I can turn this experience into a positive - and that is my plan!

We stayed with a great host family in Massachusetts. I would like to give a shoutout to Ken and Barbara Burnes, and all their children and grandchildren. They made us feel so at home and made sure we were well-fed and entertained! Thanks!
• • •
I do want to mention a few other people. My parents - I can't thank them enough for their support and making sure I have these great opportunities. Thanks to my instructor Joey, who is forever patient with me, for coming all the way to Boston to caddy. A special thanks to all the golf courses and the people who made it possible at each one. I have had experiences that I will never forget! And, I also want to thank the Lord for giving me the talent and desire to achieve great things in the sport I love.
One last note, I leave Monday for TPC Sawgrass to play in the AJGA Junior Players Championship. We play the exact yardages, tees and hole locations as the pros. A great event!! After that I will travel to Europe for the Duke of York Junior Championship, representing the United States alongside Nicole Morales. It is a real honor to be selected to play in this event at Royal St. George's Golf Club in Sandwich, England. I hope Nicole and I can bring home the trophy! GO USA!
Until next time,
Brad
Golfweek.com readers: We value your input and welcome your comments, but please be respectful in this forum.
---
---
---
---
---
---
---
---
---
---
---
---
---
---
---
---
---
---
---
---
---