College Women
Women's spring preview: Big 10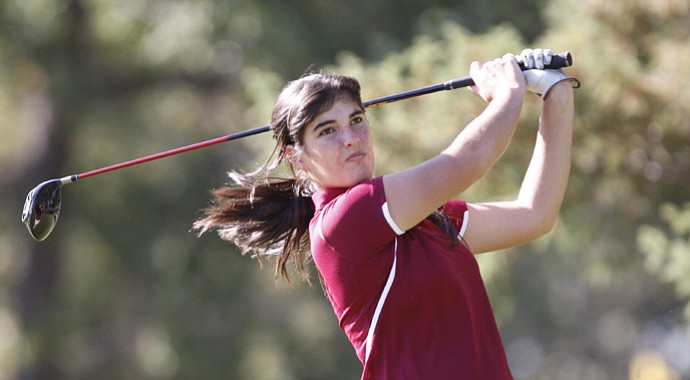 Thursday, January 10, 2013
The past two seasons couldn't have been more different for Minnesota. Postseason ended in 2011 with a 19th-place finish at the national championship. It was the first time Minnesota had qualified since 1989. In 2012, the season ended before postseason began. After a year of rebuilding, the Gophers are again on the up.
Last year's squad was young, and Michele Redman was in her first year at the helm after a successful LPGA career. There was a learning curve for players and coach, and Redman points to better course management, stronger short games and in some cases, significantly lower scoring averages in the fall as proof that the team is improving. The results speak for themselves, however.
Minnesota ended the season with back-to-back third-place finishes. At its final tournament of the fall, the Las Vegas Collegiate Showdown, Minnesota was in the lead at one point.
"The more we get used to being up there, the more we're going to get better at finishing," Redman said. "It's just a (little) more course management and scoring on par 5s."
Redman has encouraged her team to use their practice time effectively, and works closely with her players on the mental aspect of the game.
"It's been great for us because they really listen and they take in what we tell them," she said. "It's all about developing trust between the player."
With a full year of coaching under her belt, Redman looks back at the transition and says the on-course part of the job always felt natural. Assistant coach John Clearly provided valuable experience. Still, Redman always knew coaching was something she wanted to pursue.
As her team overachieved, Redman seized the opportunity to practice with her players when she could. As for her own play, Redman entered the Legends Tour Championship in November and finished T-4. She still has a one-time, one-year LPGA exemption for career top-40 money list that she hopes to use in 2014.
"I do play quite a bit of golf with the girls, and they seem to like that," she said. "It helps me help them on the course."
Redman may have found the winning equation.
• • •
Where it stands now
Top of the class: Purdue
Best player in the fall: Caroline Powers, Michigan State
• • •
Past champions
2008: Purdue
2009: Purdue
2010: Purdue
2011: Michigan State
2012: Michigan State
• • •
Conference capsules
Purdue (Golfweek/Sagarin Ranking: No. 10)

Hit speed bump at Fall Preview (13th place), but otherwise a solid fall that included a team victory at the Mary Fossum.

Michigan State (No. 13)

On a roll lately in the Big 10, winning back-to-back championships in past two years. Solid top-3 finishes at the Mary Fossum and Mason Rudolph in the fall. Benefiting from one final semester with Caroline Powers.

Northwestern (No. 23)

Benefited from addition of Nicole Zhang. A solid core of three players inside Golfweek's top 100.

Penn State (No. 25)

Made lots of headlines this fall by winning the Mercedes Benz Collegiate. Also won its own Nittany Lion Invitational. A lot of experience on this roster.

Indiana (No. 42)

Owns one of the best stories of redemption from the fall season after rebounding from a disqualification (one that meant the difference between first and second) at its home invitational to win the following week. Go-to players include Kristen Schelling and Elizabeth Tong.

Wisconsin (No. 43)

The team that beat Indiana at home. Hoosier Invite title was Wisconsin's only fall victory, but the Badgers did finish sixth at the Mary Fossum.

Ohio State (No. 48)

Nothing stands out after runner-up at Branch Law. Rachel Rohanna only Buckeye inside top 200.

Minnesota (No. 57)

Got better as the season went on. Back-to-back third-place finishes to close the fall. This time last year, Minnesota was No. 101 in Golfweek's rankings.

Michigan (No. 83)

Tied for first at its own Wolverine Invitational, but had a slip-up the next month at the Tar Heel Invitational (finished last among 18 teams). Some up-and-coming talent on this roster.

Iowa (No. 88)

Only top-5 finish came at the season-opening Chip-N-Club Invitational. Will play a good variety of tournaments in the spring. Most challenging starts will include Challenge at Onion Creek and Lady Buckeye Spring Invitational.

Illinois (No. 118)

After losing its core of seniors last spring, Illinois has dropped more than 50 spots in Golfweek's ranking since the beginning of last spring. It's a rebuilding year for the Illini.

Nebraska (No. 129)

There is young talent on this team, so expect more from the Huskers in the spring.

Conference championship

April 26-28, French Lick (Ind.) Resort/p>

Lance Ringler's prediction

Michigan State No change here with Purdue and Michigan State at the top of the Big Ten Conference. The Spartans have won the last two Big Ten titles and with the event again returning to a neutral site for the second consecutive year, look for Michigan State to edge the Boilermakers again. Michigan State's top five all rank inside the top 200.
Golfweek.com readers: We value your input and welcome your comments, but please be respectful in this forum.
---
---
---
---
---
---
---
---
---
---
---
---
---
---
---
---
---
---
---
---
---