Harrington bellies up to anchored putter Thursday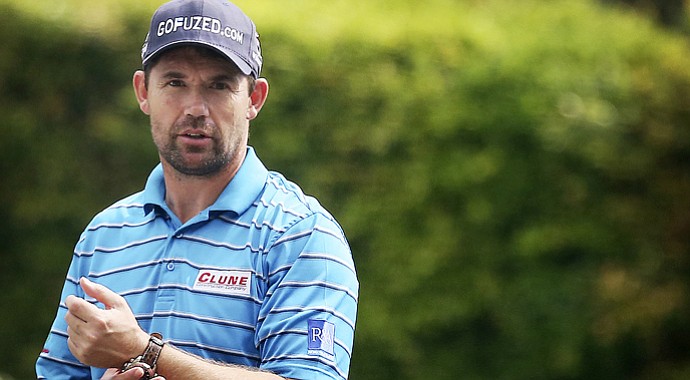 Thursday, May 2, 2013
CHARLOTTE, N.C. — Padraig Harrington could be compared to a Prohibitionist enjoying a frosty brew. Harrington, a proponent on the proposed ban of the anchoring stroke, put a belly putter into play Thursday at the Wells Fargo Championship. It didn't help, as Harrington shot 80 at Quail Hollow Club, needing 32 putts on the course's bumpy putting surfaces.
Harrington started using the putter last week, saying boredom led him to experiment with one last week. "Mechanically, everything I do with my putting stroke is better with the belly putter than without it," he said. "I was like, 'Oh, I wonder what that looks like,' and I was surprised to see everything was better. In terms of the mechanics, it was a far better stroke. Obviously, feel is an issue when you haven't used it before."
Thursday's round was his first round in the 80s on the PGA Tour since a second-round 80 at the 2007 U.S. Open at Oakmont. Harrington's use of the anchored putter is ironic because he became an R&A "ambassador" in 2011. The R&A has been considered the driving force behind the proposed anchoring ban. Harrington supports the ban. Part of his explanation Thursday involved the recent rules changes on grooves in club faces.
"I think it's bad for the game of golf," Harrington said of the belly putter. "It's the exact same situation as the grooves. It's not for the good of some individuals, but for the good of the game. . . . (The new grooves) cost me a couple of shots a day, at least a shot a day."
Harrington had "hated" the belly putter when he had picked one up in the past, but said high-tech analysis of his putting stroke revealed that the belly putter gave him a better stroke.
"When I put it on the analysis, everything came out better," Harrington said. "That encouraged me to get over that I don't like the feel of it because I accelerate better, I do so many things better with it. . . . If it's going to be a better putting stroke, why not?"
That said, Harrington has no problem using the belly putter as long as the rules allow him to. "If I hit it into the middle of the trees and I'm stuck behind (a tree) and I'm in trouble and I get free relief off the cart path, I'm going to take it," Harrington said. "There is no doubt. ... If something is going to help me, ... I'm going to use it."
Golfweek.com readers: We value your input and welcome your comments, but please be respectful in this forum.
---
---
---
---
---
---
---
---
---
---
---
---
---
---
---
---
---
---
---
---
---